In some ways, it would make the most sense to consider our streaming device options after we decide which streaming services we want. But, in many cases, it's the streaming devices that we hear about first: a friend as a "Fire Stick" or a family member loves their "Roku," and they can watch all sorts of things on it. They can even cut cable! These streaming devices seem to be at the heart of the cord cutting revolution, and, to an extent, that's true. But before we dive in and choose one, it's important to understand how these devices work, what they do (and what they don't), and how they work alongside streaming services to solve problems cord cutters face.
In our complete buying guide to streaming devices, we'll explain how streaming devices play host to "streaming platforms" and, in turn, to "streaming services." We'll help you understand what role these devices play and how they work with other major players in the cord cutting ecosystem. And, of course, we'll do what the title promises: break down your buying options so that you can make an informed choice and buy a streaming device that you love. Let's get started!
What is a streaming device, and what does it do?
A streaming device is, as the name suggests, a hardware device that can play videos (and other things) over the internet. Some streaming devices have screens built in: a smart TV, for instance, is a streaming device. Others plug into your TV and use its screen to display the stuff they're streaming — in pretty much the same way that a Blu-Ray player plugs in and displays what it's reading off of discs.
Really, all devices that can stream video are "streaming devices" — your computer, smartphone, and tablet all qualify. But we're going to focus here on streaming devices that help you watch stuff on your TV screen. That means smart TVs and streaming devices that are designed to stay plugged into a TV pretty much all the time.
One of the most important things to understand about streaming devices is that, by and large, they're not in charge of providing the shows, movies, and live TV that you actually watch. The streaming content you crave comes from streaming apps like Netflix, and the streaming devices you use are just ways to access those services and watch them on TV.
A brief history of streaming devices
A good way to illustrate what streaming devices are and how they work alongside streaming services is to revisit the history of streaming devices.
Let's go back to 2007, when Netflix first started streaming over the internet. Netflix users could stream movies and TV shows on Netflix's website, but it wasn't easy to watch Netflix on an actual TV screen — you either had to use a computer monitor or hook your whole laptop or desktop up to your TV.
The first streaming device, which was made by Roku, solved the problem. The little Roku device could stay plugged into a TV all of the time. Users could fire up their Roku and open Netflix (using their regular Netflix account). They could navigate menus inside of the Netflix app, choose something to watch, play, it, pause it, fast-forward, rewind, and so on.
Our options for streaming have expanded greatly since then. Netflix has lots of competitors now; so does Roku. There are smart TVs, which work more or less like TVs with streaming devices built into them.
The relationship between these components is still pretty much the same, however. You use a device — a Roku device, or a Fire TV device, or some other hardware — and you run different apps on it. Streaming services — Netflix, Amazon Prime Video, Hulu, and others — have their own apps, and it is within these apps that you choose what to watch and enjoy streaming TV.
Some apps are free, so it's not as if you'll have nothing to watch if you buy a streaming device without having any streaming subscriptions. But it's important to remember that it's the apps that provide the content, not the device. You can think of your streaming device as a computer, and you can think of the apps as programs (they are "applications," after all!) that run on that program. Keeping this simple distinction straight can help you avoid a lot of confusion.
A word about streaming platforms
There's one more thing that we should clarify about streaming devices before we move on, and that's the role of "streaming platforms."
The term "streaming platform" can mean a few different things in the tech world, but in the sense that we're using it on this page (and the way that we pretty much always use it here at Cordcutting.com), it means the operating system and user interface that you'll find on a streaming device. When you turn on a Roku device, you're looking at the "Roku platform." The Roku platform looks the same on different Roku devices and — with very limited exceptions — runs the same apps on those different devices.
So if you were to choose between Roku devices, you could weigh differences in things like streaming resolution and audio quality. But you wouldn't have to worry about differences in the user experience or in which apps you could use on the device. In fact, if you were to get more than one Roku device, your Roku account would help you manage your apps across all devices at once. You would have the same basic experience on your different Roku devices.
This would play out similarly with other platforms, too. For instance, Amazon's Fire TV platform runs on its Fire TV Stick, Fire TV Cube, and all of the other Fire TV devices. It looks the same on all of them, and your apps and other content can be synced across multiple Fire TV devices.
And this platform thing isn't limited to different models of external devices. You'll find popular streaming platforms that made their bones on the streaming box or streaming stick market on smart TVs these days. For example, a Roku TV will run the Roku platform without having to have an external Roku device, and there are Fire TV smart TVs that work in the same basic way.
A lot of platforms share their brand names with their devices, but this isn't always true. For instance, the Nvidia Shield TV runs Google's Android TV platform. The Android TV platform is also found on the Xiaomi Mi Box S and the Air TV, among other devices.
You don't have to keep this platform/device distinction on your mind constantly in your day-to-day life, of course. If someone says they own "a Roku," you don't have to correct them and say they actually own a Roku Ultra, which runs the Roku platform. But when you're shopping around, understanding this little distinction will help a lot. Instead of having to consider the Roku Ultra, the Roku Express, the Fire TV Stick, the Mi Box S, the Nvidia Shield, the Roku Streaming Stick+, the Fire TV Cube, and so on and on, you can just remember that you're choosing between a few major streaming platforms, and that each of those platforms is available on various devices at various price points.
What do I need in order to use a streaming device?
Now that we have a basic understanding of what a streaming device is, we can answer another question: what do we need in order to use a streaming device to watch TV shows and movies?
Aside from the streaming device itself, you'll need two things: an internet connection and, if it's not built into the streaming device itself, a screen to watch on. Let's take those one at a time.
An internet connection
When we "stream" video, we're downloading it a bit at a time from the internet. Our computer or streaming device is grabbing a chunk of information, showing us some video, and then throwing out stuff it doesn't need anymore. In order to download the information, though, our streaming device needs access to the internet.
What's more, your internet will need to be speedy enough to get this data to your streaming device fast enough to stay one step ahead of you as you watch. As each second of your favorite movie ticks by, your streaming device needs to be ready with the next few seconds' worth of stuff, of else your video will freeze! Your internet is probably already fast enough to handle basic stuff like streaming on-demand video in standard definition (unless you live in a rural area or are grandfathered into an internet deal from years and years ago, you probably have internet that's at least 10 Mbps — which is fast enough for most basic streaming). But if you don't, or if you're thinking about live TV streaming or streaming in high definition (especially 4K Ultra-HD), then you should take a look at your internet speeds.
We've written at length about internet speeds here at Cordcutting.com, so dive on in — or start with our comprehensive internet buying guide instead!
Of course, it's not just how fast your internet is when it comes into your home. It's also how fast your own home network is. Some streaming devices let you use an Ethernet cable to plug right into your router or modem, and this is always your best bet for top speeds. But your Wi-Fi can be speedy, too, provided that you have a router that is up to the task.
Something to watch on (maybe!)
If you're watching video, you need a screen! A screen is built into a smart TV, of course (and the same is true for streaming-capable devices like your computer, smartphone, and tablet, though we won't spend a ton of time on those here today). But other streaming devices are designed to plug into your TV and transform it into a smart TV (or a better smart TV — it's not usual for streamers to plug a top-notch streaming device into a lousy smart TV, because some smart TV platforms have annoying menus and limited app support).
External streaming devices like "streaming sticks" and "streaming boxes" almost always use an HDMI port to plug into their TV counterparts.
If you don't have an HDMI port on your TV, it may be time to get a new TV. Of course, if you're dead set against that, you could look at a streaming device that offers different input options. The most notable option is the Roku Express, which has those old-school RCA cables (you know — the red, yellow, and white ones that old VCRs and video game consoles used). More on the Roku Express (and other specific device options) in a moment!
What do streaming devices cost? Can I get a streaming device for free?
We're almost to the meat of our page here — a list of top streaming device options — but before we get there, we should talk about pricing.
Some streaming platforms, like Apple TV, are available only on pricey devices. But most are available on devices at all different price points, with the difference being hardware capabilities and perks like Ethernet jacks. You can usually count on getting the platform you want at the price point you want, which makes narrowing down your options easier.
Here's a general breakdown of what you can expect at various price points (note that this breakdown does not include smart TVs):
$30-40: Your entry-level devices will top out at 1080p streaming, rely on Wi-Fi, and may lack voice remotes.
$40-50: Better Wi-Fi antennas make things more consistent, though you'll still have to rely on Wi-Fi. Voice remotes are common.
$60-90: We start to see 4K Ultra-HD streaming become available at this price point.
$90-200: Full-loaded devices at this price point tend to have Ethernet jacks (goodbye, Wi-Fi), surround sound-ready audio outputs, and other perks.
$200 and up: These tend to be specialty devices. They may have video gaming capabilities, over-the-air TV DVR functions, or other dual purposes that explain the higher price point.
Streaming devices you need to know about
There are a ton of streaming devices out there, but most of the ones that are worth your time run one of a few basic streaming platforms. Here are the options that you should know about, organized by streaming platform.
Amazon Fire TV
Amazon's Fire TV platform is based on the Android TV platform, but it's very much its own thing. Content discovery features are great, but Amazon's own offerings are definitely given favored places in the Fire TV menus. While non-Amazon offerings are housed within individual apps just as they are on other platforms, Amazon's own stuff is all over the main menus, not contained within any kind of app. Fire TV also plays nice with Amazon's Alexa personal assistant, and can fit right into a larger Alexa-powered smart home setup.
Amazon Fire TV Stick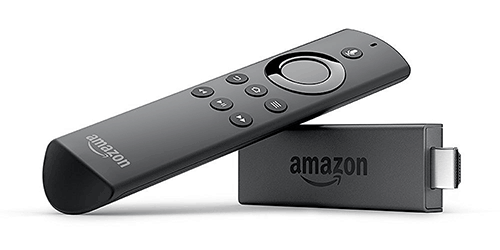 Price: $39.99
The Fire TV Stick tops out at 1080p, but it's still fairly powerful and is a great way to get the Fire TV platform on the cheap.
Amazon Fire TV Stick 4K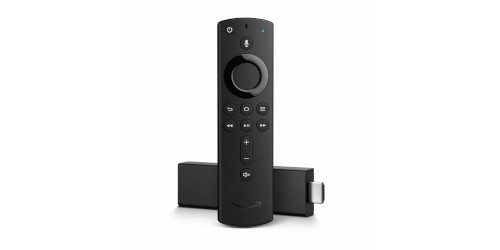 Price: $49.99
The fancier version of the Fire TV stick is 4K-capable. Amazon seems to have slotted this relatively new product into the space previously occupied by its then-flagship device, the plain old "Fire TV." (Amazon could still update the Fire TV device, but for now it seems to have disappeared, so we're leaving it off our list.)
Amazon Fire TV Cube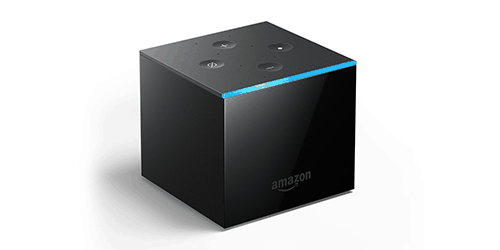 Price: $119.99
The Fire TV Cube combined the functionality of a Fire TV device with that of Amazon's Echo family of Alexa-powered devices. All modern Fire TV devices work with Alexa to some extent, but this one has a speaker built right into it.
Fire TV Recast
Price: $229.99
The Fire TV Recast is a Fire TV device with an over-the-air TV DVR built into it. OTA DVRs allow you to pause, rewind, record, and replay the live TV that you get with an antenna. We love OTA TV here at Cordcutting.com, and OTA DVRs make it better!
Amazon Fire TV Edition smart TVs
Price: varies
Amazon's Fire TV platform is also available on smart TVs from manufacturers like Insignia and Toshiba.
Android TV
Google's Android TV is available on a wide range of devices, because Google has elected to make it available through licensing rather than pushing Google-made hardware. Android TV is versatile and customizable, which makes it perfect for developers. The Android TV experience can be a little different on different devices, but it's always pretty straightforward and offers fantastic app support.
Nvidia Shield TV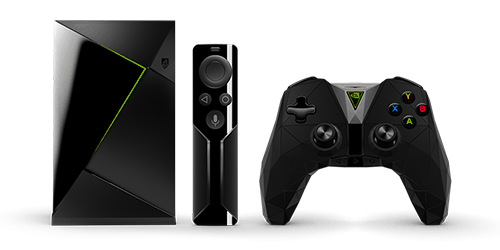 Price: $179, $199.99 (Gaming Edition), or $219.99 (Smart Home Edition)
The best streaming device for gamers is the Nvidia Shield TV, which has the beefy hardware that it takes to stream video games from your gaming PC or over the internet through Nvidia's GeForce Now subscription service. The Nvidia Shield TV is also great for playing surprisingly powerful Android games — and for streaming movies and TV shows through your favorite services, of course.
Xiaomi Mi Box S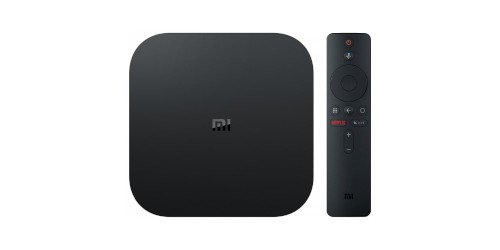 Price: $59.99
The Mi Box S is a straightforward Android-powered streaming device. Just plug it to turn any TV into an Android TV smart TV.
Smart TVs with Android TV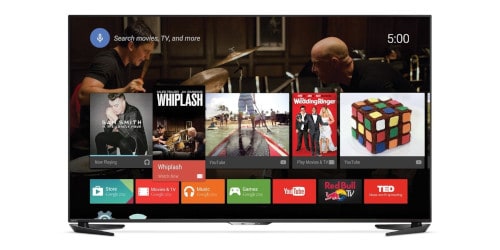 Price: varies
Android TV powers some of the best smart TVs out there. Manufacturers like Philips, Sharp, and Sony use Android TV on their smart TVs, though it's not always heavily advertised. Check for it, though, because Android TV is (like its peers Fire TV and Roku) head and shoulders above most of the proprietary smart TV platforms that some manufacturers put on their smart TVs.
Apple TV
Simplicity and elegance are Apple's trademarks, and they're certainly a big part of the Apple TV platform's appeal.
Apple TV 4K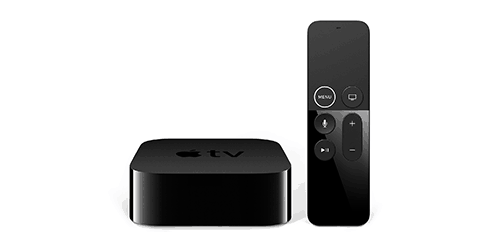 Price: $179 (32 GB) or $199 (64 GB)
Apple's streaming and media center platform has been around for ages, though the company has only sporadically updated its hardware offerings. We finally got an update in 2017, though, and the 4K Apple TV is an impressive device. The only difference between Apple's two Apple TV 4K models is the storage space.
Chromecast
Google's Chromecast devices work a little differently than most other popular streaming devices do. There's not much in the way of a platform or content discovery features: instead, the Chromecast acts as a simple receiver and conducts streams from other devices onto your big screen. You'll select content and stream from apps another devices, like your smartphone, tablet, or computer. Then you'll connect to your Chromecast device to put that stream on your TV.
Chromecast (3rd generation)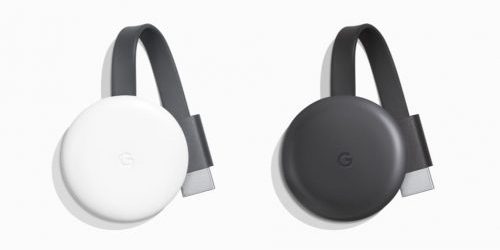 Price: $35.00
Google's flagship Chromecast is an affordable little guy that can handle streams of up to 1080p in quality.
Chromecast Ultra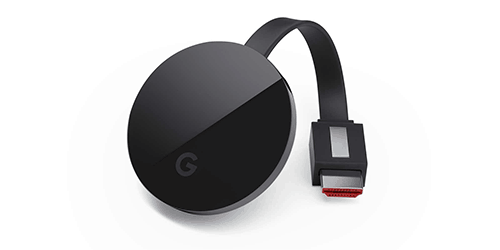 Price: $69.00
The fancier of Google's two video-focused Chromecast devices can handle 4K streaming.
Roku's easy-to-use platform is, as of this writing, the most popular one on the market. An incredible number of apps work on Roku, including all of the usual suspects. The platform is simple, if not quite beautiful, and is our favorite here at Cordcutting.com.
Roku Express & Roku Express+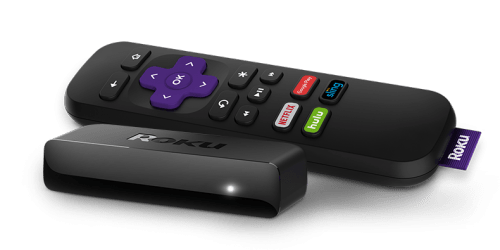 Price: $29.99 (Express) or $35 (Express+)
Roku's cheapest devices are no-frills 1080p streamers. The Roku Express+, a Walmart exclusive, has RCA cables instead of an HDMI cable, making it the easy choice for consumers who want a way to stream on an old standard-definition TV.
Roku Streaming Stick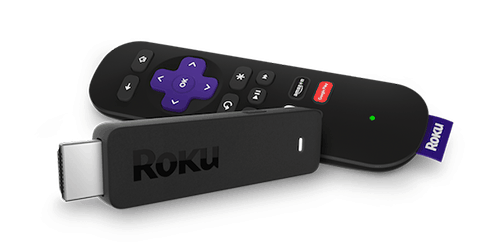 Price: $49.99
The Roku Streaming Stick is capable of handling streams of up to 1080p. It improves on the specs of the Roku Express and offers a new perks, such as a voice remote.
Roku Streaming Stick+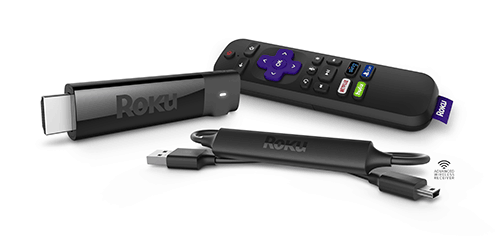 Price: $59.99
The pricier of Roku's two Streaming Sticks is the Streaming Stick+, which can handle 4K streaming.
Roku Ultra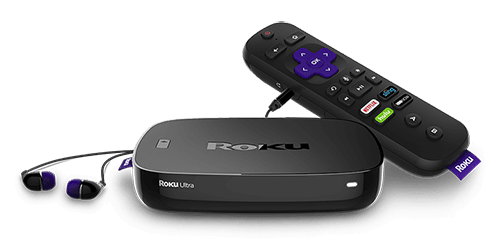 Price: $99.99
Roku's top-of-the-line streaming device looks like a tiny set-top box and features superb 4K streaming and perks like a voice remote with a headphone jack. There's an Ethernet jack on the device, meaning you'll be able to use a wired connection (which is faster than Wi-Fi) to stream.
Roku TV smart TVs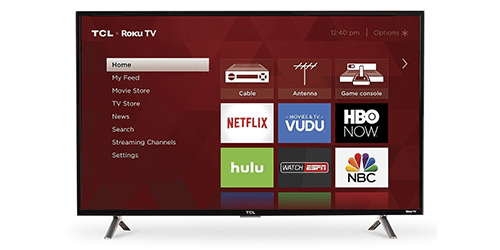 Price: varies
You can get a smart TV with Roku built right into it. Models are available from manufacturers like Philips, Sharp, and TCL.
Deciding which streaming device to buy
Phew, what a long list! But you've reached the end of it, and now you know some basic stuff about each of the major streaming devices that you could buy. Now we're ready to tackle the question that is at the heart of our buying guide: which of these devices is right for you?
To answer that, we're going to use the knowledge that we've acquired so far. First, we'll weigh your platform options. Then, we'll look at how impressive you'll want your hardware to be. Finally, we'll wrap things up with a very important consideration: your budget. At the intersection of these three factors, you will find your ideal streaming device!
Picking a platform
If there's one thing that cord cutters — especially new ones — don't pay enough attention to, it's choosing a streaming platform. Maybe it's because we've been conditioned by years of clumsy remote-juggling and opaque home media center setups, but many of us are far too ready to use weak streaming platforms. We memorize how to get to Netflix on our awful smart TV, and we curse when we can't find the app, and we never wonder if things can be better.
Taking the time to pick a streaming platform you like is well worth it. You'll be using this thing a lot, so get a platform you can understand and that you find pleasant to use!
We talked about the platforms above, so scroll back up if you skipped it. There's a lot to consider with each one.
App-wise, there's not a ton of daylight between your major options. You can watch Netflix or Hulu on any Amazon Fire TV, Android TV, Apple TV, or Roku device. Same with Hulu, HBO Now, and the rest of the usual suspects. Live TV streaming service (or "skinny bundle") apps are pretty widely available, too, though it's worth double-checking platform compatibility for those. And new or small-time streaming services may work on some platforms but not others, so do your research if you're particularly attached to one of those.
In terms of user experience, Apple TV and Roku are the simplest. Amazon Fire TV devices are a little less straightforward, but that's partly because they are packed with content discovery features (that is, "watch this next!"-type features). If you're a huge fan of Amazon, Apple, or Google products and services, then you'll find nice tie-ins and features on their devices (for instance, you can cast your iPhone or iPad to your TV screen with an Apple TV). Weigh these factors as you consider your options.
If you want to get some hands-on experience, ask friends if you can try out their devices or head to a store that will have them on display. Try navigating the menus and see which platforms make the most sense to you as a user. Remember, you'll be using this a lot — you want something that you find easy to use, not something that will frustrate you!
One last word about choosing a platform: once you find one you like, we suggest you stick to it. When you have two Roku devices, you can manage your apps on both devices at once and pick up where you left off when you switch screens and devices. The same goes for Amazon Fire TV devices and devices on most other platforms. That's a convenient reason to go with just one brand in your household. Another perk is that you'll only have to master one platform. There's not necessarily anything wrong with having a Fire TV device in one room and a Roku in another, but there are simplicity and perks to be gained if you choose to go with two of one or the other instead. And remember, you can get the same platform on different devices at different price points: you could get a pricey Roku for your living room and a cheaper one for your bedroom, for instance.
What do you want to watch? How do you want to watch it?
It's important to consider what you want to watch on your streaming device. This is partly because you'll need to choose a streaming platform, as we talked about above: you'll need a platform that offers apps for your favorite streaming services. But you'll also want to think about hardware.
Generally speaking, streaming on-demand video in standard definition is easiest, streaming on-demand video in 720p or 1080p is pretty manageable, and things get tougher when you start talking about 4K Ultra-HD streaming and live TV streaming.
If you're looking for a device that can stream Netflix on your old 720p TV, you'll be just fine with virtually any of these devices. If you want to stream live TV on your 4K TV, you'll want something with a bit more muscle: you'll need a 4K-capable device (generally $70 and up) and may want to grab one with an Ethernet jack, so that you can bypass your slower Wi-Fi in favor of a wired connection (always the fastest option).
Think about audio as well (the fancier devices are ready to work with cutting-edge surround sound systems). You may also want to consider how you want your device to fit into your user experience: do you want to be able to use voice commands?
One last thing to consider is whether you have any local files that you'll want to play. If you have some old DVD rips or downloaded movies and TV shows, then you may want to load them on your streaming device for easy access. For that, you'll need storage space and/or a USB slot for extra storage.
Considering your budget
Cord cutting is largely about saving money, so we should certainly consider your budget as we pick out the ideal streaming service for you!
You should keep in mind that this is a one-time expense, though: while you'll be paying monthly for streaming services like Netflix, you'll only have to buy a streaming device once (no major streaming platform charges a subscription fee for its own use) — at least, until your old one is outdated, which should be years from now.
Keep the life of your streaming device in mind. Generally, the more powerful devices will go out of date more slowly. Keep in mind, however, that you may end up replacing your device sooner than you need to if you end up replacing some related piece of hardware, like your TV. For instance, if you have a 1080p TV right now, it may not make sense to buy a higher-end 1080p streaming device — because you may soon decide to buy a 4K TV, and that will likely trigger a decision to buy a 4K streaming device, too. So, in this example, you might be better off buying a very cheap model or a more future-proof 4K-capable high-end one. Or maybe you should just go head and buy a new 4K TV with a streaming platform built in!
Base your budget on how long you plan to keep this streaming device. Consider whether you want to get an all-in-one smart TV solution or upgrade your setup bit-by-bit with external devices.
Hunting for deals
Streaming devices are fairly cost-effective things, especially when you remember that buying one will keep you all set in the streaming hardware department for years. But that doesn't mean that we can't try to save even more on these devices from time to time!
Here at Cordcutting.com, we're always on the lookout for sales. When we spot one, we'll post it on our home page and, sometimes, to our social media pages. We keep track of the deals so that you only have to keep track of us!
Black Friday and early holiday shopping days are great times to snag streaming devices. If you're shopping for a smart TV, the after-Christmas and pre-Super Bowl discounts can be fantastic.
If you're not all set on your streaming subscriptions, check for deals that offer streaming subscription discounts with hardware purchases. Or, look at streaming subscriptions directly for deals that give you free streaming devices (these often involve prepaying for the streaming service for some number of months). And know where to shop: for instance, Amazon is the best bet for Amazon Fire TV devices, of course, and they often slash prices to match competitor discounts.
Read and learn more about streaming devices
Above, we've laid out all of the big-picture stuff that you need to know about streaming devices. We've given you enough information to make an informed choice about your setup. But if you want to learn even more, we've got you covered: you can check out our in-depth breakdowns of streaming platforms and services on our device pages, and you should check out our reviews, comparisons, and rankings, too!