Pros and Cons of ESPN Plus
Pros
Extremely affordable
Plenty to watch
Tons of out-of-market NHL games
UFC pay-per-view events available (at extra cost)
Great coverage of niche sports
Solid on-demand library
Works via regular ESPN app
Cons
No livestream of ESPN's TV network (except with pay TV login)
Missing high-profile game broadcasts
UFC content can be frustratingly costly
How It Felt to Use ESPN Plus
ESPN Plus snuck up on me. I was caught off guard by the quality of some of the programming. NFL Primetime, long gone from ESPN's cable broadcasts, lives on here — complete with Chris Berman, who hasn't lost anything off of his "whoop." Sneaker Center is a delightful little program that covers sneakerhead culture. The 30 for 30 series of documentaries is just as good as I remembered, and awfully easy to watch for hours on end. But I'm getting ahead of myself — let's go back to the beginning.
Signing up for ESPN Plus is pretty easy. You can just add it to an existing ESPN account, or you can sign up through another method, such as via Roku. If you sign up through Roku or another platform, you can link your ESPN Plus subscription to a new or existing ESPN account.
A word of warning, though: This works a little differently if you sign up for ESPN Plus through Disney's bundled Hulu, Disney Plus, and ESPN Plus deal. That's what I did, and I immediately ran into a problem. Hulu had me create a login to use for Disney Plus and ESPN Plus, but that login was mutually exclusive with the one I've used for years on ESPN.com. I wasn't able to link my new ESPN Plus subscription to my existing ESPN account — instead, I had to log out and back in again. All my fantasy football and baseball teams are linked to my ESPN.com account, so this was a real pain for me. On the bright side, this at least spared me from having to see my fantasy football team's 2020 record (3-4) every time I logged in to watch Korean baseball.
As far as I can tell, this was a problem on Disney's side. It's easy to combine an ESPN.com account with an ESPN Plus subscription that you get via Roku, but — oddly — it seems to be impossible to do so with one that you get from Hulu, which is ESPN's own Disney-owned sibling.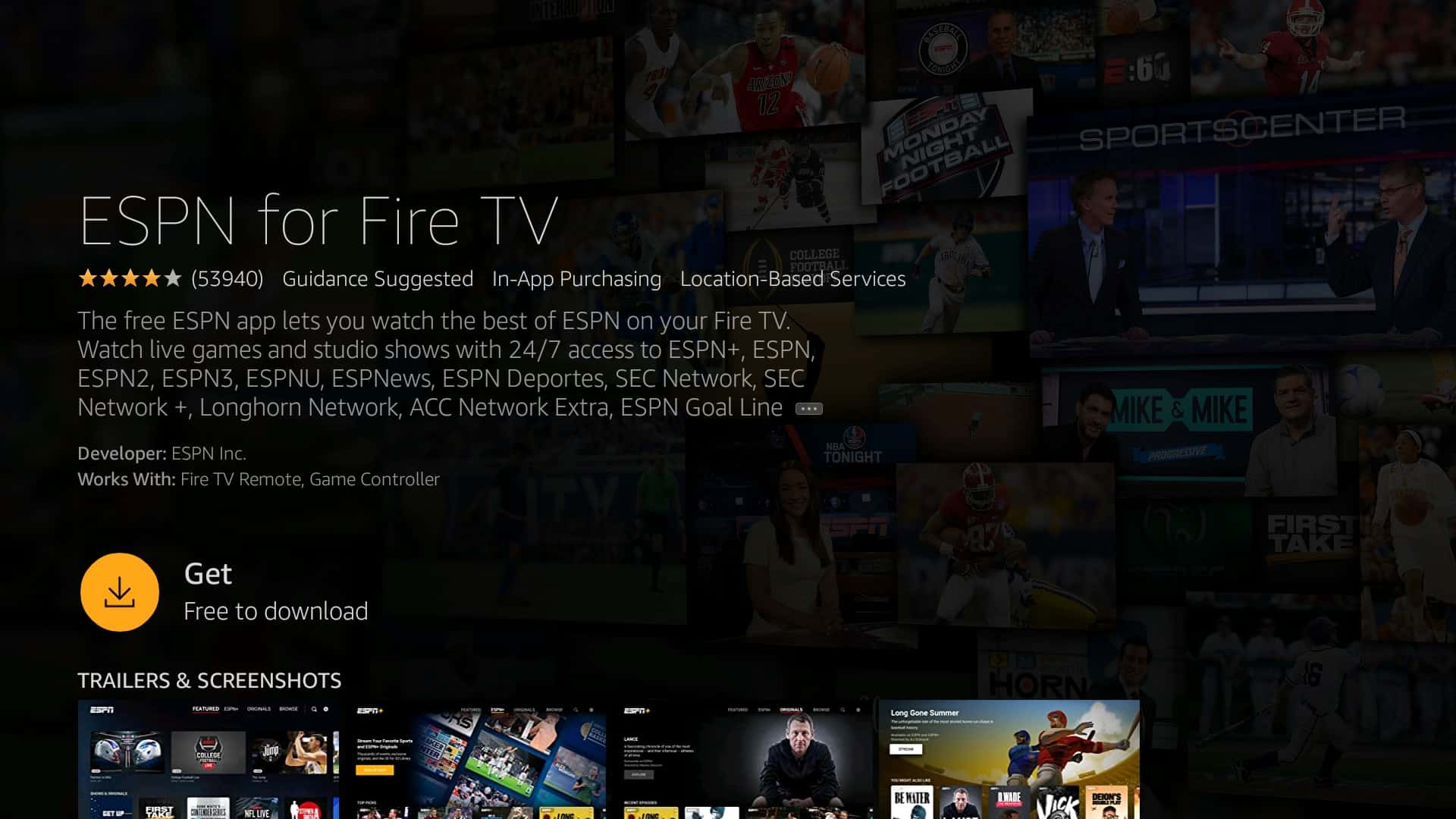 ESPN Plus works within the ESPN app — the same one that existed for years before the ESPN Plus streaming service came out. That was bad news for me, thanks to the dueling logins created by the issue with Disney's Hulu bundle, but it's good news for most folks: ESPN's app is convenient and already works on a lot of devices.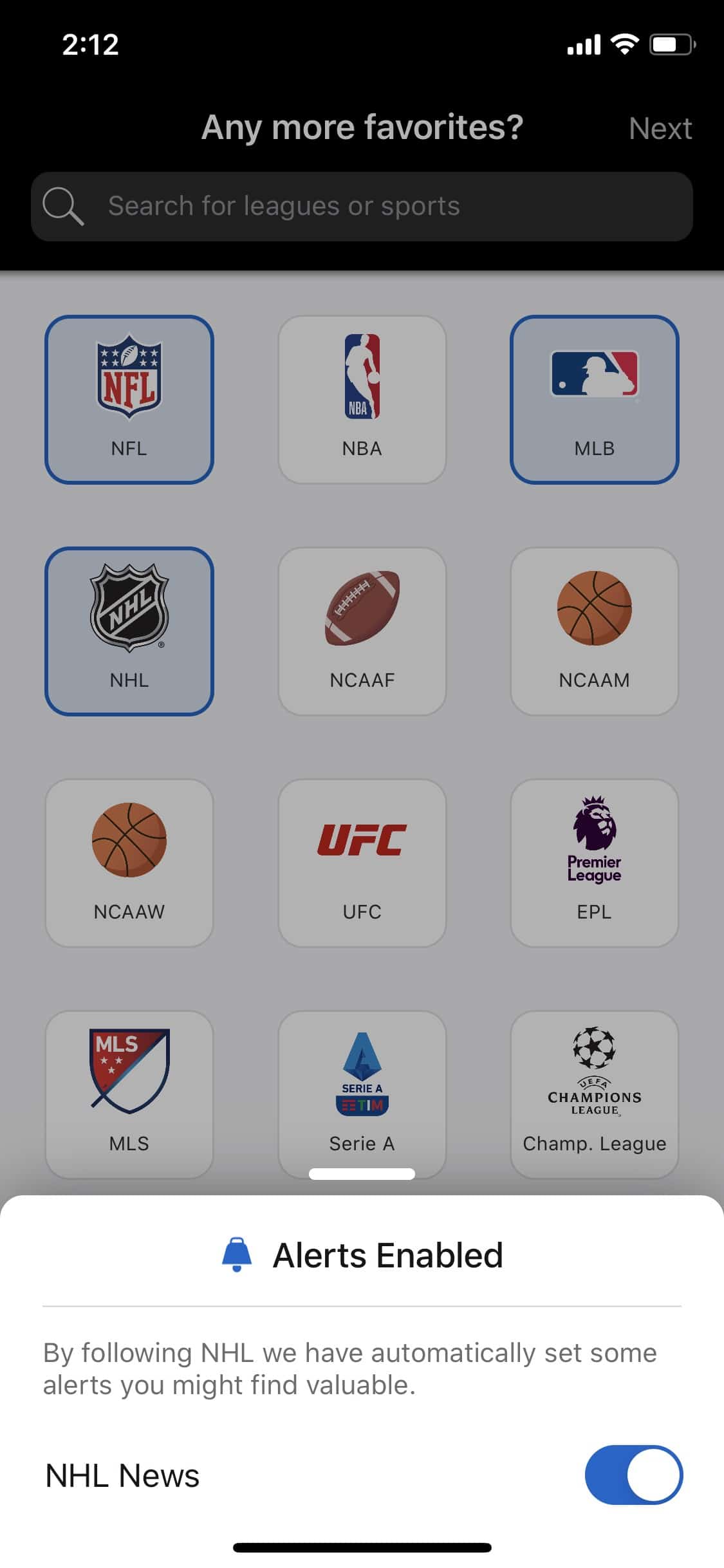 Once I had logged into my ESPN Plus account on the ESPN app, I was prompted to choose my favorite leagues and teams. The app tried to automatically set notifications to "on" for each and every one of the teams I selected, which was a bit annoying but easy enough to fix manually. With that process done, I landed on the home screen.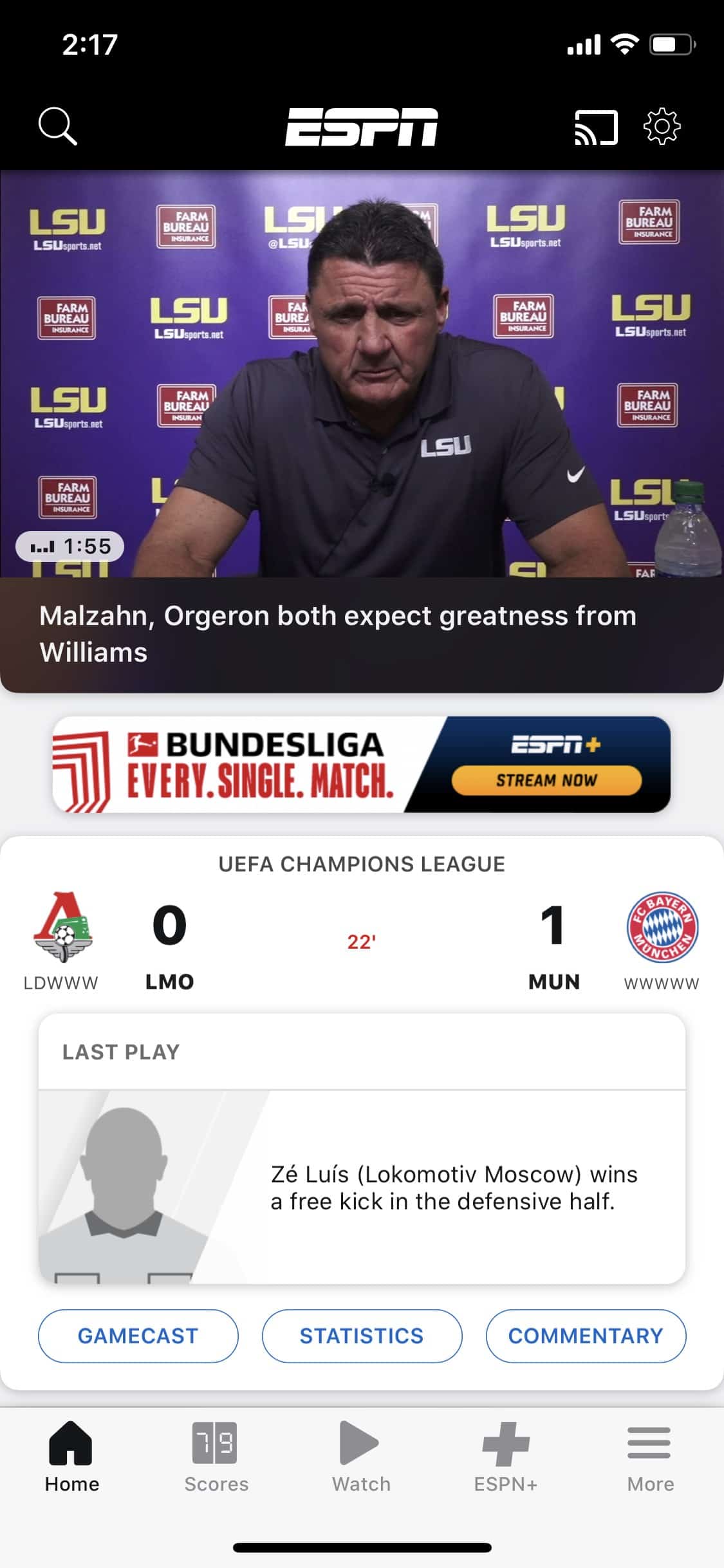 The ESPN app works pretty hard to get you watching. On mobile, it auto-plays video on the home page. On all platforms, it offers a view of featured programming, live TV, and "Top Picks."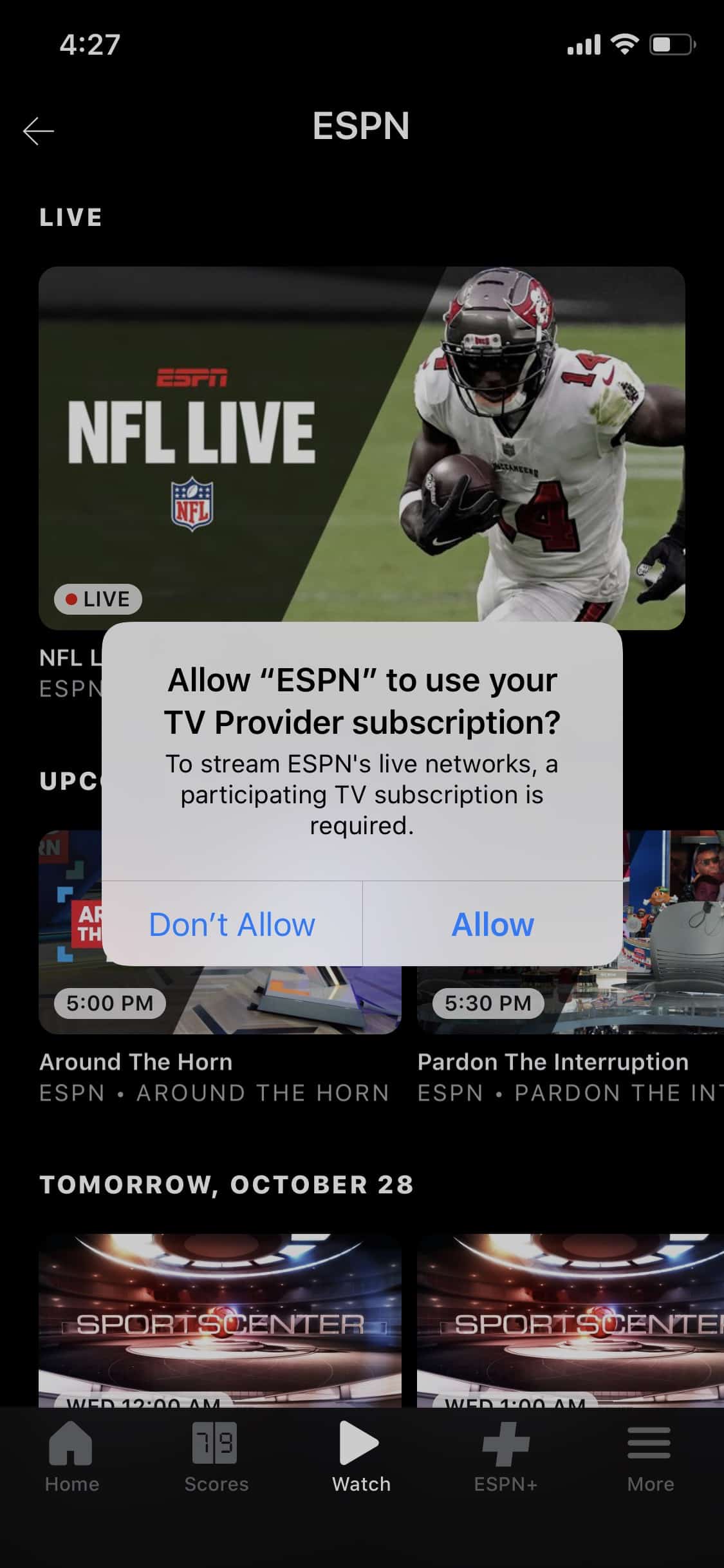 The ESPN app also houses live video from ESPN's TV channels, which you can access by logging in with a pay TV provider. Of course, if you're a cord cutter, you may not have a live TV provider (though streaming options like Sling TV will get you access just like cable). This felt a little obnoxious to me — I was paying for ESPN Plus, and yet the app was showing me what I couldn't watch unless I paid for ESPN itself. This is a feature that's very convenient for folks with pay TV credentials, but a little annoying for cord cutters.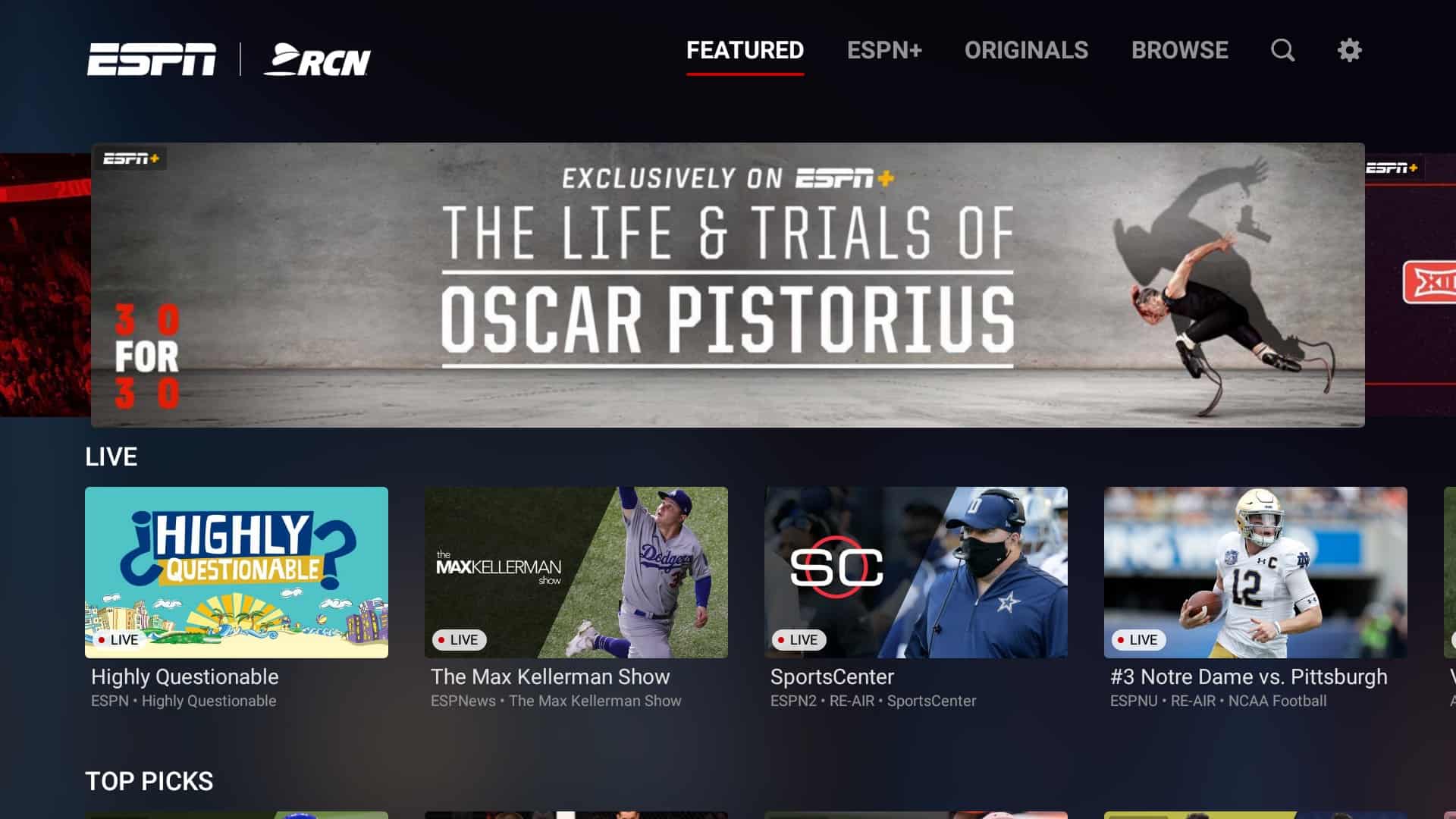 Using ESPN Plus in the ESPN app, it was striking to see just how integrated ESPN Plus is with ESPN's other offerings. But I ultimately found these integrations more annoying than convenient, especially because my Hulu bundle had trapped my ESPN Plus streams in this brand-new account. Frankly, I think I would've been happier just downloading a new app or logging into a separate website.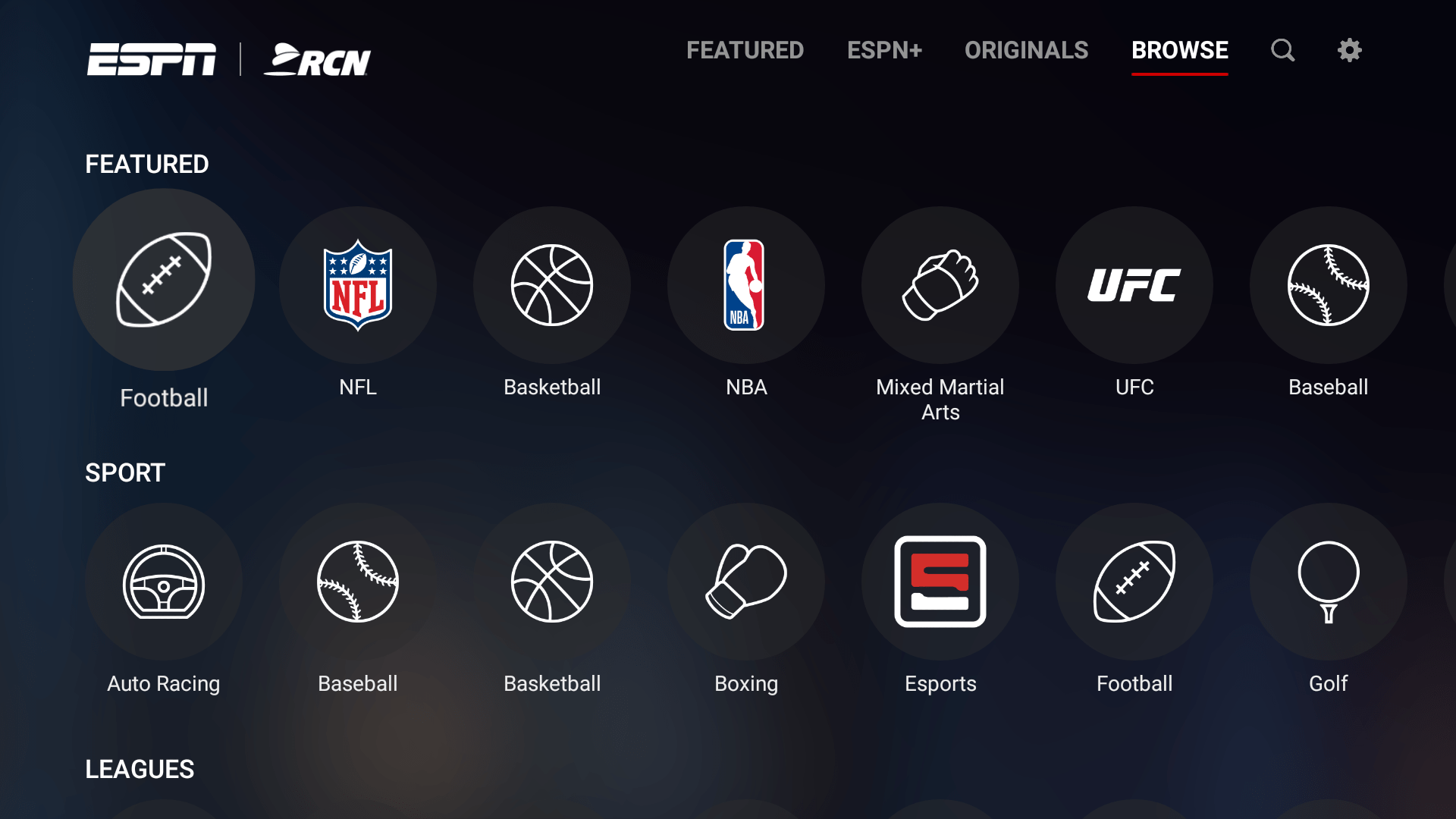 These frustrations aside, ESPN Plus is a pretty well-designed service. The content is sorted logically, and the live events are surfaced in a smart way — if you're logging in just in time for the kickoff or first pitch of a big game, then you'll probably see that game front and center on the ESPN Plus app. I also liked the "Browse" tab of the app, which let me quickly sort content by sport or league.
I particularly liked that I could sort by league or sport. When I wanted news about MLB, I could select MLB — but if I was just in the mood to watch baseball, the "baseball" category was able to give me Korea's KBO league, college baseball, and more. I watched it all, of course (go Dinos).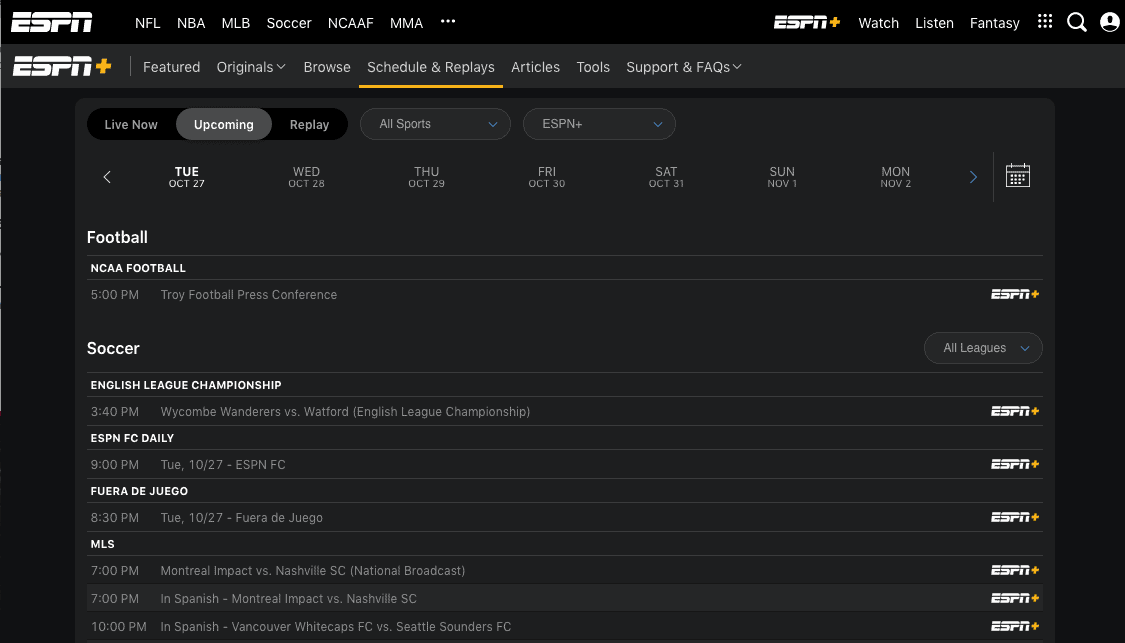 Though I didn't use it as often as some other features, I really liked the way the ESPN app included a schedule. By clicking the calendar icon in the web app or flipping to the right tab of the mobile or streaming app, I could access a comprehensive schedule of upcoming events.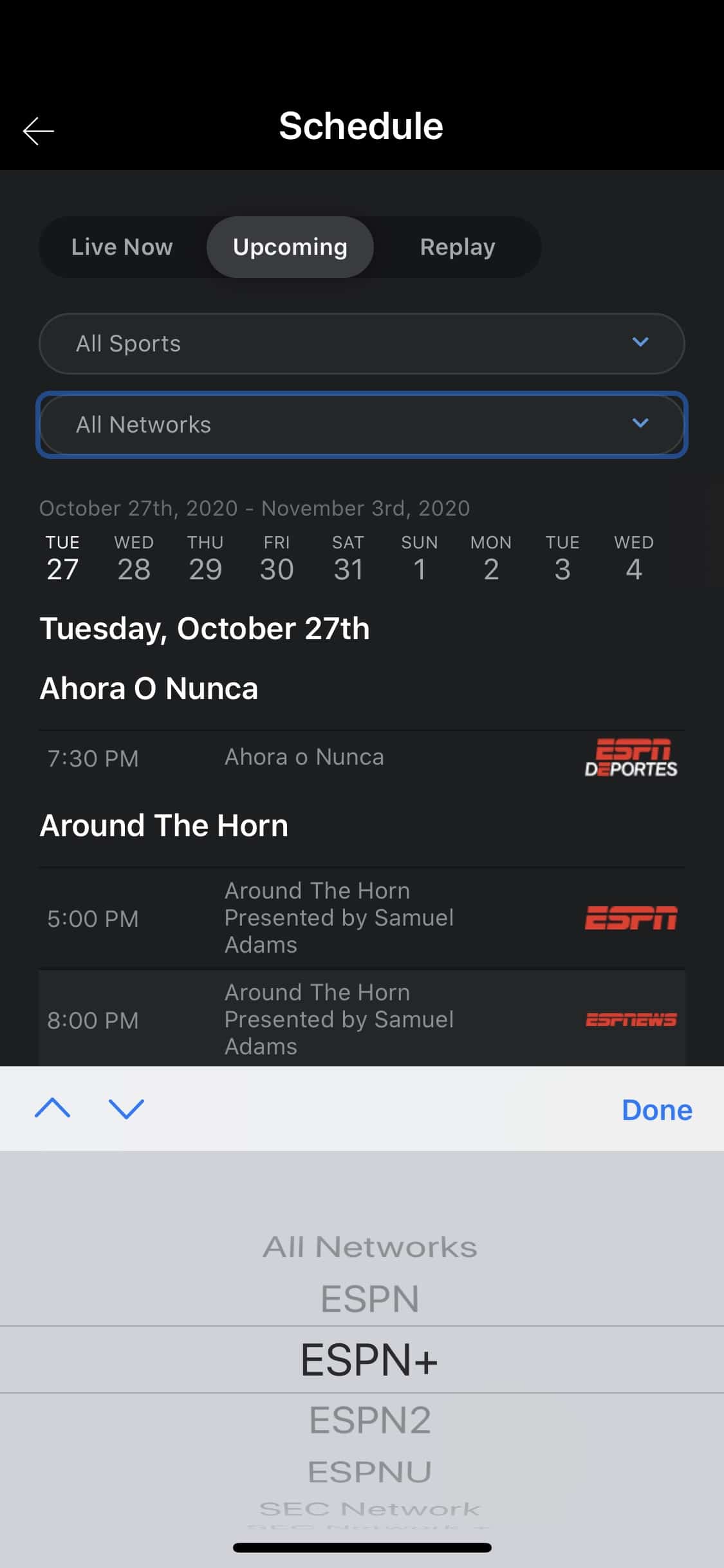 I could even sort through the options, checking out what was airing on ESPN Plus or on other ESPN channels — an important distinction, since ESPN Plus does not include a livestream of the ESPN cable channel. The schedule was a good place to find new and exciting things to watch, and it also helped me keep track of my favorite teams — though this is one of several areas where I felt that ESPN Plus could have made better use of my favorite team and league information. It would have been nice if games involving my teams were highlighted in a different color, for example.
With ESPN Plus, it's easy to find something to watch, and it's a breeze to flip through live events, replays of past programming, and on-demand content. ESPN Plus makes it simple to "just watch" something, which is perfect for the sort of content it has — which brings us to our next section.
What You Can Watch on ESPN Plus
A streaming service is only as good as what you can watch on it. Fortunately, ESPN Plus has a lot going for it in this department. When ESPN Plus first debuted, a lot of us were disappointed by what it didn't include — namely, a livestream of ESPN's cable network. This is still the case: ESPN Plus and ESPN the TV channel are different things. I'm among those who wish that there were some way to get ESPN without paying for cable or a live TV streaming service, but as I tested ESPN Plus again for this latest review I found a lot to like about what the service does include.
So what can you watch on ESPN Plus? The short answer is sports, and lots of 'em. Whenever I logged into the ESPN app, I found live sports and sports news programming to watch. My ESPN Plus subscription gave me access to live games and competitions from all over the world of sports, including everything from college football to — I am not making this part up — international beach soccer, which is exactly what it sounds like. For me, watching lesser-known (and, in some cases, weird or silly) sports was a part of the fun of having ESPN Plus. In no time at all, I had an unhealthy emotional investment in the outcome of international beach soccer matches. Aren't sports wonderful?
On top of all of this live content, ESPN Plus gave me access to a pretty robust catalog of on-demand content, including previously aired sporting events and news programs as well as movies and TV shows from ESPN and sub-brands like 30 for 30.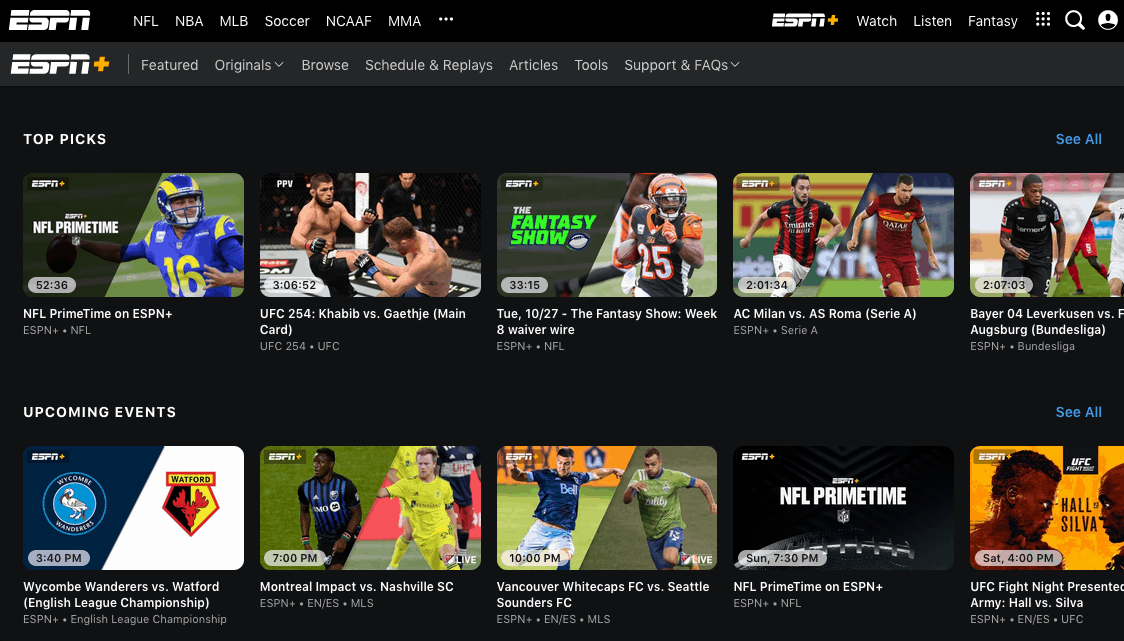 If you're a sports omnivore like me, then you'll likely love what ESPN Plus has to offer. The selection of sporting events on ESPN Plus is pretty eclectic and tends to be more obscure. For every college football or MLB game on ESPN Plus, there are plenty of less mainstream livestreams: volleyball matches, featherweight boxing, and action from the NBA G League, which is pro basketball's minor league. You'll even find esports (though I don't think ESPN Plus' offerings are going to top Twitch in this department anytime soon).
This wasn't the end of the world for me. I love sports, and I'm the sort of fan who enjoys the breadth and variety of what ESPN lovingly calls "the wide world of sports." Baseball is the sport I watch most religiously, but I keep up with all the other big leagues and I love checking out occasional matches in sports I don't normally follow, such as boxing and rugby. If you're a fan of the NHL, then you may be happy to know ESPN Plus is airing more than 1,000 mostly out-of-market games in the 2021-22 season.
You may find ESPN Plus' content lacking if you're a fan of some other sports though. You'll get only a bit of regular-season MLB action, and no NBA or NFL content at all.
ESPN Plus' live sports content also includes a lot of UFC, but there are some caveats. An ESPN Plus subscription will get you lots of UFC analysis and news, plus some fights. But the biggest UFC matches are available only as pay-per-view (PPV) events.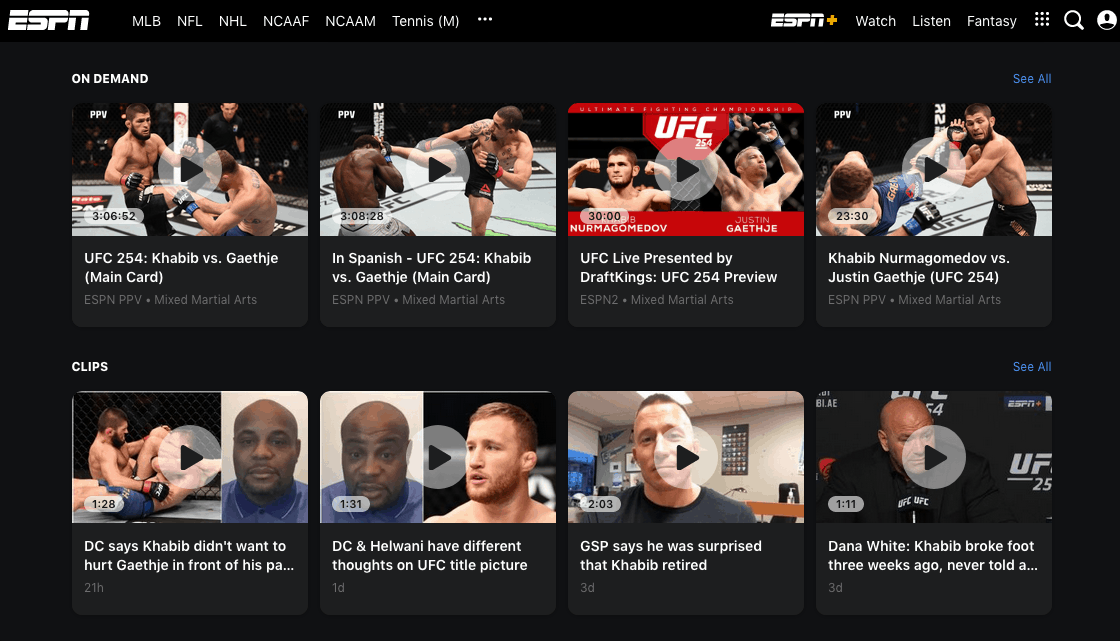 Here's where it gets tricky: ESPN Plus and UFC have an exclusive deal that covers these PPV events. You need to have ESPN Plus to watch them, but they're not actually included with ESPN Plus. To access a UFC PPV event, you have to first subscribe to ESPN Plus, and then pay for the PPV event.
Still with me? Let's recap some of the essentials in a handy-dandy chart.
| | NFL | NBA | MLB | NHL | UFC | SportsCenter |
| --- | --- | --- | --- | --- | --- | --- |
| Included with ESPN Plus | Some news and analysis | Some news and analysis | Select games, some news and analysis | More than 1,000 mostly out-of-market games, news and analysis | Exclusive events and coverage. Access to Pay-Per-View events (at additional cost) | Replays on demand |
| Not included; pay TV login required | "Monday Night Football" | "NBA on ESPN" broadcasts | – | – | – | Live broadcast on ESPN |
However highly you think of the sports and games ESPN Plus offers, I think you'll agree on at least this point: There's plenty of them! At just about any hour of day or night, I was able to find something to watch. If you're like me and sometimes just want some live sports content — any kind of live sports content — on your TV screen, then I think you'll get a kick out of ESPN Plus.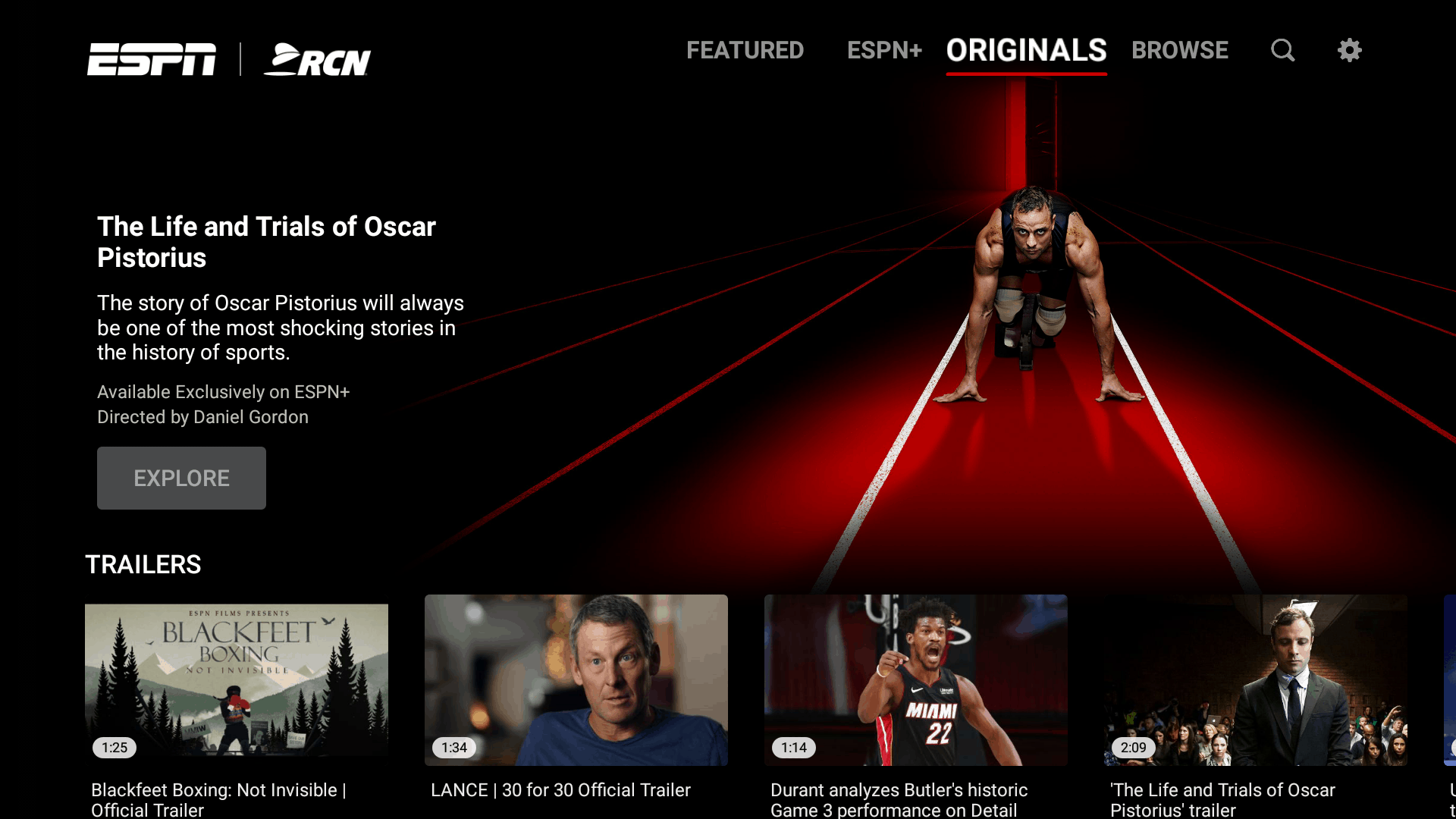 I spent most of my ESPN Plus streaming time checking out the live sporting events, but live content isn't all that ESPN Plus has. ESPN Plus also hosts streams of sports news and highlight programs, as well as a whole lot of movies and TV shows related to sports. The lineup includes most entries into ESPN's popular 30 for 30 series (I recommend The Two Escobars) and ESPN Plus originals like Peyton's Places. Be aware that ESPN sometimes ships its shows elsewhere, though. As of this writing, you can watch "The Last Dance" on Netflix, but not on ESPN Plus.
I found ESPN Plus' originals surprisingly interesting. I found myself watching a lot of 30 for 30 films that I'd never known existed. I also really enjoyed Detail, a show where Peyton Manning analyzes game film from a quarterback's perspective. I felt like it made me a more knowledgeable fan.
ESPN Plus Features and Streaming Quality
ESPN Plus streams looked pretty good on my screens. The quality tops out at 720p HD — not mind-blowing stuff, but probably a necessary concession to the demands of streaming live events smoothly. The 60 FPS frame rate kept the movement on my screen looking as smooth as anything I've seen from cable or satellite.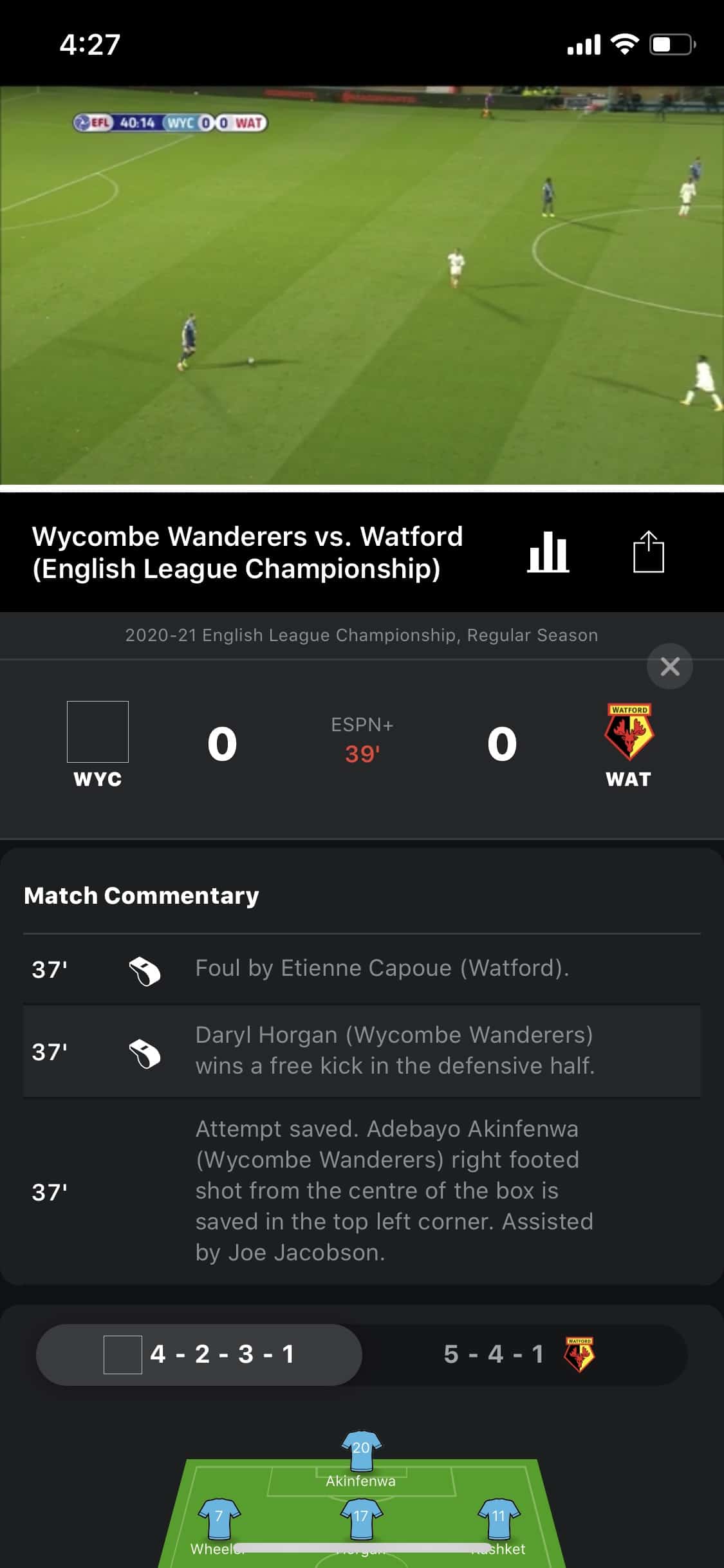 I found ESPN Plus' streams to be pretty reliable, but not perfect — my feed was sometimes interrupted by loading screens. The good news is that these incidents were rare, especially on a wired ethernet connection and mobile devices (for whatever reason, the occasional interruptions seemed to happen most often on my Roku TV). The better news is that these loading screen hiccups were extremely short — the screen would go black for a second and re-load before picking up right where it left off. I presume the video lag was increasing, but I wasn't actually missing any action and I found (somewhat to my surprise) that I didn't really care about such a small issue.
Other than those little streaming hiccups, I didn't notice much of a difference when streaming on different platforms and devices. Things worked pretty well and looked very good on my Roku TV, Chromecast, iPad, Mac, and PC. You can stream ESPN Plus on up to three different devices simultaneously.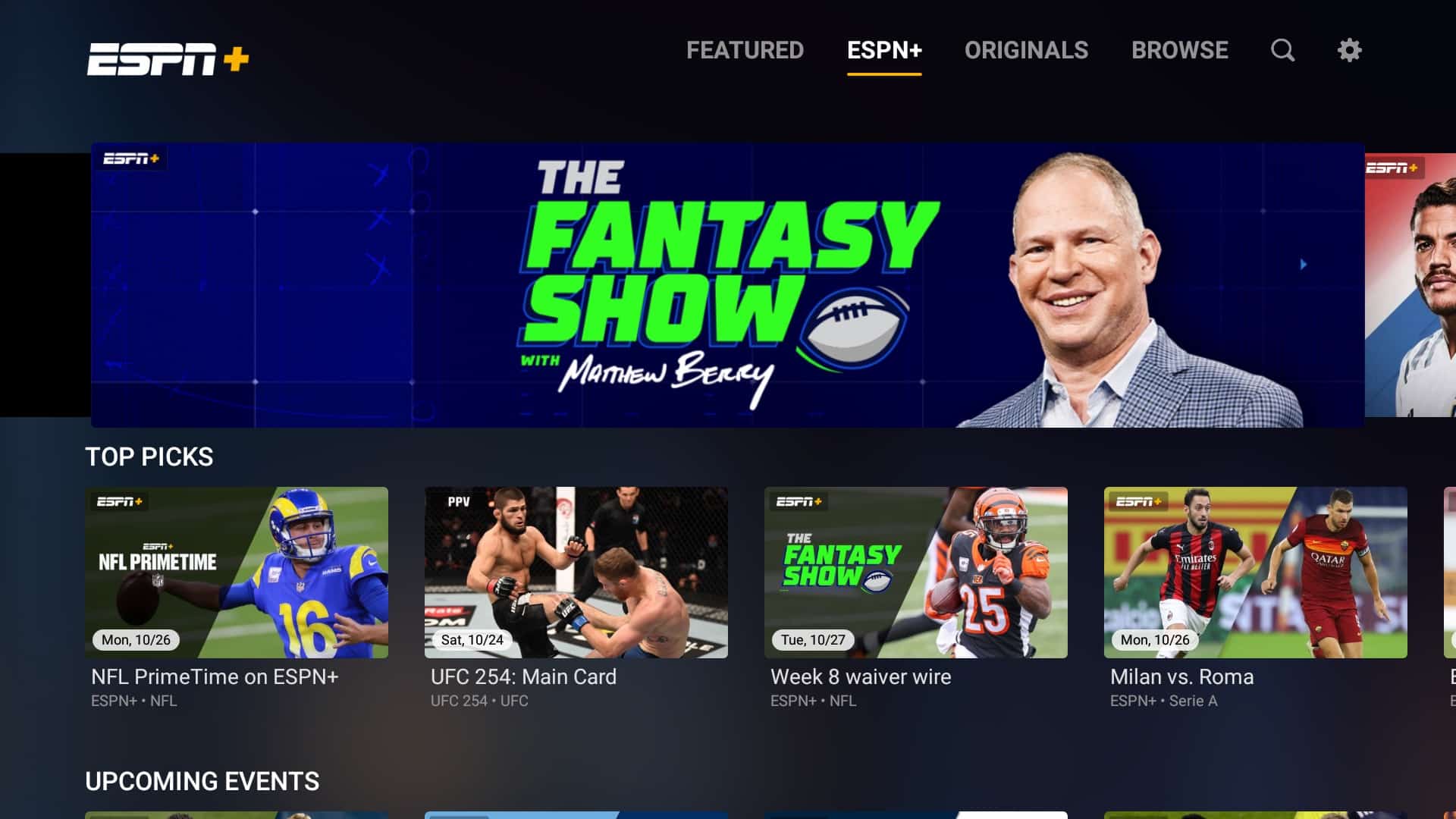 By the way, we should talk a little bit about buffering and lag here. With live streaming events like sports, it's important to remember that streamers are on a slight delay relative to their cable-viewing peers. That's because smooth streaming requires a bit of "buffering." Buffering is just your device getting ahead of the task at hand: It's downloading the data it needs to show the next few seconds of your video so that it can keep streaming smoothly even if your internet connection slows down.
You can probably see where all this is going: Buffering means downloading the next few seconds of a video, but that's not really something you can do when the next few seconds haven't happened yet! For live events like sports, the only solution is to run streaming services on a bit of a delay, giving a little cushion for the services to buffer.
All of this means that you should exercise a bit of caution while streaming sports on ESPN Plus — if you check Twitter or read a text from a friend with cable, you might find out about a touchdown or a home run a few seconds before it's actually shown on your screen.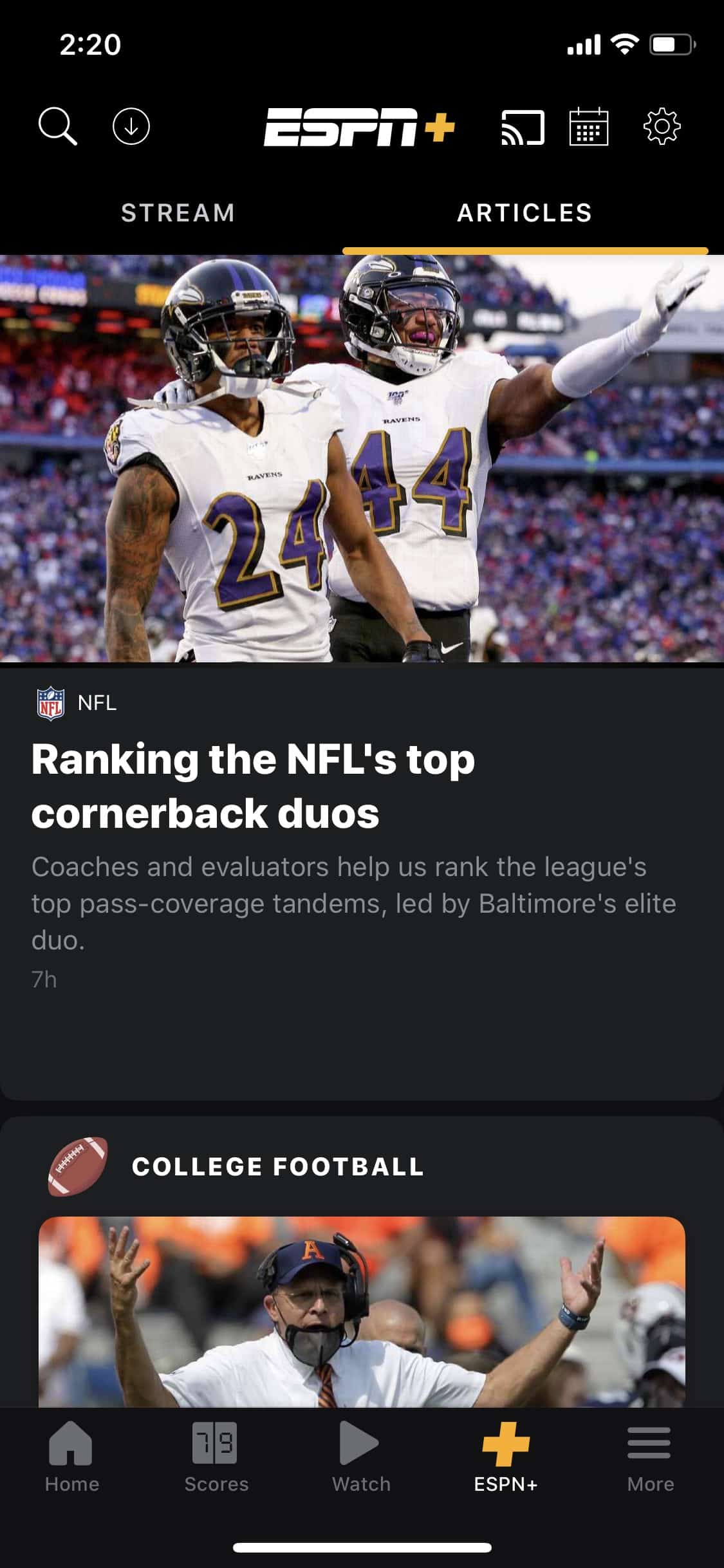 Our review is focused on the streaming video aspects of ESPN Plus, but I'd be remiss if I didn't mention the extra content. ESPN Plus includes special access to premium ESPN content, including exclusive articles and fantasy sports tips. Since ESPN Plus' streaming features are already built into the regular old ESPN app, it's pretty easy to hop back and forth between the exclusive articles and video content.
ESPN Plus Platform Support
ESPN Plus works right inside the ESPN app, which is good news for users of most devices. The ESPN app works on every major streaming, mobile, and video game platform, including Roku, Fire TV, Apple's tvOS, Android TV, Samsung Smart TV, iOS, Android (mobile), PlayStation 4, and Xbox One. ESPN Plus will also work in your browser (Firefox and Chrome on all major operating systems, plus Safari on Macs, Microsoft Edge on Windows, and even Opera on Linux).
I found the experience to be pretty consistent across the platforms I tested. I used ESPN Plus with Roku, Fire TV, iOS, and both Chrome and Firefox on both Mac and PC when testing the service for this review.
ESPN Plus Value
ESPN Plus costs $6.99 per month. That's a very affordable; it's comparable to the price of Disney Plus ($7.99 per month) and significantly cheaper than Netflix ($13.99 per month for the most popular of its three subscription tiers).
ESPN Plus can be even cheaper if you're interested in the other streaming options from ESPN's parent company, Disney. You can bundle ESPN Plus with Disney Plus and the on-demand version of Hulu for $13.99 per month. That's one of the best deals in the streaming world right now. Just be aware of the ESPN account issue I mentioned in the User Experience section of this review.
As great as ESPN Plus' pricing is, the service offers only limited coverage of MLB, and no NBA or NFL games. As we talked about in the What You Can Watch section of this ESPN Plus review, the gaps in programming make ESPN Plus a good fit for some sports fans but a poor fit for others. This is bound to affect how you feel about the value ESPN Plus offers.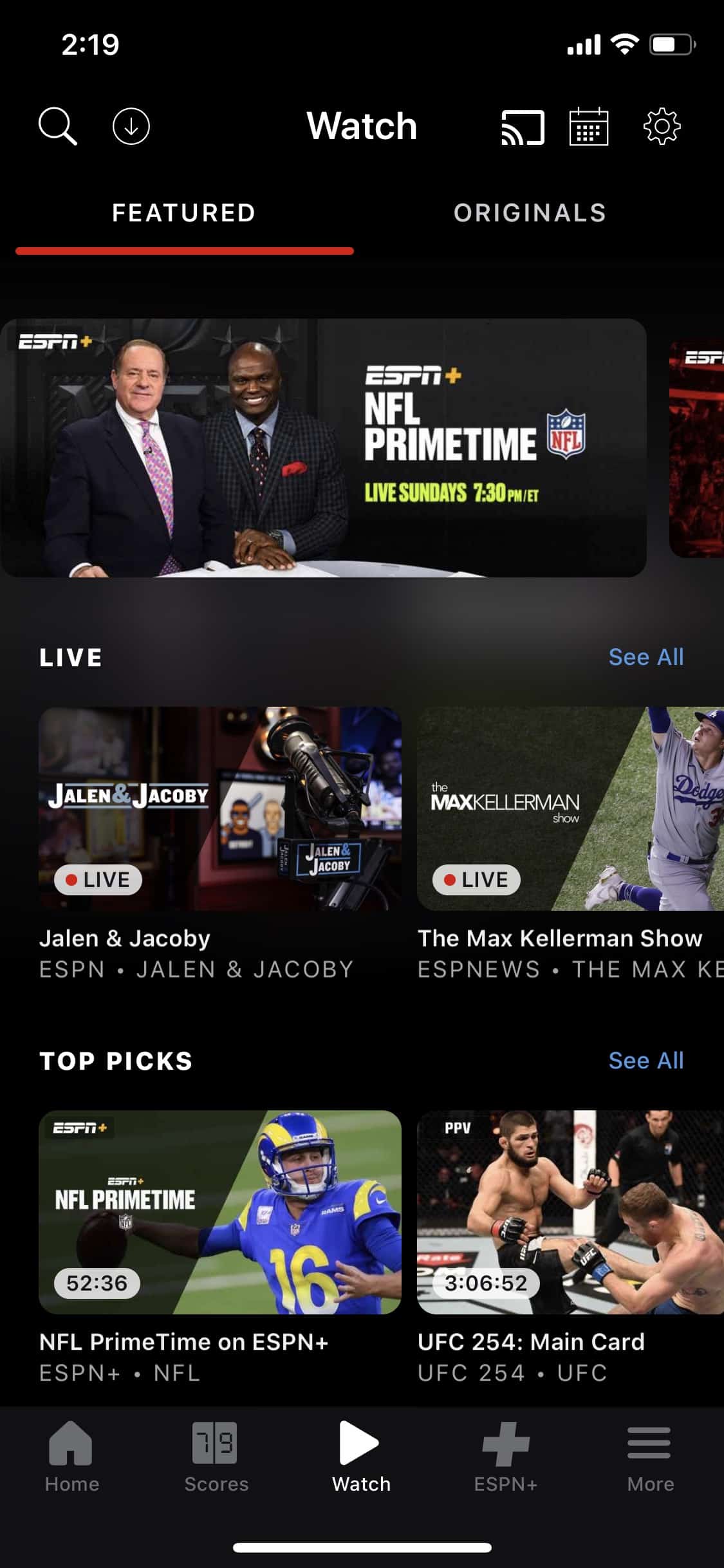 ESPN Plus sometimes feels like a supplemental sports subscription, but its price makes it easy to add to a monthly budget that already includes NBA League Pass, Sling TV, or, as in my case, an MLB TV subscription. ESPN Plus isn't pretending to be anything it's not, and, crucially, it's not charging high prices as though it's more than it is. Ultimately, it offers really good value.
ESPN Plus Review: Our Verdict
ESPN Plus is a highly affordable sports streaming service that's easy to use and has plenty to watch.
Is it the only streaming service a die-hard sports fan will need? In my view, no. There's never any shortage of sports to stream, but you can't always count on being able to watch the biggest games of the day. Of North America's four major sports leagues — MLB, the NBA, the NHL, and the NFL — two (NBA and NFL) have no live games on ESPN Plus. You'll find MLB games on the service, as well as NCAA football and basketball games, but they won't necessarily be the biggest and most exciting games on the schedule. ESPN Plus is going all-in on hockey, though, by airing hundreds of regular-season games a year. Still, if you're a fan of the country's most popular teams, leagues, and sports, then ESPN Plus is unlikely to be your one-stop shop for sports streaming.
ESPN Plus is a supplemental dose of games and analysis for fans of a wide range of sports and events. With ESPN Plus, I never ran out of sports to watch. I could check out historic sports moments in documentaries or view foreign leagues and unique sports events that may not make the rotation on ESPN's TV channel or on competitor channels such as FS1.
How much you'll get out of ESPN Plus depends on what sort of sports fan you are. If your sports intake is limited to Sunday's NFL games and the NBA Finals, you won't find much to enjoy here. If you're like me, then you may love ESPN Plus' reliable supply of diverse sports. It won't replace your MLB TV subscription or the antenna you use to watch the World Series or NBA Finals, but it will make sure you're never without sports between the bigger events. It's always midseason somewhere, and ESPN Plus makes sure you're there.