Frontier Internet in a Nutshell


I've been a customer of Frontier for more than two years now, and the chief reason is that they are one of the most affordable internet providers around. With internet service, though, price isn't everything. How much patience do you have for random moments when your internet won't connect even when your modem lights are "green"? As you'll see below, despite the occasional hiccup my connection generally withstands most of what my bandwidth-hungry household throws its way.
If you live in an area served by Frontier, you'll find that it has a good balance of price and speeds, making it worth trying for any type of user. In this year's review, I'll show you all of Frontier's plans (including the one I have at home and the actual speeds I receive). I'll also show you Frontier's equipment, discuss my experiences with customer service (much better than you might expect), and go through the fine print of signing up with Frontier.
Ready to Sign Up for Frontier?
Make sure to take advantage of all of the
latest discounts and deals on Frontier Internet
. We keep track of them all to make sure that you pay the lowest price possible for the reliable internet service that you need.
How Good is Frontier Internet?
Ever since Frontier bought parts of Verizon Fios' fiber internet network in 2014, Frontier has become the fifth largest fiber and DSL internet provider and well known in the western and east north-central parts of the U.S. With fiber being the most sought-after internet connection, Frontier put itself in direct competition with major providers like Spectrum.
Frontier Fiber is the branding name for Frontier's fiber internet service, and according to the FCC, Frontier Fiber is reliable — most Frontier Fiber customers receive speeds more than 90 percent of what's advertised during peak hours. Although my internet service is generally reliable, I don't receive those speeds consistently.
Based on my speed tests, my Frontier plan is not typically reaching its advertised speeds. That being said, there is minimal latency, and as I write this my son is watching Netflix while my husband is playing "Call of Duty." Also, while I'm on a Zoom or Slack call with my team during the workday, things are typically just fine with the occasional blip or "freeze."
It's worth noting that not all customers will have the same experience. I live in a more sparsely populated area. Densely packed cities generally report faster overall speeds.
Frontier's internet deals give it an advantage over the competition — Frontier offers some of the cheapest fiber and DSL internet plans around. Frontier's $44.99 (with Auto Pay and Paperless Bill) starting price is something that only AT&T Fiber or a Verizon Fios deal can match.
Here are some of the top pros and cons of Frontier Internet.
Frontier Internet Pros & Cons
Pros
Frequent promotions and perks
No data caps
No contracts required
Cons
Limited fiber internet availability
Low customer satisfaction rating
Frontier Plans & Speed
Frontier's range of speeds across its plans are suitable for any household, but binge streamers and gamers will want the higher fiber internet plans. Frontier's DSL plans and prices also offer decent value, but DSL can't match fiber's speeds.
Frontier Plans, Pricing, and Speeds
* One-time charges apply. Subject to availability. Cannot be combined with other offers. Other restrictions, Frontier policies, and service terms apply

| Plan | Connection Type | Data Cap | Starting Price * |
| --- | --- | --- | --- |
| Frontier Internet | DSL | No data cap | $49.99 per month (with Auto Pay and Paperless Bill) |
| Fiber 500 | Fiber | No data cap | $44.99 per month (with Auto Pay and Paperless Bill)y |
| Fiber 1 Gig | Fiber | No data cap | $69.99 per month (with Auto Pay and Paperless Bill) |
| Fiber 2 Gig Internet | Fiber | No data cap | $99.99 per month (with Auto Pay and Paperless Bill) |
| Fiber 5 Gig Internet | Fiber | No data cap | $154.99 per month (with Auto Pay and Paperless Bill) |
If available, Frontier's Fiber plans are the best value for your money. Frontier does offer DSL in many areas, but the speeds can vary widely. We recommend going with the Frontier Fiber 1 Gig plan if you have it nearby.
Frontier Internet Data Caps – Does Frontier Fiber Have a Data Cap?
I hate data caps, and a truly great thing we like about Frontier is that all DSL and fiber plans are data cap free. This nuance is a big win for Frontier considering how often I've seen fiber internet providers only offer one data cap free plan which is always their most expensive, fastest option.
Additional Fees
Frontier internet comes with minimal fees and most of them are avoidable depending on where you live. Good thing, because these fees can add up with other providers!
| Fees | Cost | Avoidable? | Type |
| --- | --- | --- | --- |
| Expert installation | $50 | Yes (waived on all plans above Fiber 500) | One-time |
| Non-return equipment fee | Up to $400 | Yes | One-time |
Installation
The internet won't turn on magically with Frontier. It will need to be installed. In our case, with fiber, it took a technician roughly 45 minutes to an hour to get us up and running and required drilling a hole through the wall from outside (like a cable installation). If you get the Fiber 500 plan, you'll have to pay a one-time fee of $50. Otherwise, Frontier waives this fee with monthly promotions.
There are two ways you can avoid Frontier's installation fee: sign up during a promotional period or opt for self-installation. If you're inclined to DIY, Frontier gives in-depth videos on how to self-install which helps make the process easier. Before you "try this at home," make sure you know what you're getting into.
Equipment
As for equipment, you'll need to make a decision on whether to use Frontier's router or use your own. Honestly, I'd stick with Frontier's router unless you're knowledgeable about network issues and troubleshooting internet connection. It's about the size of a small book, which makes it easy to fit anywhere. I know there's a problem if the globe turns red or I'm missing a green light. Anytime I've had network issues I couldn't fix on my own, Frontier was able to diagnose and repair my router in less than 10 minutes.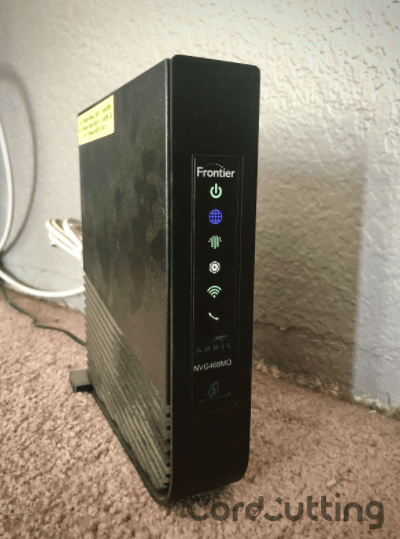 Getting a router from Frontier comes with a few perks:
Free upgrades
Optimized for Frontier's network
Free troubleshooting
If you decide to get your own modem, you'll save money in the long run.
Frontier Customer Service
Frontier has a low customer satisfaction rating among internet providers, but that score isn't the best portrayal of its customer service. Instead, it's more reflective of customer complaints about slow download speeds. Frontier's technical support is quick to resolve issues when they can. My last call was one of those situations where the modem said "green" but nothing worked. Customer service reset the router on their end, and I was back online. The whole process took about 10 minutes from the time I dialed customer service.
There isn't much that customer service can do about my slower-than-advertised speeds, but they've always been able to get my network back up and running while I'm on the phone. Frontier takes its customer service a step further by creating their own technical support guides and resources that are available on its website. And for the phone-shy, there's an online chat feature and mobile app. I usually prefer online chat but I have trouble logging into my account on occasion, so I've started calling them to get my connection fixed faster.
Verdict
Frontier doesn't always deliver the speeds advertised, but Frontier Fiber offers plans fast enough for heavy users like my family. Being budget-conscious, I feel that Frontier Fiber internet pricing is good, and Frontier is well on its way to becoming one of the best internet providers as its speeds and perks develop.