Customize your channel lineup and make TV uniquely yours
Is Sling TV Worth It?
Sling TV has added a few things, including an updated Roku TV app and the ability to get local channels in some markets. But despite some changes on the margins, the core of Sling TV remains: It's got decent pricing and a great channel lineup that's easy to customize.
Sling TV: A highly customizable cable alternative.
Pros
Customizable bundles
Streamlined Roku app
Offers some local networks
Cons
Local networks only in select markets
Frame rate issues persist
Five Reasons to Choose Sling TV
You want live TV for less than cable costs
You want to customize your TV package
You want foreign-language channels
You want live TV without a contract
You want to bundle premium networks like Max with a TV package
Sling TV Video Review
What Is Sling TV? What Does Sling TV Do?
Sling TV is focused on offering live TV. That means live network channels — the same ones you remember from cable or satellite. We're talking about networks like AMC, HGTV, ESPN, and so on. The whole point of Sling TV is to get channels like this without having to pay through the nose for cable.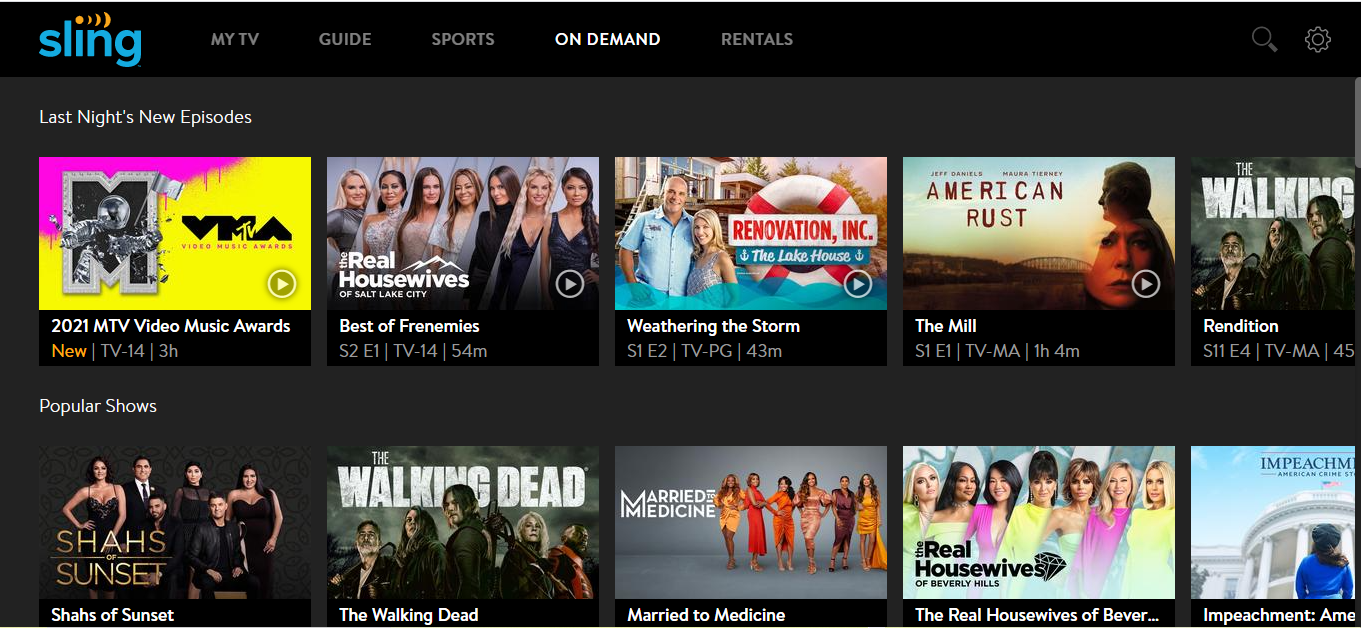 That's the main appeal of Sling TV, but like any good live TV streaming service, it also has a DVR that allows you to record your favorite shows and watch them later. There's on-demand content worth watching as well.
What to Watch on Sling TV: What Channels Are on Sling TV?
Sling TV has plenty of channels. I was particularly impressed with the sports lineup, which rivals fuboTV's sports-centric lineup. I got all the big national sports channels (including ESPN, FS1, and NBCSN), plus some regional sports networks (RSNs) and plenty of smaller networks with coverage of foreign sports, college sports, and more. Sling TV's RSN selection isn't comprehensive, but that's just about the only thing I could find to complain about in the sports department.
Sling TV's base bundles — "Sling Orange" and "Sling Blue" — offer 30+ and 40+ channels, respectively. However, it's easy to start with either base bundle (or both) and add on "Extras," which are themed packages of add-on channels. A big part of Sling TV's appeal is that it allows its customers to customize their TV packages.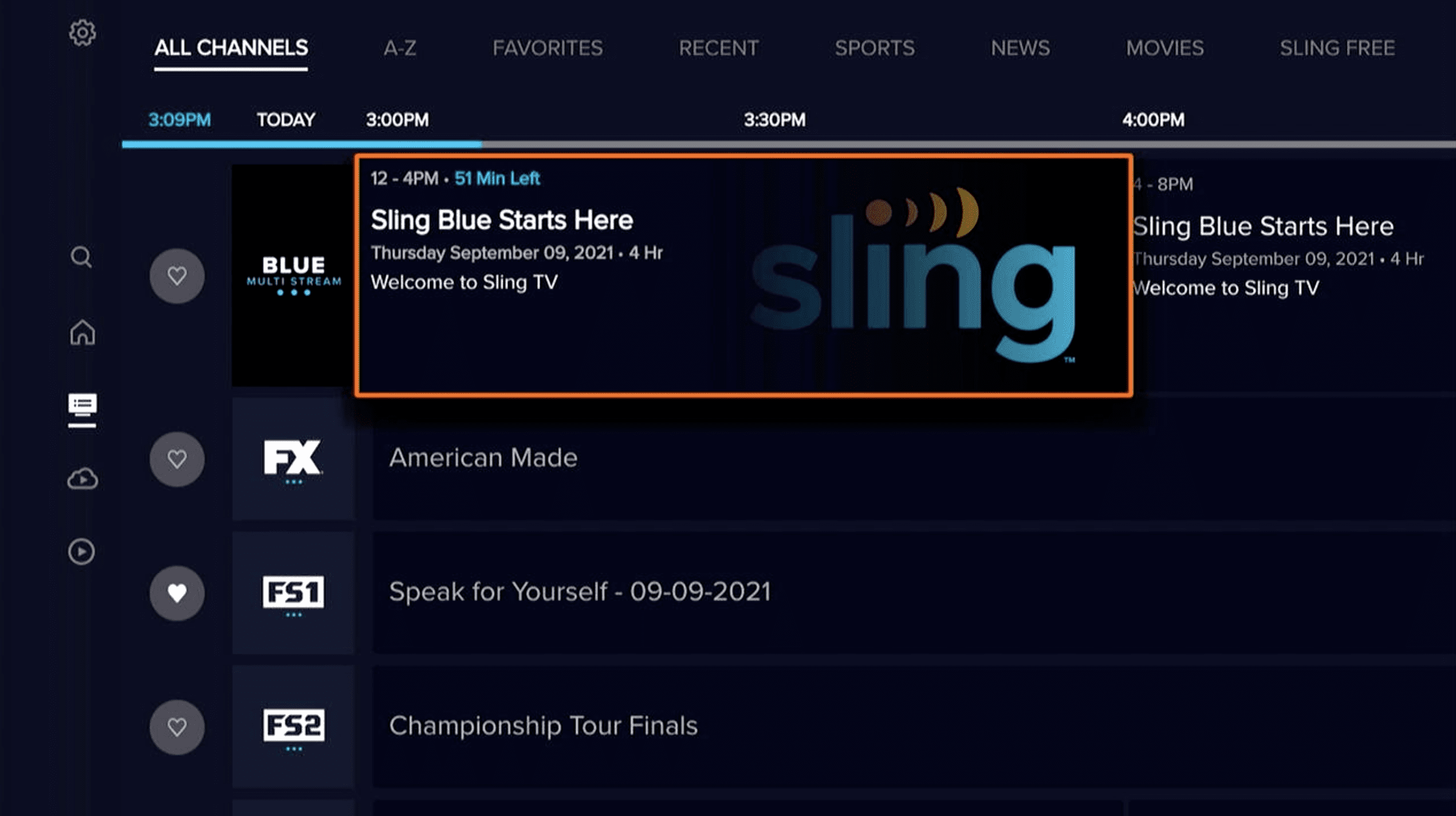 Sling TV used to be devoid of all major networks, but that has changed a bit as of this review. If you live in select markets, you can get a local feed of FOX or NBC. If you live in a market like New York or Chicago, you can get both NBC and FOX. The key is that NBC or FOX is available only in markets where the respective networks both own and operate their affiliates.
CBS is one of the biggest channels missing from Sling TV's lineup. I certainly would have liked to see those included, but the Sling TV channel lineup is otherwise very strong. ABC is also included in most of its packages.
Sling TV's channel lineup is the main thing that has changed over the years, but it has also made some quality-of-life improvements since we first reviewed the service. In particular, Sling TV has gotten better at helping sports fans find their favorite teams' games. It's also something that competitors like DIRECTV and YouTube TV have also gotten much better at. It's a key design choice that significantly improves the app for a key group of cord-cutters.
Sling TV Features and Specs: Streaming Quality, Sling TV Devices, and More
Sling TV's streaming quality is in line with that of most other live TV streaming services. There are some frame rate issues (which we'll talk about below), but the app support is wide-ranging and impressive. Sling TV's feature set is strong, too, though its cloud DVR is not unlimited.
Sling TV DVR: Recording on Sling TV
With Sling TV, you get up to 50 hours of free cloud storage on the Sling TV DVR. If that's not enough, you can upgrade to 200 hours for $5 per month. Learning to use the DVR is pretty simple.
For this review, I recorded and watched a couple of episodes of "House Hunters." Those recordings included commercials. Even if I watched them on demand, I still had to watch commercials. While services like Hulu have a little timer in the corner that lets you know how much longer the ads will last, there's nothing like that on Sling TV. That made it harder to figure out if, for instance, I had enough time to run to the kitchen and make a quick snack. I quite liked the cloud DVR on a basic functional level, but the commercial breaks were a pain point.
Sling TV App: What Devices Can You Use With Sling TV?
Sling TV was the first skinny bundle to hit the market when it debuted back in 2015, and it has had plenty of time to build out solid apps for all of our favorite platforms and devices. So it didn't surprise me to find that platform support remains a strong suit for Sling TV: It has great apps available for Roku, Fire TV, Android TV (including Sling TV's own AirTV device), Apple TV, iOS, Android TV, and various web browsers.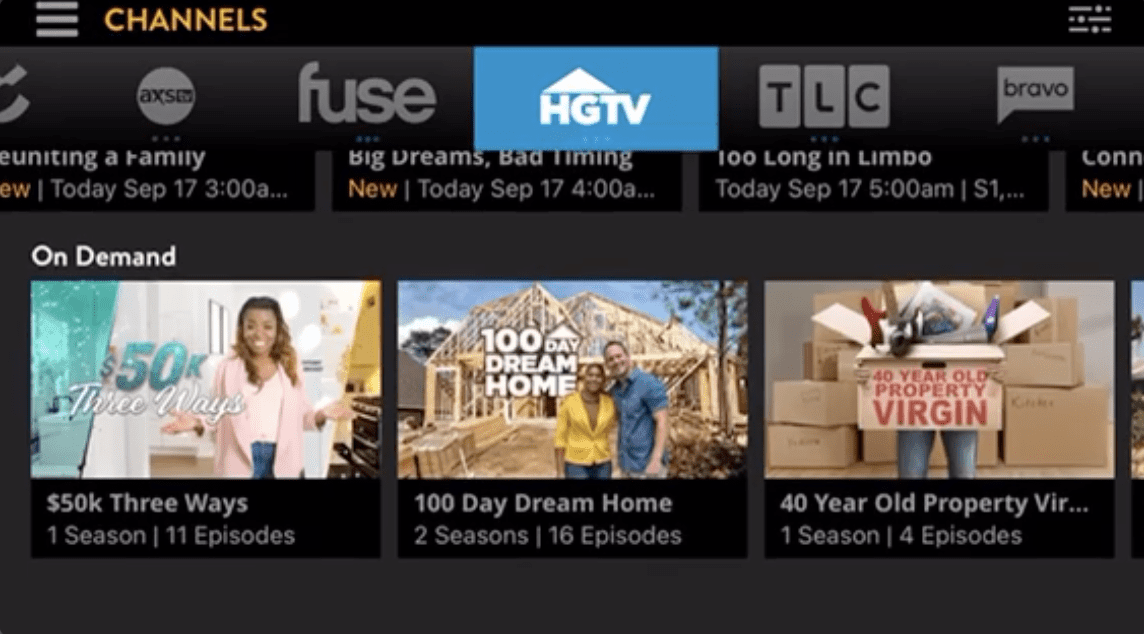 For this review, I put Sling TV through its paces on a wide range of platforms: Roku, Fire TV, iPhone, iPad, Chromecast, and two browsers (Chrome and Firefox).
Sling TV Streaming Quality
Sling TV streams in HD, but not 1080p HD — the livestreaming video here generally tops out around 720p. That's typical of most live TV streaming services (though there are exceptions, like YouTube TV).
More of an issue is the frame rate. Sling TV tops out at 60 FPS, which is just fine with me, but it doesn't always get to that maximum, which is less fine. For things like live sports, 60 FPS is pretty important.
Still, to the naked eye, I think that Sling TV's streaming looks pretty solid. You shouldn't expect breathtaking 4K, but I think you'll be satisfied as long as you're not the sort of person who always has to have the latest and greatest thing in picture quality.
I found loading times to be pretty quick and streaming to be very smooth. Lag time is significant — it's at least a good 30 seconds in most cases — but that's part of the deal with these live TV streaming services. Just watch out when you're watching sports, because logging on to Twitter might spoil the next big play!
Using Sling TV: What We Learned From Our Sling TV Review Testing
Sling TV recently updated its Roku app, and the changes are most noticeable on the guide screen, which isn't as old school anymore. The grid is still there, but the channel highlighted is more pronounced somehow. It pops off the screen more, as if Sling TV really wants you to have no doubt whatsoever about what channel you've selected.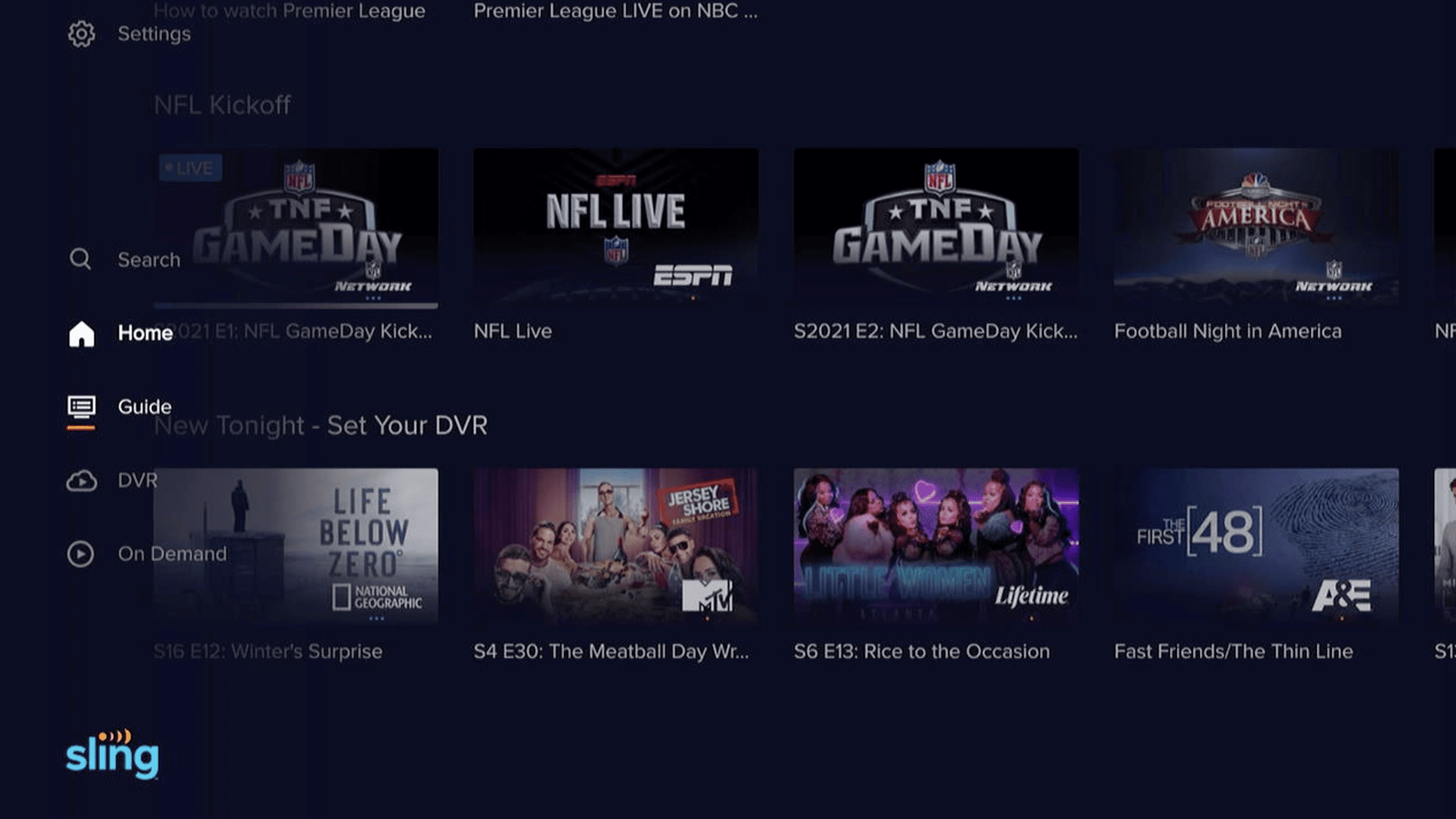 The Sling TV home page is more streamlined and a bit less repetitive now. There's slightly less information on the home page, which is useful in some ways. In an earlier review, we noted how it's easy for your favorite channels to dominate every row on the home page. Now, the "Trending" category is the first one you see on the home page, and that may or may not have anything to do with your favorite channels. Below that are "Recommended for You" and "My Channels," so there is some repetition, but the "Continue Watching" option is farther down, so it doesn't seem like your most-watched channels are quite as crammed together as they were in the previous version of Sling TV.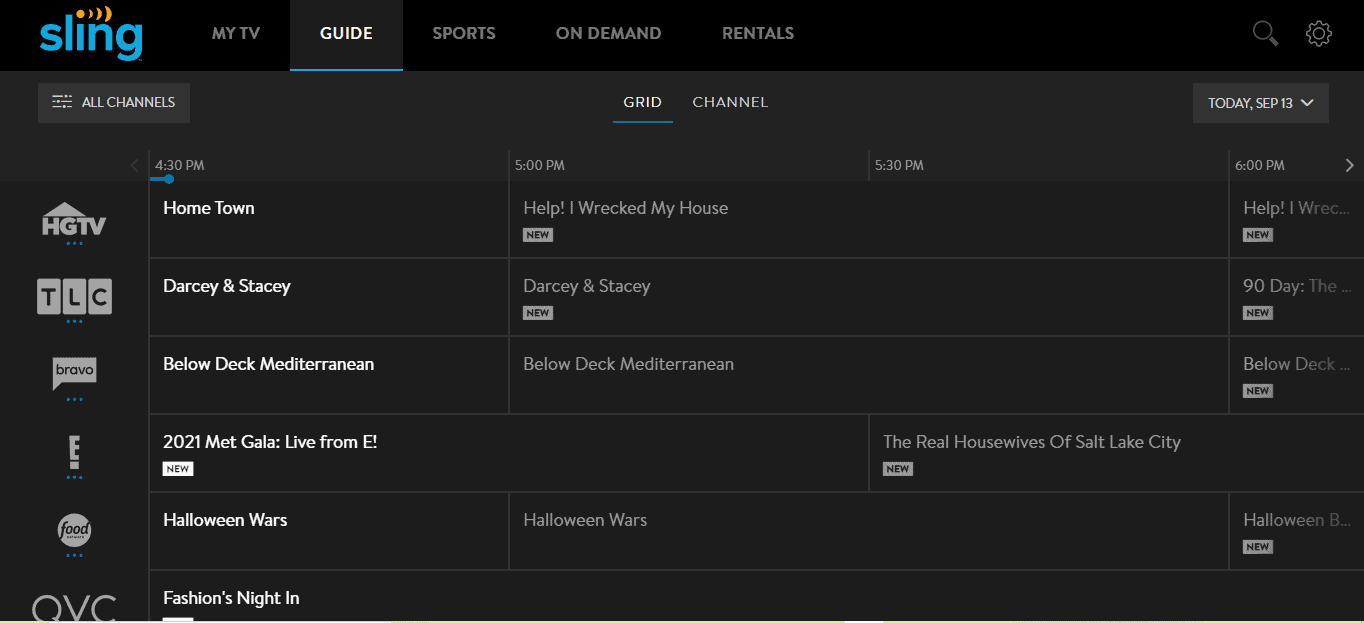 The separate tab for live sports is gone in this update. You can get there by scrolling to "Browse Categories" and selecting "Sports," but if you're a sports fan, you won't automatically find it on the home screen anymore. For sports fans, that's a definite bummer, since that easy-to-find tab was one of the top reasons to get Sling TV. It's still relatively easy to find live sports, but not as easy as it was before. But this applies to the Roku app only; you can still find the "Live Sports" tab when watching Sling TV through a web browser.
Sling TV Plans, Pricing, and Value: Is Sling TV Worth It?
Sling TV's pricing offers impressive value. Sling TV's base bundles cost $40-$45 per month or $60 per month when combined. That's an increase of $5 from the last time we reviewed the service, but those are still good prices: Among live TV streaming services, only Philo can measure up to these, and that's because it deliberately leaves out pricey channels like ESPN (which Sling TV has).
Of course, price isn't everything. Sling TV's base bundles have a channel count lower than that of YouTube TV or DIRECTV. That's by design, of course. The idea is that you can add extra bundles to build a customized plan. However, it's worth noting that the per-channel price isn't necessarily Sling TV's selling point. Where Sling TV has its competitors beat is in its ability to tailor bundles to your appetite. Spending $45 for 48 channels is a great deal if those 48 channels are the only ones you really want.
Verdict: Should You Subscribe to Sling TV?
Sling TV has changed its look on Roku TV, but it's still one of the cheaper live TV subscription plans. In fact, Sling TV remains your cheapest option if you want a live TV service with sports and news channels (if you don't, then Philo is your best bet).
The lack of major networks used to be a big negative on the Sling TV scorecard, but the addition of major networks NBC and FOX in some markets certainly helps. Sling TV also encourages you to get an antenna and tune into local channels for free. That may or may not be a good option for you, but Sling TV's pricing and content make it a solid choice either way.
Ready to try Sling TV?
We've partnered with Sling TV to bring our readers special offers and pricing.
See Exclusive Offer