Whole-home networked DVR: Browse, record, and stream
As you probably already know, over-the-air digital video recorders (OTA DVRs) are devices that allow you to record and replay free over-the-air TV. They're just like cable DVRs, except they're designed for the antenna-loving cord cutting set. Tablo has been making these things for years, but we've never reviewed on here on the site. We're finally getting Tablo review up today, though – better late than never! We'll make up for lost time by going over every feature you need to know about. We'll also tell you whether or not you should actually buy one of these things – it is a Tablo review, after all. Let's get judgin'.
Tablo Review: Tablo Dual 64GB
Disclosure
Tablo sent Cordcutting.com a Tablo Dual 64GB to review. This is standard practice when it comes to PR and press outlets. We let out readers know whenever we get a free sample, anyway, because our small site relies on reader trust. Besides, putting this section in here gives us a chance to say this: we never take payment from companies for product reviews, and we don't allow companies to influence what we write in our reviews. We also never include affiliate links in our reviews.
Device
Alright, let's get this Tablo review underway, shall we? Today, we're taking a look at the Tablo Dual 64GB. That's this thing: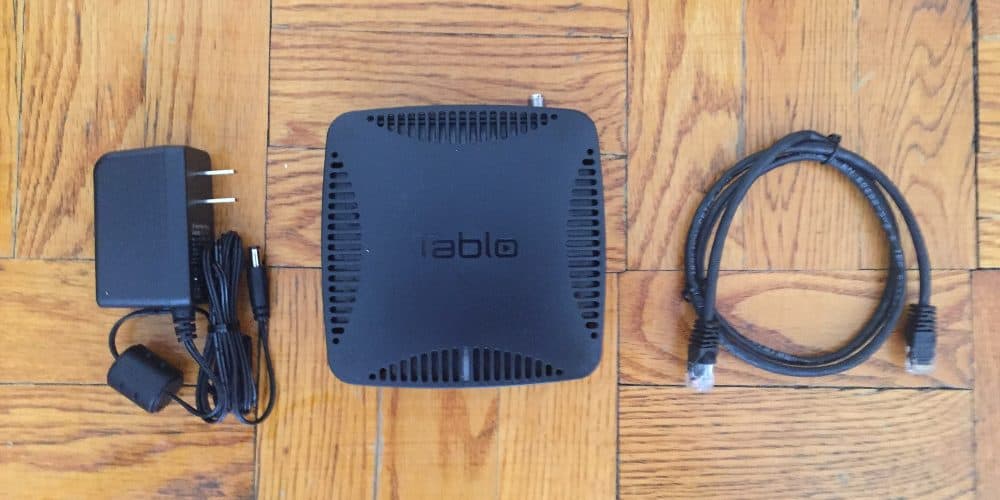 It's an OTA DVR, of course, which means you plug an antenna (not included) into the box and can then record shows being broadcast over the air. The "Dual" in the name of this model references the fact that there are two TV tuners in the device, meaning you can record up to two things at once with this DVR. The "64GB" part refers to the device's built-in storage – a feature that distinguishes it from other Tablo devices, including the otherwise identical Tablo Dual Lite, which require you to supply your own USB storage device.
64GB is not a lot when you're talking about video – Tablo says it fits 40 hours, but you'll get less if you opt to record in 1080p (and you probably will). Still, 64GB isn't nothing.
But I didn't need an external hard drive for this Tablo review, thanks to those 64GB. I also didn't need an Ethernet cable, because the Tablo comes with one. It also comes with a power supply. The only thing missing is, of course, the antenna. Thankfully, I had a few lying around – it's an occupational hazard.
Returning to the device, I'd call the Tablo Dual a decent-looking little thing. It's relatively small (less than six inches on a sitde), it's plain and black, and I was able to stick it in my entertainment center and then stop noticing it, which is exactly what I want out of an OTA DVR. It's not a conversation piece, and that's good.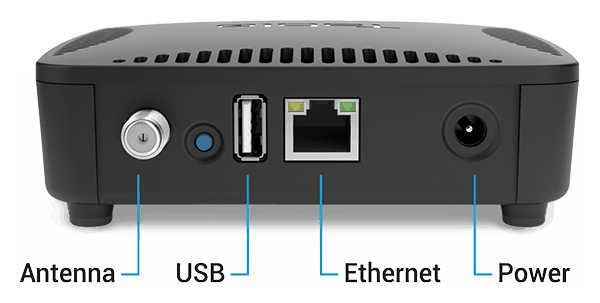 Flip it around, and you'll see that you can add more storage via USB or connect the Tablo via Ethernet cable (included, as I mentioned) for better performance. There is also, of course, a power jack and a coaxial jack.
User Experience
The way to control a Tablo device is with the Tablo TV app. There's no screen on a Tablo, and Tablo devices are not designed to plug into your TV. Everything you do is over the internet, and all of your direct control over the device, from setup to programming recordings, is done in the app.
Setting up the Tablo was pretty straightforward. The process involves connecting to a network generated by the device and then entering your Wi-Fi information. Owners of Amazon Alexa devices will find that it's pretty much the same setup process that Amazon uses. You can also choose to connect your Tablo to your network using an Ethernet cable (I tested my Tablo both ways).
The app has content discovery features as well as a traditional TV guide-style screen, either of which you can use to find shows you want to record. You can choose to record individual episodes, all episodes, or only new episodes.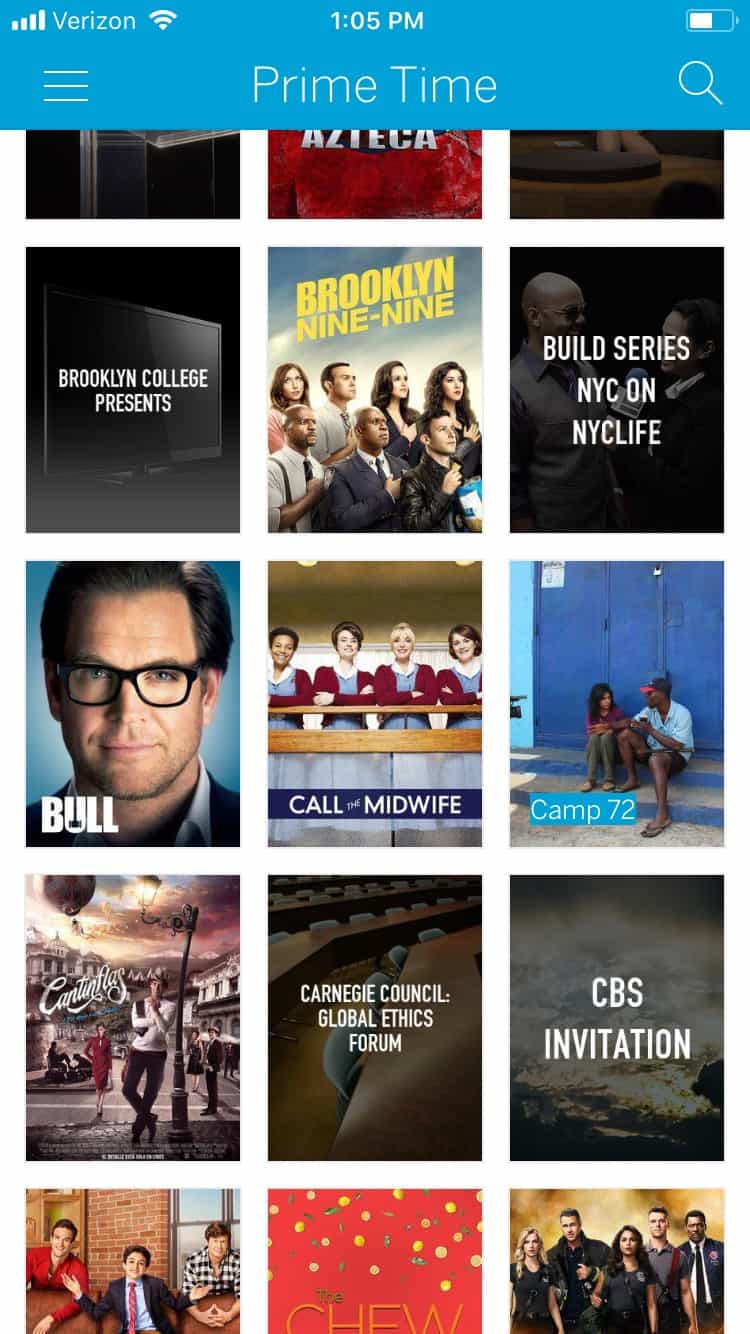 Tablo's app looks good. It's easy on the user as well as the eyes, and I had no trouble figuring out how to record things.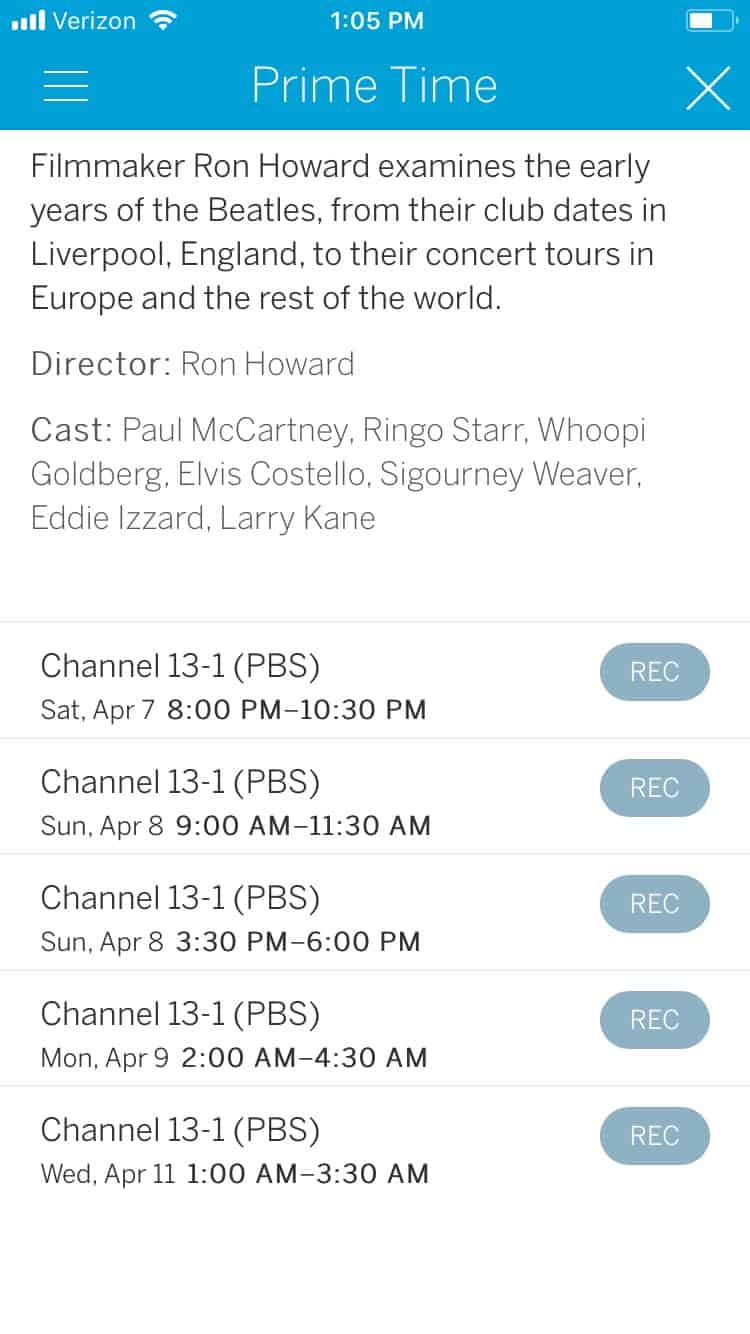 The Tablo TV app is also host to Tablo's streaming features. The shows you record can be watched in the app, and you can actually stream live TV from your Tablo, too.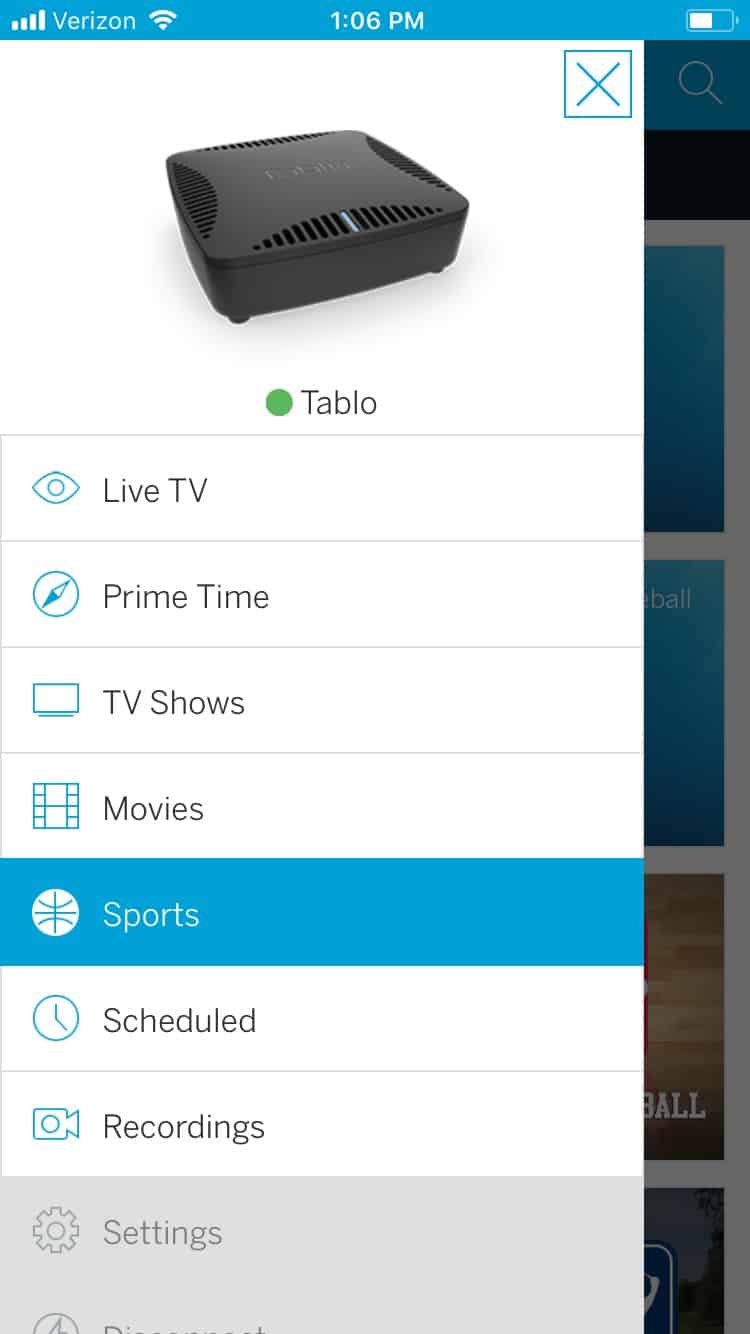 The app offers great platform support (more on that later), so it was easy to use it to watch live and recorded TV on my mobile devices, computer, and TV. I was pretty please with the experience overall. My only beef here is with the live TV feature. The live TV tab lets you choose a program to watch live, but you'll have to wait for it to load. That's presumably because Tablo needs to establish a little bit of a lag so that they can buffer out the live TV feed, and that's understandable – I don't see any way around that, and presumably Tablo didn't either. But this means that changing the channel requires a loading period each time. And on the apps I tried, it didn't seem to be possible to flip the channel up for down directly – I had to exit my live feed and choose once again from the channel guide. Whatever I was watching disappeared while I browsed.
In other words, you can watch live TV with Tablo, but you can't really channel surf or flip quickly back and forth between two programs. To me, that undermines one of the best reasons to watch live OTA TV: the lazy channel-flipping feeling that cord cutters often miss.
Ultimately, I thought it was cool to watch live TV on my mobile devices, but ended up hooking up another antenna directly to my TV rather than using the Roku app to stream live TV there. The Tablo TV app was a great way to record OTA and watch those recordings, and it also provided a way to watch live OTA TV on my phone or tablet. But as for live OTA TV on my actual TV, it couldn't compete with a regular antenna setup.
Streaming Quality
Overall, I was pretty impressed with the streaming quality on the Tablo Dual. Recorded shows played smoothly for me on wired and Wi-Fi connections. Any connection issues on the antenna's end are, of course, preserved in the Tablo's digital recording, but there's no reason to blame the Tablo for that.
As mentioned in the User Experience section, live TV's loading times interfered with my experience a bit. But once loaded, the live TV streaming was pretty solid. It wasn't perfect when I was running the Tablo on Wi-Fi, but it was tolerable, and I got better results with the Tablo connected to my router via Ethernet cable. If you're planning to watch a lot of live TV using the Tablo, I'd recommend going with the wired connection.
Tablo can stream and record in 1080p, which is the highest quality that OTA channels broadcast in right now. To get that sweet, sweet 1080p HD, though, you'll need to tweak a setting on the Tablo TV app. And 1080p recordings take up more space, so you'll end up getting less into those 64GB of space.
Platform Support
Since the Tablo experience is so reliant on the Tablo TV app, it makes sense to include a platform support section in this review. The Tablo TV app has solid platform support: it's available for Roku, Fire TV, Apple TV, Nvidia Shield, Xbox One, iOS, Android, and via a web app. Chromecast can be used with the Android app. For more on the platforms Tablo plays nice with, click here.
Price
The Tablo Dual 64GB retails for around $180, which isn't a bad price for a DVR. Keep in mind, of course, that you'll might end up paying Tablo subscription fees if you want to use this thing to its maximum potential. That's $4.99 a month unless you're in the mood for commitment and want to drop $49.99 on a year or $149.99 on a lifetime deal.
You can get the Dual Lite for around $140, so that's worth considering if you already have a portable hard drive you can use (or are willing to buy one – the $40 you save by opting for the Lite will net you more than the 64GB you get on the model that is the subject of this particular Tablo review). Of course, the Tablo Dual 64GB's ability to live without an external storage device give it an aesthetic advantage over its identical twin. If you want to live the high life, you could spend $250 or so and grab the Tablo 4-Tuner OTA DVR, which has a different form factor.
There aren't a ton of direct competitors to measure price against here. SiliconDust's HDHomeRun Duo is a two-tuner device that costs $100 or so, but to get DVR service you need a subscription (not true of the Tablo), and you need some other device to actually do the recording (like an always-on computer), so it's not a totally fair comparison. Anyway, this is a Tablo review, not a HDHomeRun one, so let's just say that the Tablo Dual 64GB seems fairly priced and move on.
Why choose Tablo?
DVR is now a home network with Tablo. Browse, record, and stream free live HDTV to any device, any time, anywhere - without the commitment of cable or satellite contracts.
Verdict
The Tablo Dual is an OTA DVR, and it is an excellent one. If you want to record and time-shift free over-the-air TV, you'll find that a Tablo will get the job done competently and even with a bit of flair. I really like the principle behind Tablo, which allows the DVR to go anywhere (because it's not actually connected to the TV) and makes it controllable by any device that has the Tablo TV app (which is available for a ton of devices).
I'm a bit less sold on Tablo's live TV features, primarily because I think the inability to channel surf negates one of the best things about free over-the-air TV: that let's-see-what's-on, flip-around-during-commercials sort of laziness that is easy to miss when you've ditched cable and are surrounded by commercial-free on-demand services. Live TV streaming was solid with a wired connection, but I think most Tablo owners will end up owning at least two antennas: one for their Tablo and one to use with each TV they want to watch live TV on. With all of that said, the live TV feature is still much better than nothing on devices other than TVs: it was cool to be able to watch some OTA TV on my iPhone, even if I wasn't able to channel surf.
Recording OTA content is Tablo's core competency, and it's good at it. Live TV is a secondary feature, and Tablo is okay at it. The device is fairly priced, and Tablo's subscription service is affordable and less mandatory than that of some competitors. Put it all together, and you have a strong option for recording OTA TV. If you're in the market at this price point, this is a good buy. You may want to consider the Dual Lite, especially because you might find that you have to use an external hard drive either way (64 GB is not much), but whichever you choose, it should do the job nicely.