Live TV & on-demand with unlimited recording.
Pros and Cons of Philo
Pros
Most affordable live TV option
Includes most familiar and popular TV channels
Unlimited cloud DVR
Cons
No sports channels
No local channels
Very limited news selection
5 Reasons to Choose Philo
You want the cheapest live TV streaming option.
You want live TV, but don't care about sports.
You already have an antenna for sports and local news, but want cable channels for movies and TV shows.
You want to stream on multiple devices, including mobile devices.
You're sick of paying for cable!
What You Can Watch on Philo
Like all streaming services, Philo is designed to replace many of the live TV channels that cord-cutters lose when they cancel cable or satellite (though it's not designed to replace every last one of them, as we'll talk about in a moment). Philo is a "multichannel" service, so — like cable — it gives you access to multiple live TV networks that you can surf between, make DVR recordings from, and so on.
When it comes to movie channels, reality TV networks, and other general entertainment outlets, Philo's channel lineup is really impressive. Philo's channel bundle includes a wealth of channels, including AMC, Comedy Central, The Hallmark Channel, HGTV, IFC, and many more well-known cable TV staples.
Add-ons make premium channels like STARZ and MGM Plus available, too. Philo's channel list changes from time to time, but it has always been pretty impressive when it comes to movies, sitcoms, dramas, reality TV, and other straightforward forms of TV programming.
But part of what makes Philo unique is what it doesn't have. Philo offers very low prices, and the reason it's able to do so is that it omits certain channels. Philo takes the classic pay-TV bundle and deliberately carves out the channels that contribute the most to high cable bills — namely, sports channels and local affiliates of the major networks.
As a result, Philo is lacking precisely these things. You won't find ESPN or any other big sports networks here — in fact, you won't even find non-sports channels that air sports occasionally, like TBS or TNT. Philo is also missing the major networks (ABC, CBS, FOX, and NBC) and their local affiliates, so don't expect to find your local action news team on this streaming service. Philo has also been careful about adding news channels, though the selection of those has improved quite a bit since we first reviewed Philo many years ago. You won't be able to stream CNN or watch Fox News with Philo, but you will see at least a little bit of news thanks to the welcome (and relatively recent) addition of BBC World News.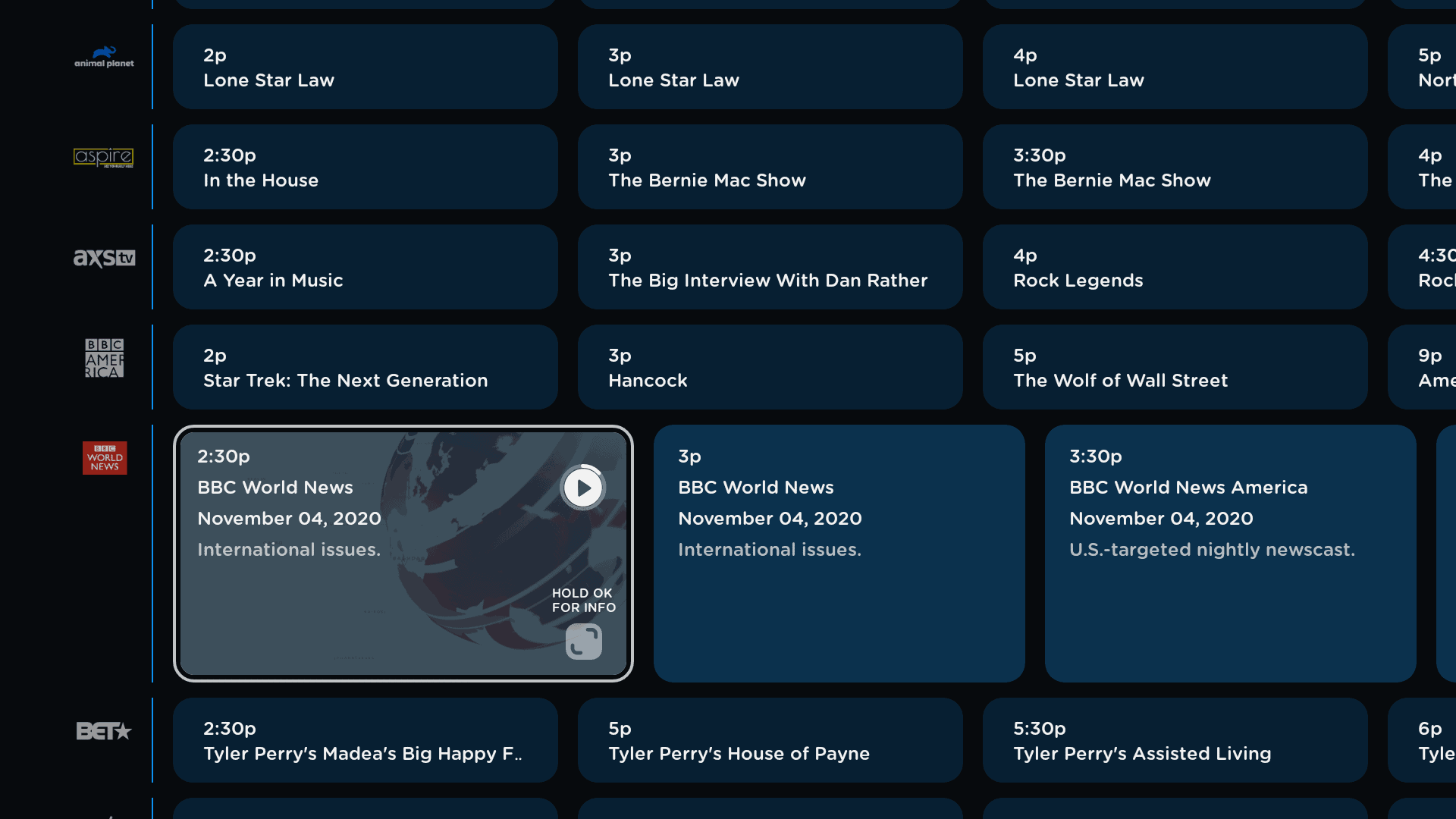 How much these omissions bother you will depend on what you like to watch. For a big sports fan like me, Philo felt like it was missing a lot: When I'm looking for live TV options as a cord cutter, it's usually because I'm trying to find a way to stream baseball. Since Philo didn't have my team's local regional sports network and was also missing ESPN, TBS, Fox, FS1, MLB Network, and the rest of my go-to channels for baseball, I didn't always feel like I was watching what I really wanted to. On the other hand, I do enjoy relaxing with a home improvement or DIY show, so I loved being able to surf between HGTV and DIY Network.
Your mileage may vary, of course. If you're a sports fan like me, Philo's trade-off might feel like a deal with the devil. But if you could take or leave channels like ESPN and CNN — or if you're able to shore up those areas with other options, like an ESPN Plus subscription or an over-the-air TV antenna — then you might be overjoyed to see Philo's impressive lineup of entertainment channels available without the pricey sports and news networks holding them back.
If the type of content is your cup of tea, you'll have plenty to watch: All told, Philo has more than 70 channels on offer at the time of this writing. It also has an on-demand library populated with recently aired TV from the many networks included in its bundle. If you miss a show, there's a good chance you can just catch it on-demand shortly after it airs. You can make sure of this by digitally "recording" the program with the cloud DVR — which, in Philo's take on the DVR, pretty much just saves on-demand content to a watchlist.
How It Felt to Use Philo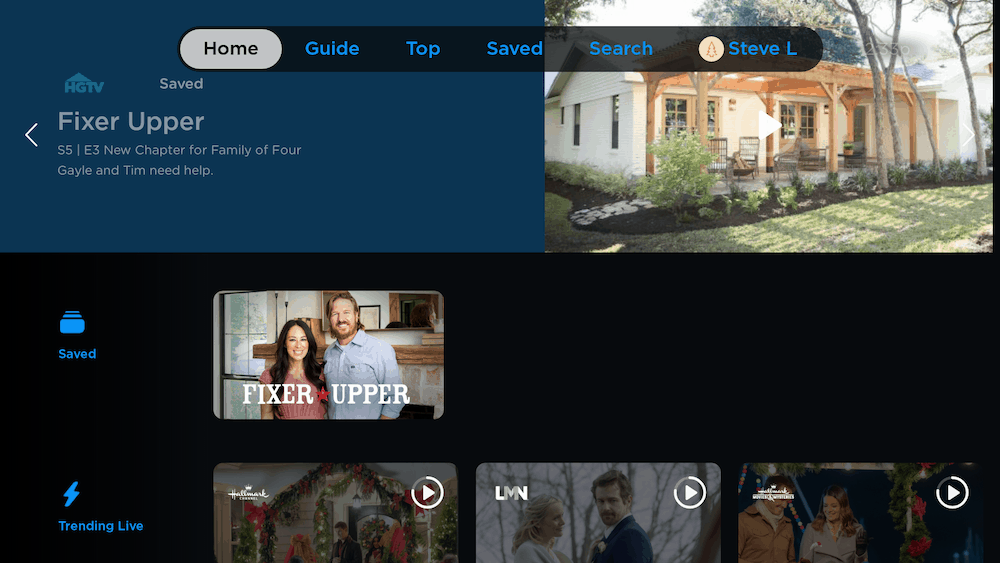 Right off the bat, Philo felt a little different to me than other live TV streaming services that I've tried. Like most of its competitors, Philo offers a free trial. Unlike most of its competitors, though, Philo didn't necessarily need my credit card information — not right away, anyway. You can watch Philo for free for a week using the free trial, and you don't have to enter any payment information for the first 48 hours of that period. An important note: This 48-hour grace period only applies if you sign up for Philo using a phone number. If you use an email address, you'll have to provide your payment information from the start.
Philo's Sign-Up Process
I elected to sign up via email. Philo emailed a code to the address I provided, and then I entered that code to start watching in my browser. That same process repeated whenever I activated one of Philo's apps — I never had to worry about a password. I found this pretty convenient, but you may decide that you'd rather use a phone number (if you do that, Philo will text the login code each time instead of emailing it).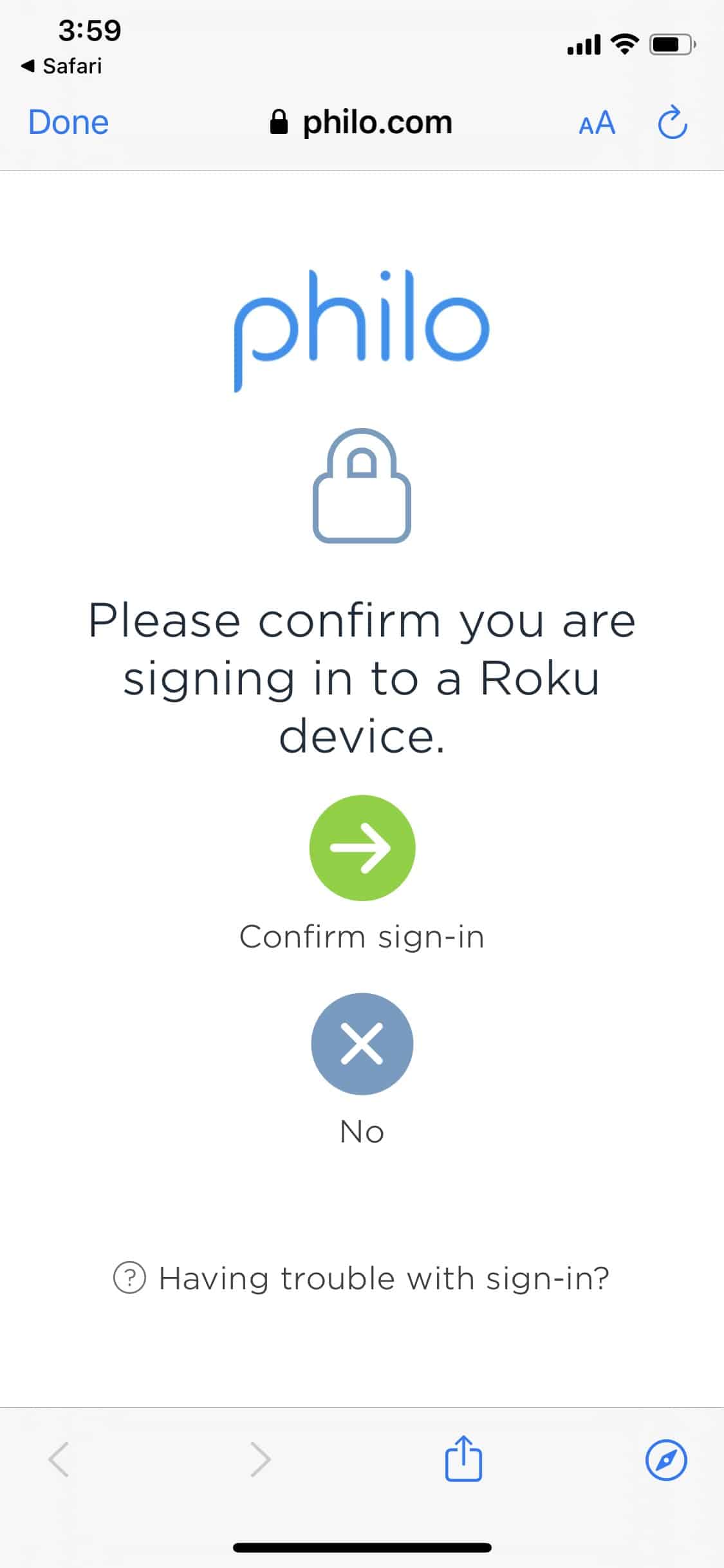 Either way, Philo is easy to log into and doesn't require you to create any new passwords. The flip side of this is that you'll have to OK each new login to your account — you can't just give a family member or friend your password and let them log in on their own.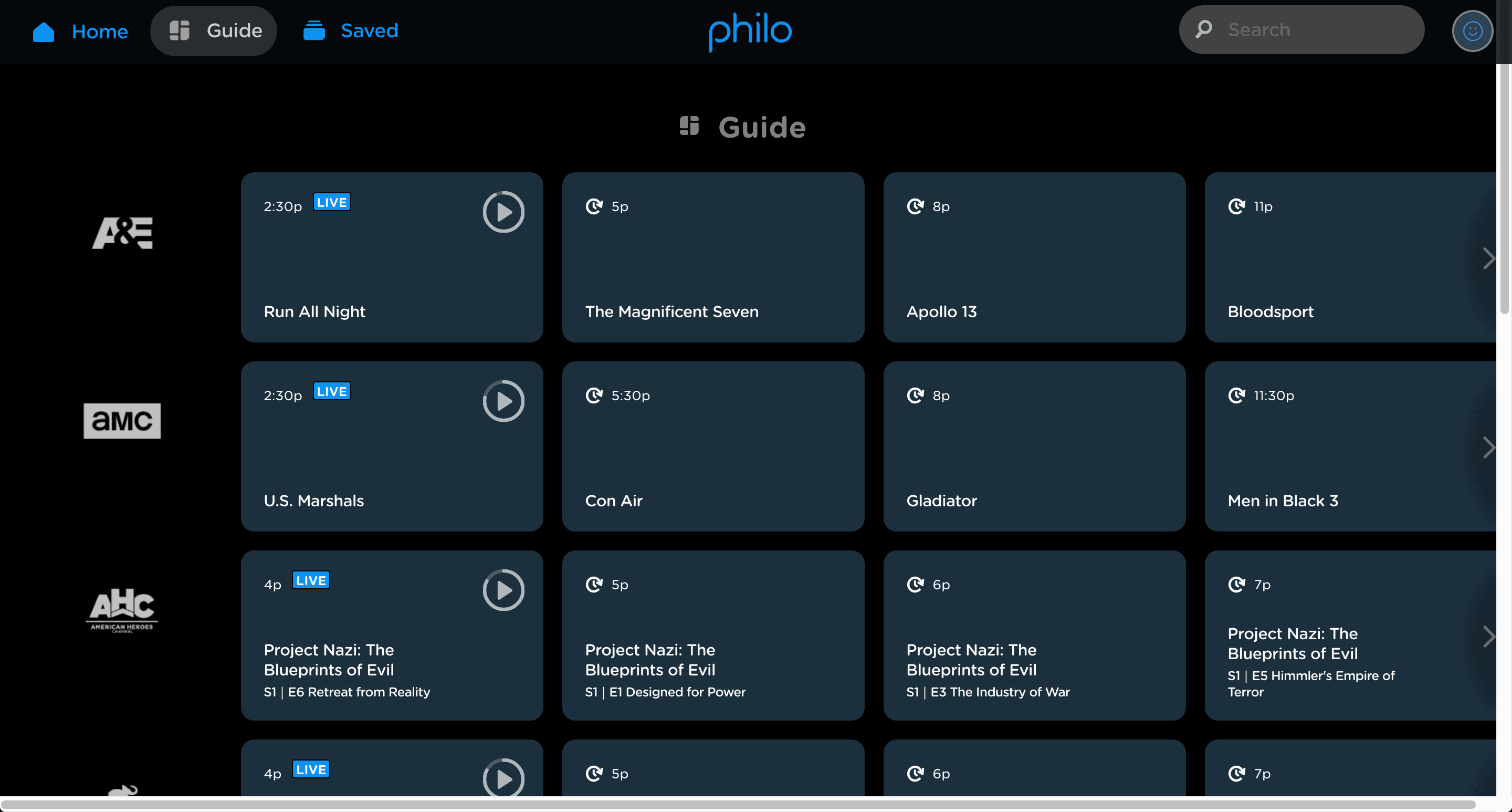 Philo's User Experience and App Design
Philo's user experience was pretty straightforward. Like most great live TV streaming services, Philo divides its app up into sections. The "Home" screen offers a few trending live programs before diving into lots of recommended on-demand content. The "Guide" screen hosts a familiar-looking TV guide menu that makes it easy to select a live channel. I could find my recordings and favorites under the "Saved" tab, and there was a "Search" option as well.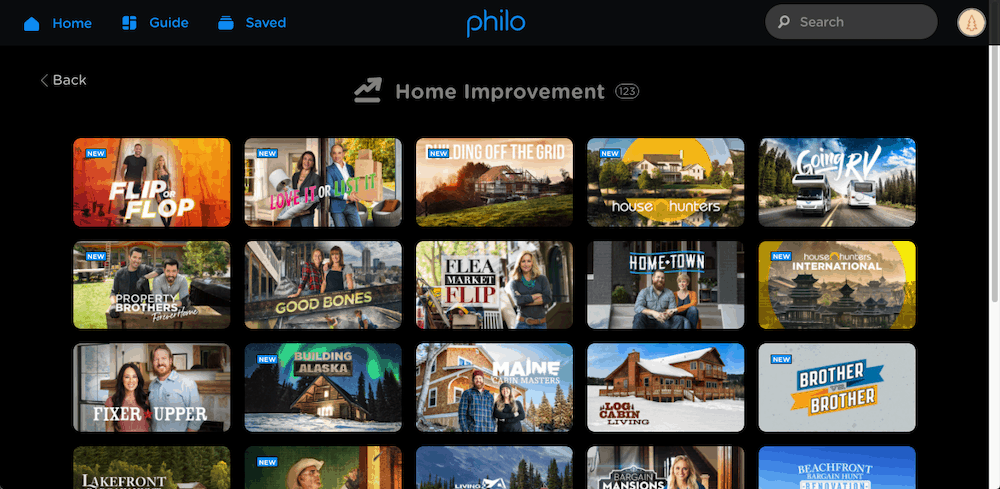 It was also easy to find shows by genre or category. I liked scrolling through the home tab as I decided what to watch — though this tended to send me to on-demand content rather than live TV. When I felt like channel-surfing, I headed to the TV guide screen instead — just like with other live TV streaming services I've reviewed, I found that TV guide was one of my favorite ways to find something to watch.
Philo's 'Unlimited DVR'
Philo also comes with an "unlimited DVR." Philo's DVR option essentially saves all available episodes of the series you choose (unlike with a traditional DVR, you don't have to wait for them to air again as reruns). The unlimited DVR feature also adds all future new episodes to your library of saved content.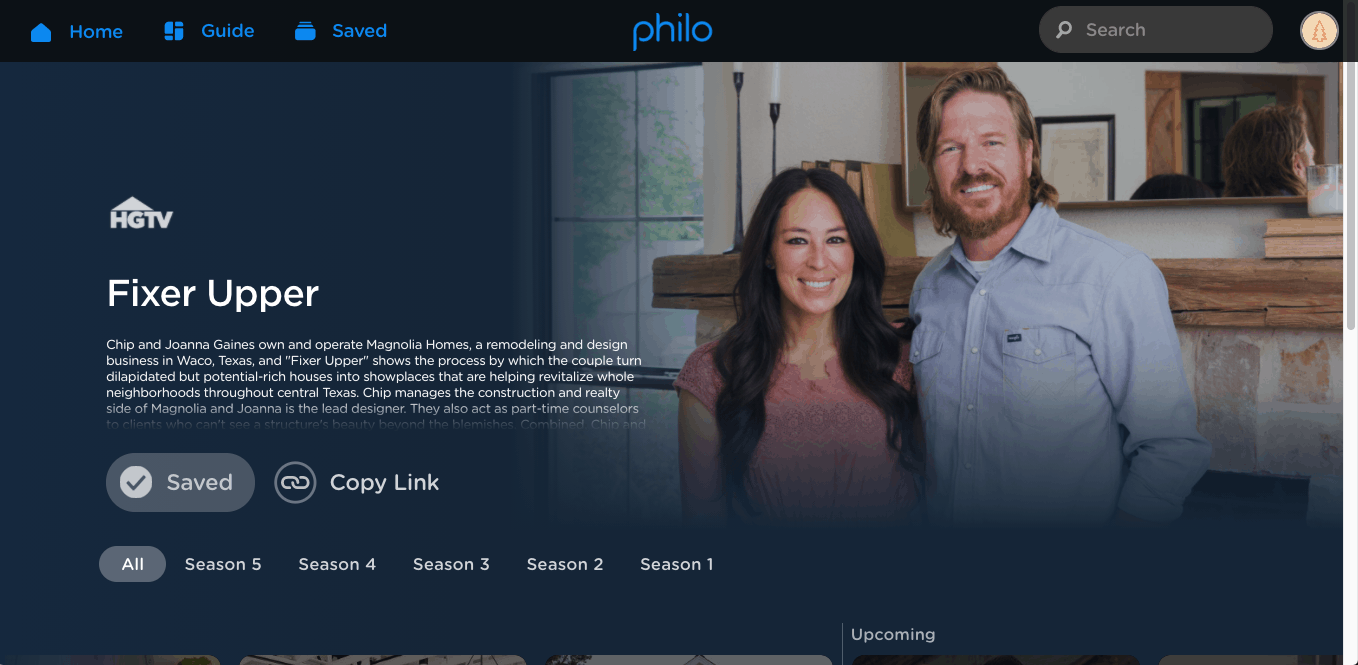 Using the DVR feature was simple, though it does feel a bit different from the typical DVR experience. There was no limit to how much I could "record," but my saved programs only stuck around for 30 days. I would have preferred a more straightforward (and more DVR-like) DVR, but Philo's watchlist-like option works just as well in most cases.
Philo Streaming Quality
I didn't have any trouble streaming Philo in my extensive trials. The service worked just fine on Roku and Fire TV, as well as on iOS and in my browser.
| | Resolution | Framerate |
| --- | --- | --- |
| Live TV content | 720p | 30 FPS |
| On-demand content | 1080p | 30 FPS |
Philo's streams may have been smooth, but the quality didn't quite blow me away. Philo tops out at 30 frames per second. That number refers to the number of images that Philo flashes up on your screen per second. As you can probably imagine, lots of speedy frames make for smoother viewing. (Just imagine a flipbook: If you tore out every third page, it would look "choppier" — that's what a lower framerate is like, though the effect is a bit more subtle.) Philo's rate of 30 FPS is only about half of what we're used to from some other live TV streaming services. This isn't the end of the world — a 30 FPS stream is still perfectly watchable, and the sports content that suffered most from lower frame rates isn't available on Philo anyway — but it's still an area where I would have liked to see Philo step it up a bit.
Philo's live streaming content streams at 720p HD (this measurement means how high the resolution of the image on the screen is — it's about how sharp it is, not how quickly it flips from frame to frame). With on-demand content, quality goes up to 1080p. Both of these numbers are very typical for live TV streaming services, so I can't fault Philo here. A little 4K UHD content would have been nice, but I don't consider that a must-have for services like these.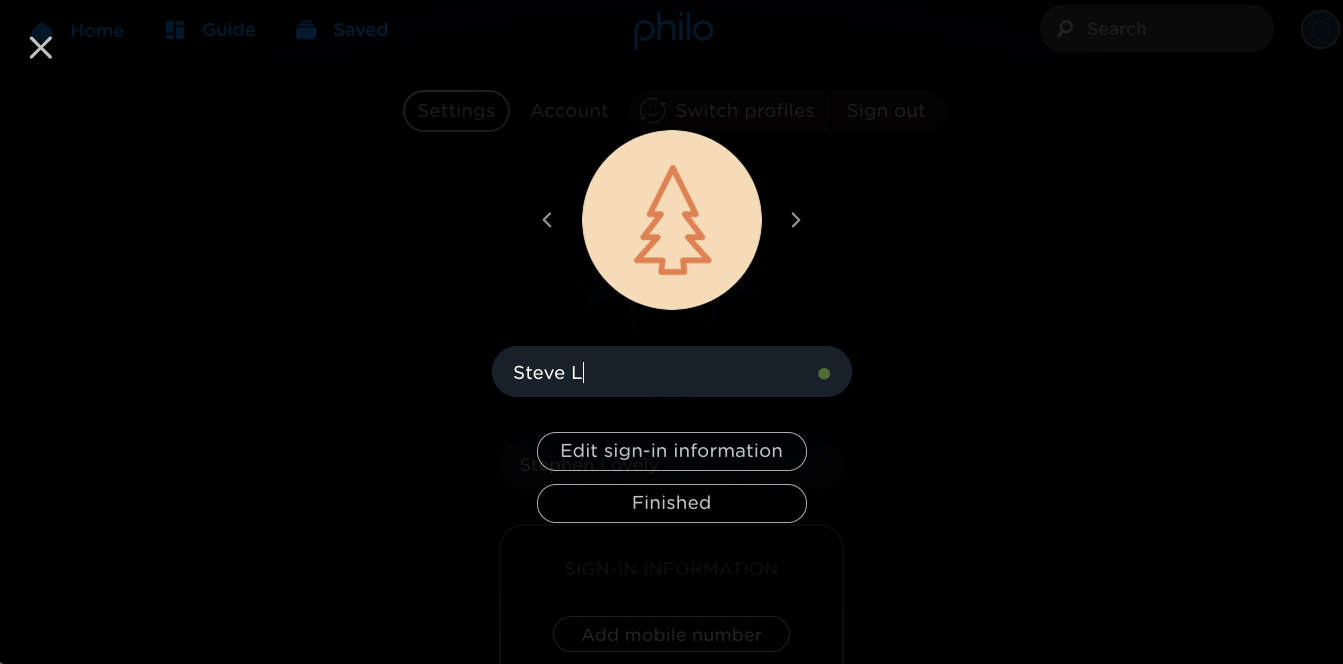 More About Philo's Features
Philo's features aren't overwhelming, but they're strong and include pretty much everything I was looking for. I was able to create multiple user accounts within my main account, and I could rename those accounts and choose from a few profile image options (I chose a little tree icon that I thought looked neat). I could stream on up to three devices at once.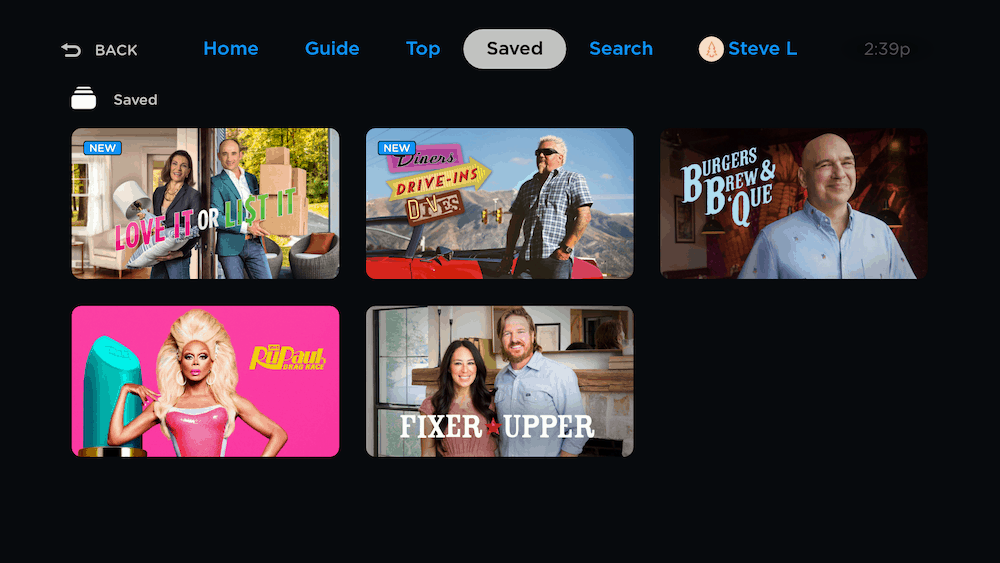 Philo also includes the unlimited DVR feature that I mentioned earlier. Since this is an online ("cloud") DVR, it doesn't really "record" anything. To me, it felt more like using a watchlist or "bookmark" feature than using a DVR, though I didn't think that was necessarily a bad thing.
Philo Platform Support
Philo offers apps for all the major devices and platforms that we recommend. I had the option of using Philo on Roku, Fire TV, Chromecast, Android TV, Apple TV, iOS, and Android. I could also use it on Mac or PC through the in-browser app — which, I was happy to see, works not only on Chrome and Safari but also on Firefox and Microsoft Edge.
This is a very solid platform support lineup. Other than certain smart TV platforms, Philo has the full lineup covered here. And if you're using one of the devices and platforms that we recommend here on the site, you're 100 percent going to be able to use Philo.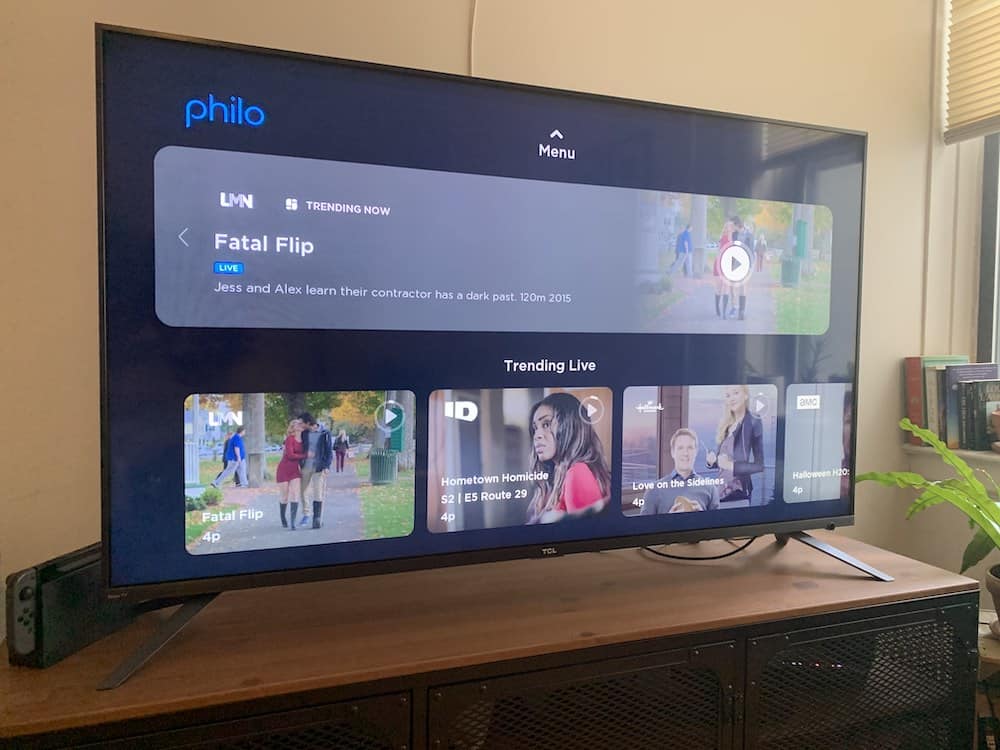 Philo offers a pretty consistent experience across all of these platforms. For this review, I tested Philo on Roku, Fire TV, Chromecast, iOS, and two browsers (Chrome and Firefox). Based on my experience, I think that Philo works great on every platform.
Philo Value
At long last, we have reached the part of this Philo review where we discuss pricing. And I have some good news for you: Philo is a really, really cheap way to watch TV without cable.
There's only one main Philo subscription, so we don't have to worry about any price tiers — just a simple price tag of $25 per month, with the option to splurge on a couple of add-ons for a few extra bucks. (MGM Plus is an extra $6 per month, and STARZ is an extra $9 per month.) The service has increased its price over the years (at launch it was just $15 per month), but that's not at all unusual for a live TV streaming service. Most of Philo's competitors, including fuboTV, have raised prices by larger margins — and they were also more expensive than Philo in the first place!
That $25-per-month price is extraordinarily low for a live TV streaming service. Only Sling TV comes close. Most other live TV streaming services cost about $60 per month.
Of course, there's a reason that Philo is so cheap: It's missing sports, news, and local channels. Those are the most expensive channels for pay-TV services to carry, so Philo cuts them out and passes the savings on to you.
So is Philo a good value? In my view, absolutely: You simply can't get a live TV experience this cheap anywhere else.
This isn't to say that Philo is the right deal for you specifically, though. Like anything else in life, value is in the eye of the beholder. If you don't like sushi, you probably won't care how cheap the lunch specials at the local sushi place get — no matter how good the deal is, you're just not in the market for sushi! As a huge sports fan, that's how I felt about Philo: Without sports, it just didn't make sense for me to stay subscribed. But if I'm being objective, I can imagine what Philo would look like to a non-sports fan — and boy, oh boy would it look good. If this is what you're looking for, then this is an absolute steal.

Ready to try Philo?
We've partnered with Philo to bring our readers special offers and pricing.
See Exclusive Offer
Philo Review: Our Verdict
Philo sets out to do something special — something a little different from what our other favorite live TV streaming services do. By skipping sports, news, and local networks, Philo is able to keep prices low on all of the other sorts of channels that pay TV services can offer: movie channels, reality TV networks, and so on.
After testing Philo extensively, I think it's fair to say that this service nailed it. It's exactly what it set out to be: a super cheap live TV streaming service that makes it easy to watch your favorite entertainment channels on whatever device you like to stream on.
Philo does a great job of delivering on its promise, but that promise will only appeal to some viewers. Personally, I found I missed sports a lot and news a little bit; for others, it might be the lack of local networks that is most frustrating. If you crave this sort of content, then Philo can't help you — that's just not what Philo is for.
But that's OK: Philo is for something else. And, again, Philo delivers that something else with gusto. If you want a service that lets you flip through channels like AMC, HGTV, and VH1 (and if you don't care about skipping ESPN and CNN), then Philo is going to give you more value for your money than any other live TV streaming service on the market.