A great cable replacement with everything from sports to news
Pros and Cons of fuboTV
Pros
Extensive channel selection
Tons of live sports
In-depth options for sports fans, including foreign soccer leagues and cycling
Some 4K support
Cons
Missing Turner-owned networks, including CNN, TBS, and TNT
Like some competitors, fuboTV has gotten pricey
Streaming Sports:
Let's cut to the chase: If you're interested in fuboTV, you're probably a sports fan. See how
fuboTV stacks up against Hulu
to choose the best streaming service to watch your favorite local teams.
How It Felt to Use fuboTV
I've used fuboTV quite a bit — not just for this review, but for all the other testing periods for all of our past fuboTV reviews. I've watched this service evolve, but I haven't always been impressed with its quality or direction. This time around, though, I really liked what I saw.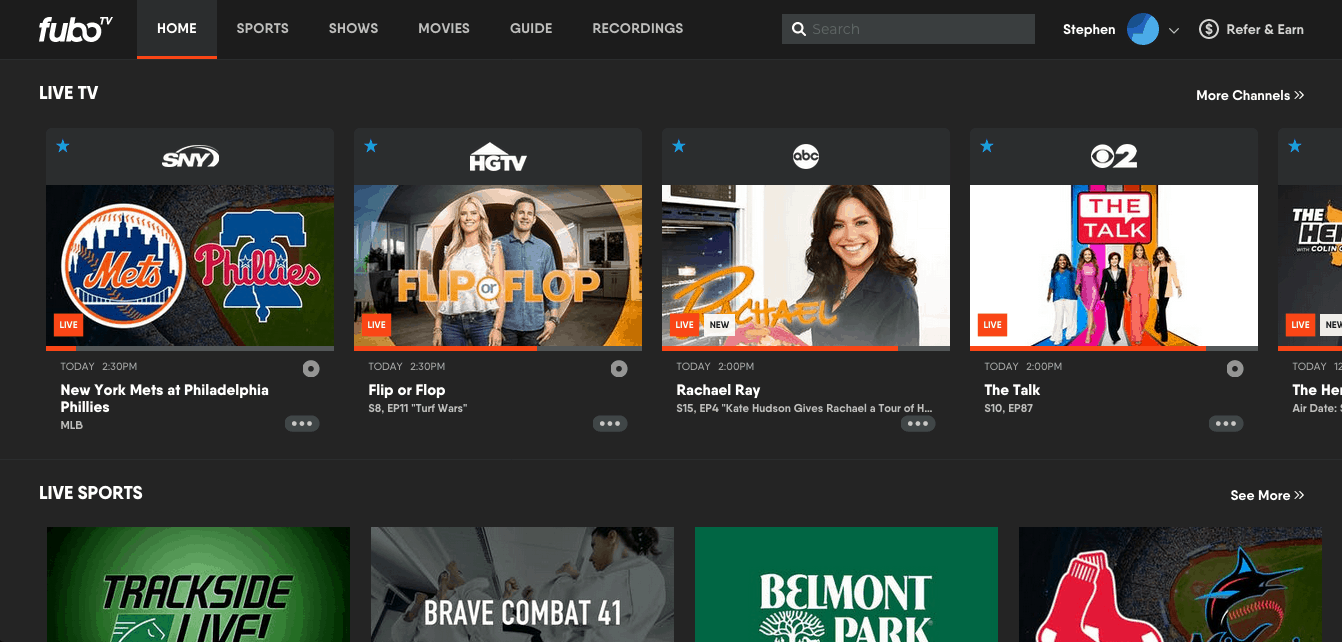 It took fuboTV a while to figure out what it wanted to do, and it took it a few years after that to actually do it. But as I tested fuboTV for this review, I finally felt like I was using something that was both a streaming service and a live TV service — something that could actually beat cable at its own game.
I tried out fuboTV on my smartphone and in my browser, but it felt best when I was using it on my Roku TV. Some streaming services work hard to get you locked into one show or movie, but fuboTV gave me that lazy, cable-like feeling: I was channel surfing, half-watching, and just "seeing what's on."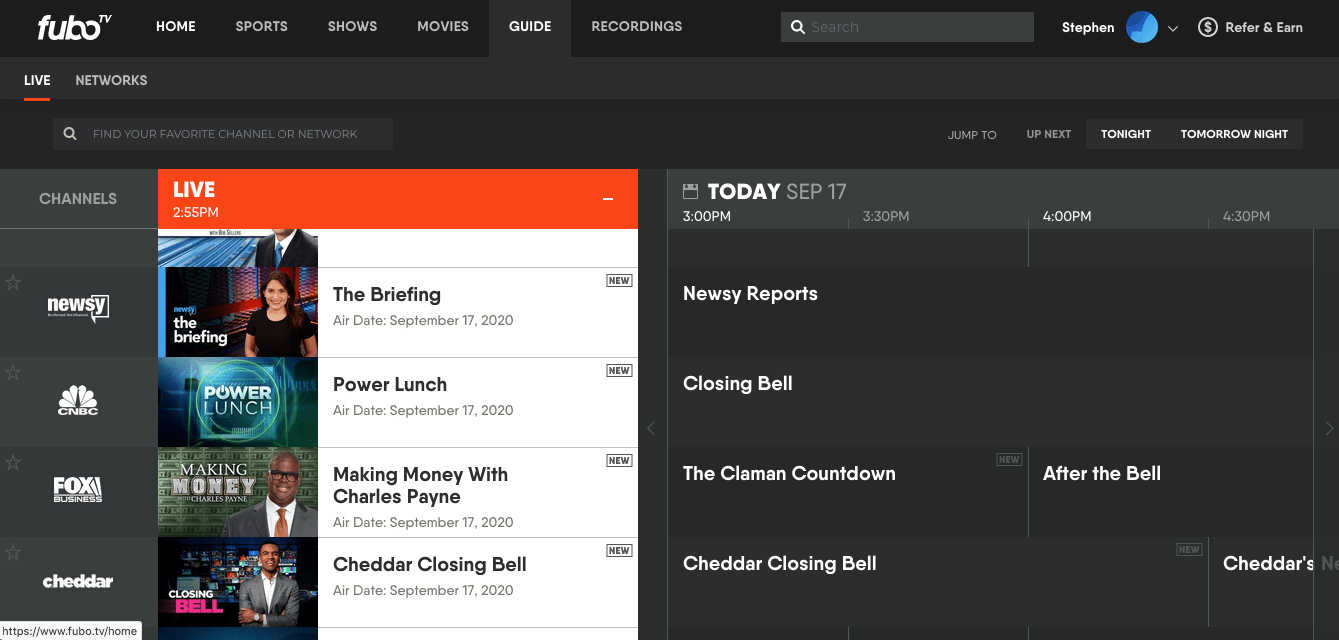 That said, fuboTV's interface did try to get to know me: I could choose favorite channels, which were then added to my home screen. But I added enough favorites that I still felt like I was viewing a nice cable-like selection, and I always had the option to go to the "Guide" tab and view all of the channels I was paying for in a classic TV Guide format.
Overall, fuboTV makes it pretty easy to switch between channels. I couldn't simply hit channel up or channel down, but I could press the down button on my Roku remote (or click a button in my browser, or tap the screen on my phone) to bring up a little row of channels at the bottom of the screen. From there, I could hop to the next channel — or to one a dozen channels away. Things worked a little differently on the iOS, Android, and in-browser apps, which I felt made it a little harder to just channel surf.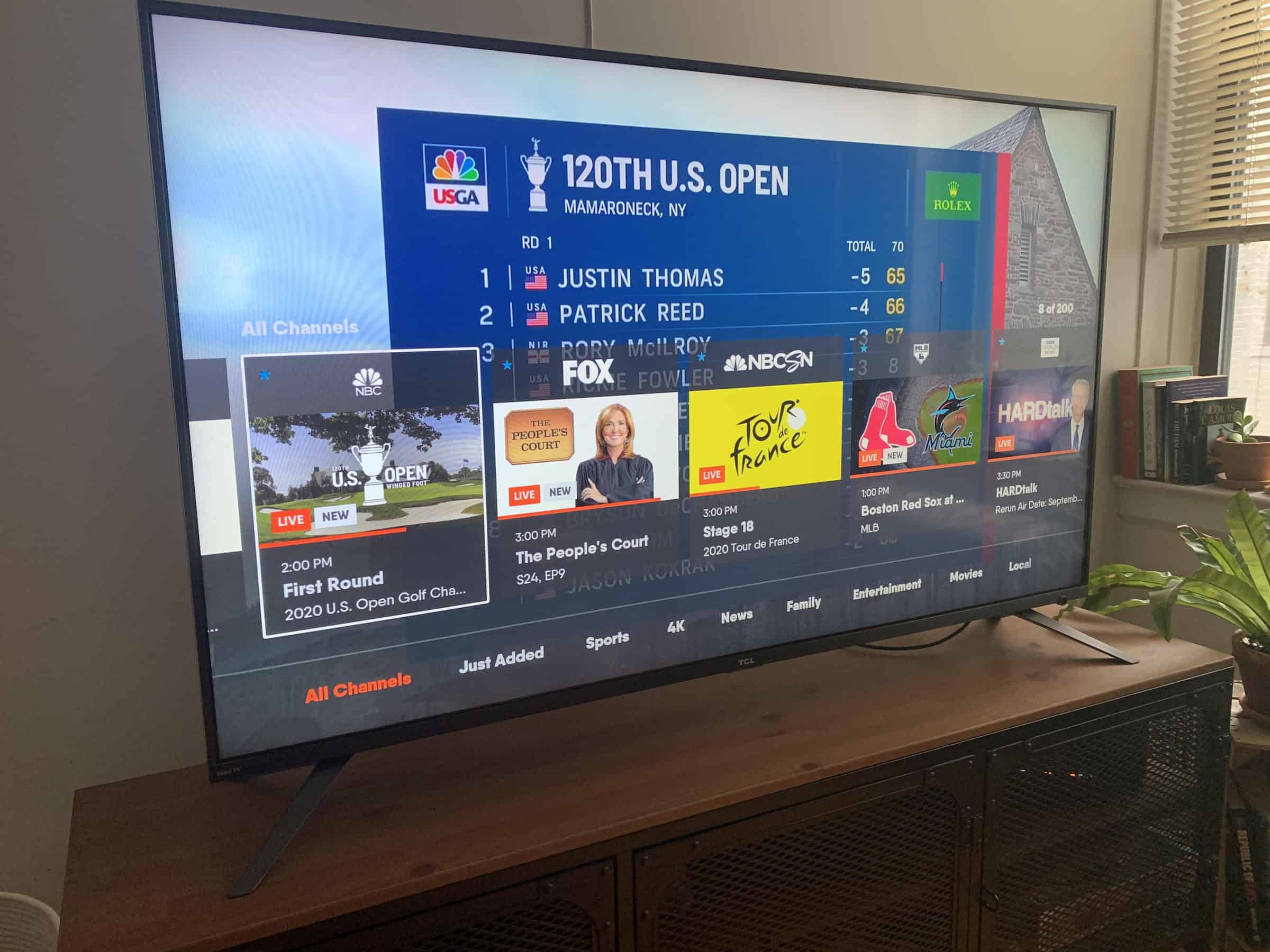 Channels appear in a pretty logical order on fuboTV, but they don't have numbers. I do miss the days of typing in a number to jump to a favorite channel (I still have channel numbers memorized from when I was growing up), but that's not really an option with the ultra-simple streaming remotes that come with devices like the Roku Ultra or the Amazon Fire TV Stick, which don't have number buttons. Numbers wouldn't really make sense in a web or smartphone interface, either.
The menus that fuboTV used instead weren't quite as fast as tapping in numbers on a remote, but they were pretty quick, and surfing got easier for me as I added more channels to my favorites, put my favorite channels in my preferred order, and started using other helpful options like the channel-return (or "last channel") button in the fuboTV interface. With a little practice, I think you'll find that fuboTV is as easy to navigate as any cable or satellite service.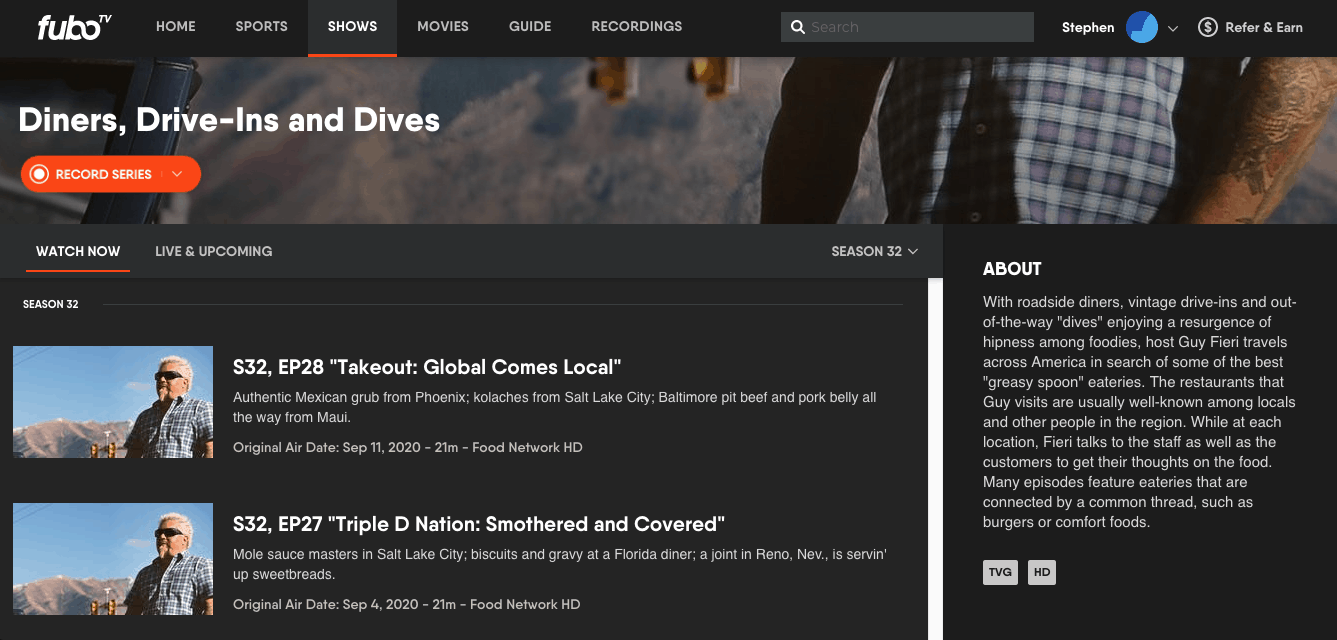 I had lots of ways to find something to watch. I could look through channels, check out menus of shows, or just search for what I wanted.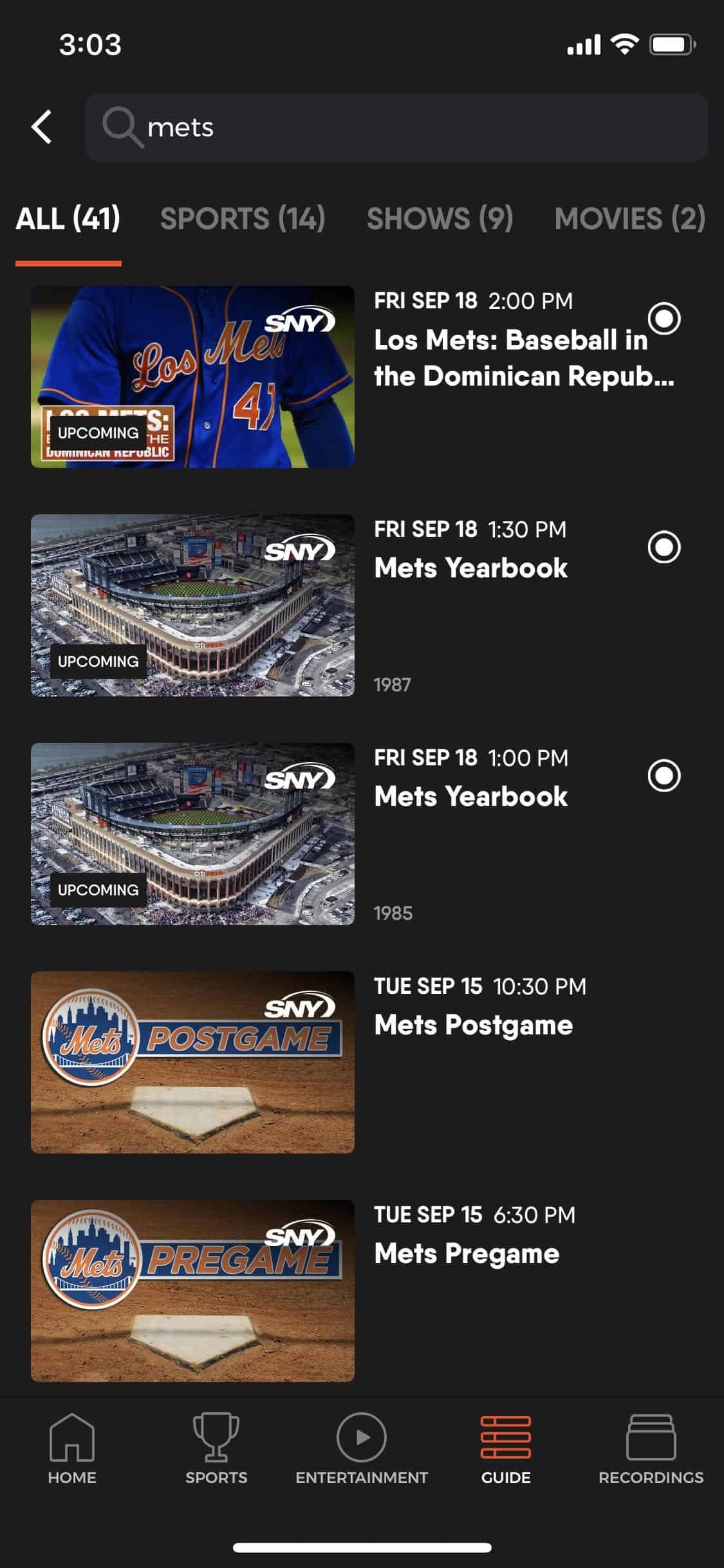 As a live TV replacement, fuboTV is built around live TV, but that doesn't mean that you have to watch everything live. In fact, fuboTV let me rewind and replay live TV, and it also made recently aired content available on-demand. I could reach past episodes of shows and recently aired movies by navigating to a favorite channel or by heading to fuboTV's on-demand menus. It has one tab for movies and another for TV shows in its apps. On these tabs, fuboTV looks a bit more like Netflix than like a live TV service.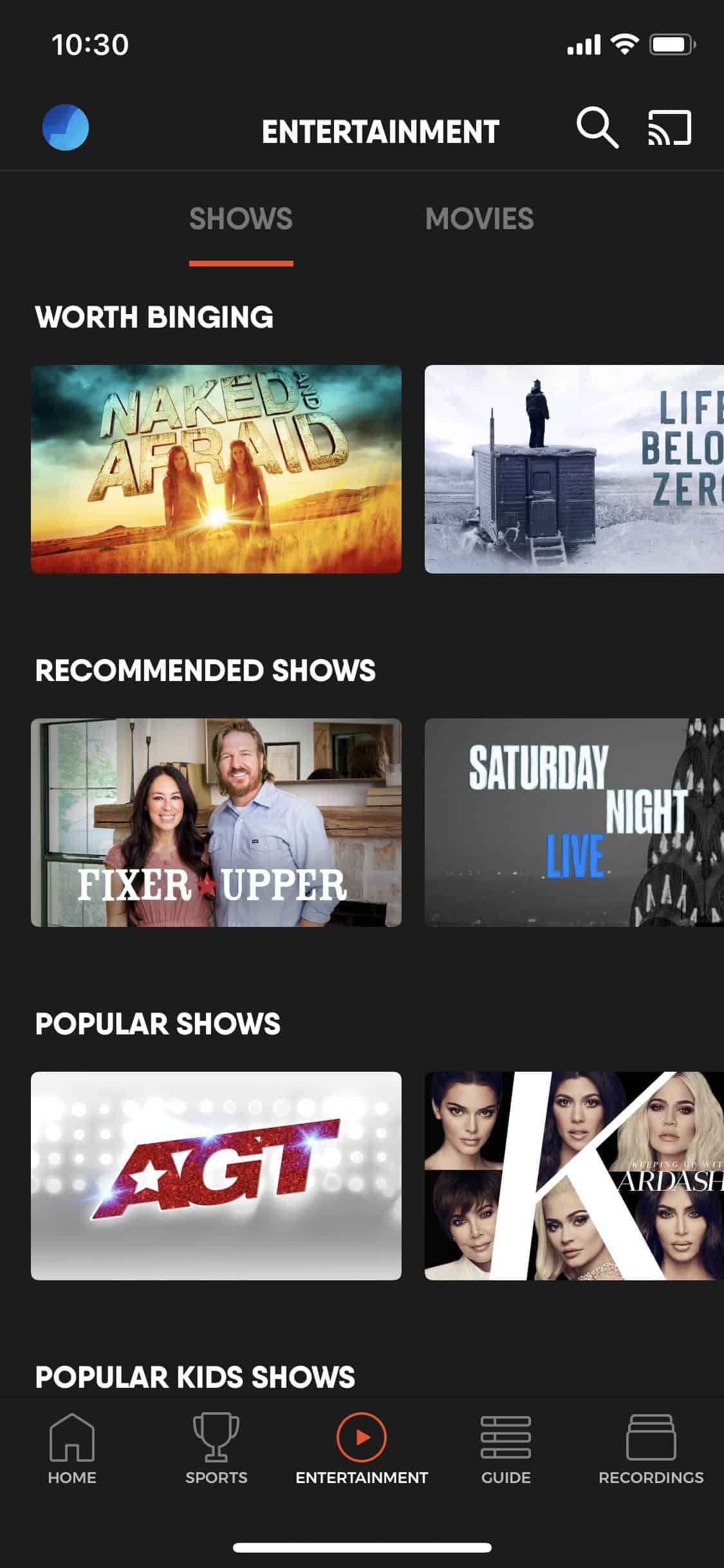 Personally, I found that I didn't use these on-demand tabs very often. fuboTV's live TV interested me a lot more — especially since the movies available on-demand were presented the same way that they appeared on TV, complete with commercial breaks and bleeped-out curse words.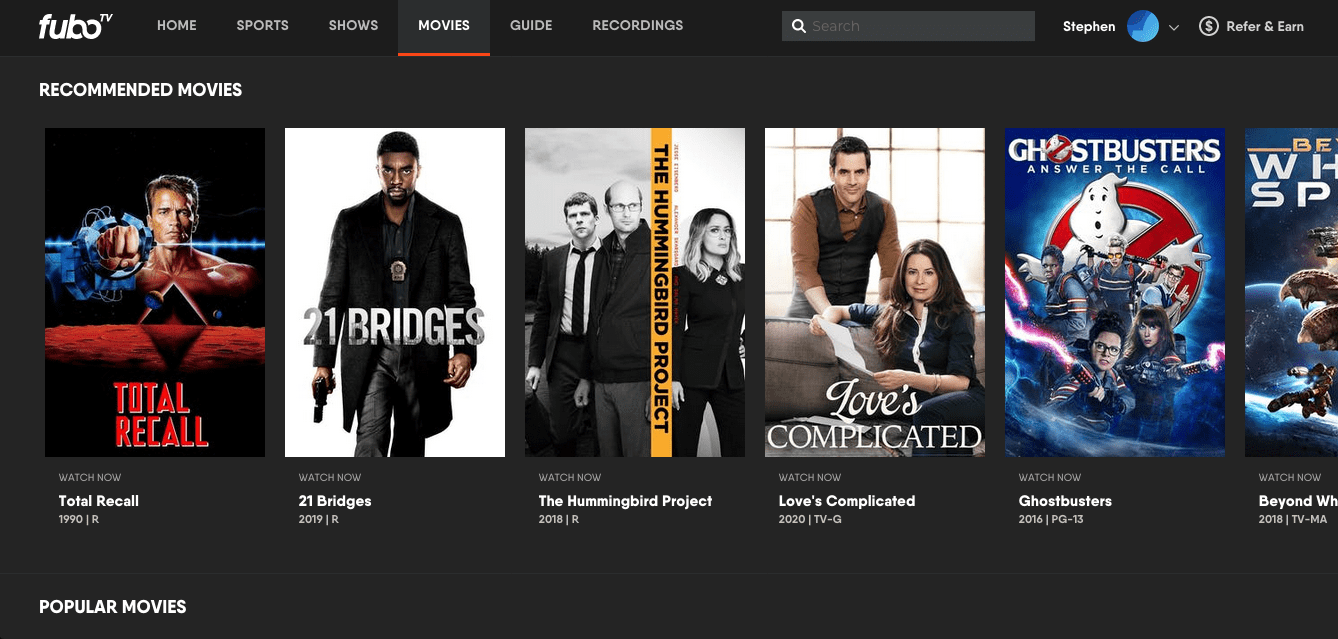 One thing I really loved about fuboTV was the way that it organized its sports content. fuboTV had spots in its menus dedicated to live sports, which made it easy for me to find a game to watch. (I had a ton of games to choose from, too, because fuboTV has a lot of sports channels — more on that later on!) If you're a cord-cutting sports fan, I think you'll find that fuboTV really goes above and beyond for you.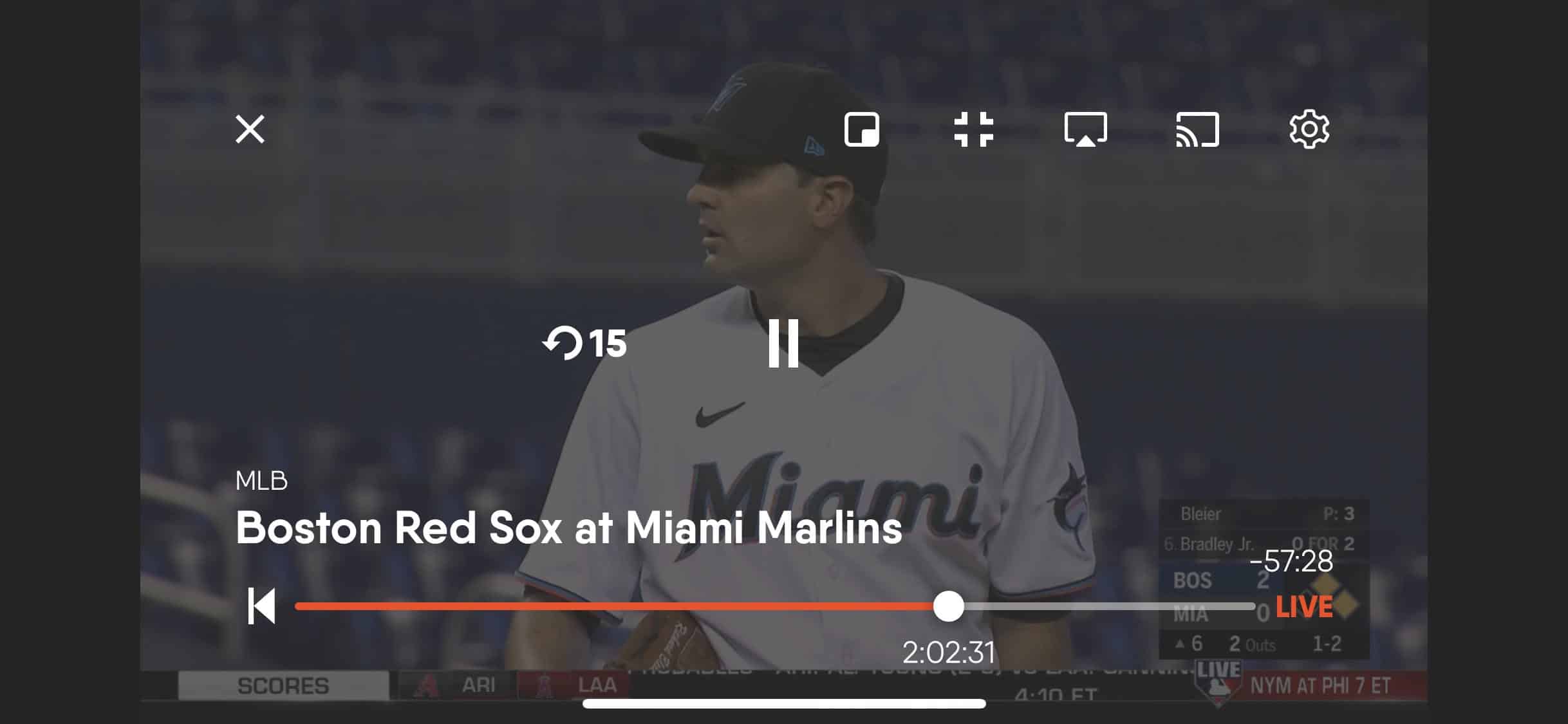 If you're not a sports fan, don't sweat it — none of these features are intrusive. The sports-related menus were there for me when I needed them, but they were easy to ignore when I didn't.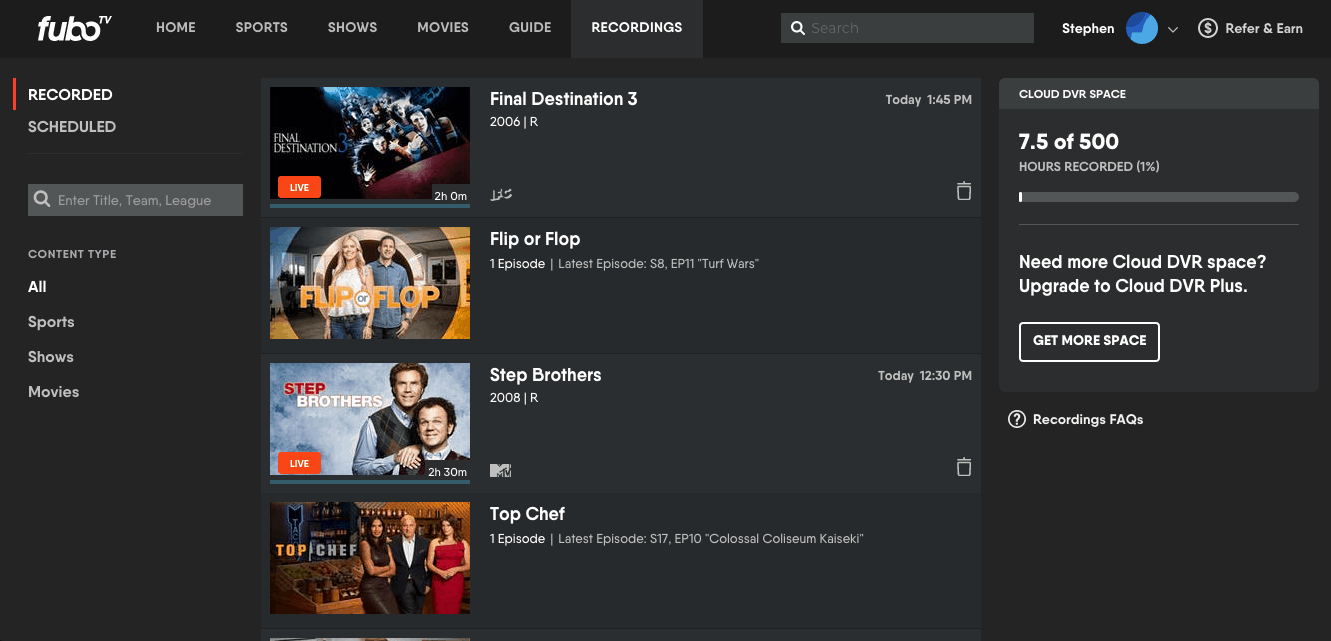 Like many competitors, fuboTV also offers a cloud DVR service. Just like a regular, old-school DVR, this service lets me schedule recordings for shows and movies and then replay my recordings on my own schedule. Unlike old-school DVRs, though, my fuboTV cloud DVR stored my recordings in the "cloud" — storage space on the internet — and let me play back recordings in the fuboTV app on different devices.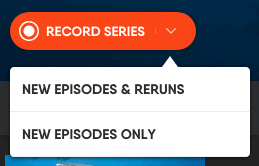 I could schedule a recording on my iPhone and then play that recording on my Roku TV, my computer, or any other device I wanted to use (as long as that device could run the fuboTV app, of course). I found the cloud DVR pretty easy to use. If you've gotten the hang of a cable or satellite DVR, then I don't think you'll have any trouble learning to use fuboTV's version.
When I chose to record reruns and movies, my "recordings" were ready to watch instantly, which I thought was neat. I didn't actually have to wait for the show or movie to finish airing. This is only true of reruns, of course — you won't have instant access if the program hasn't been released yet!
What You Can Watch on fuboTV
The mission of fuboTV is pretty straightforward: It's supposed to give us live TV channels, just like cable and satellite. It adds some value by letting us stream on different devices and by keeping its prices lower than cable (though fuboTV isn't exactly cheap). But little perks aren't the point of fuboTV — the point is the channels.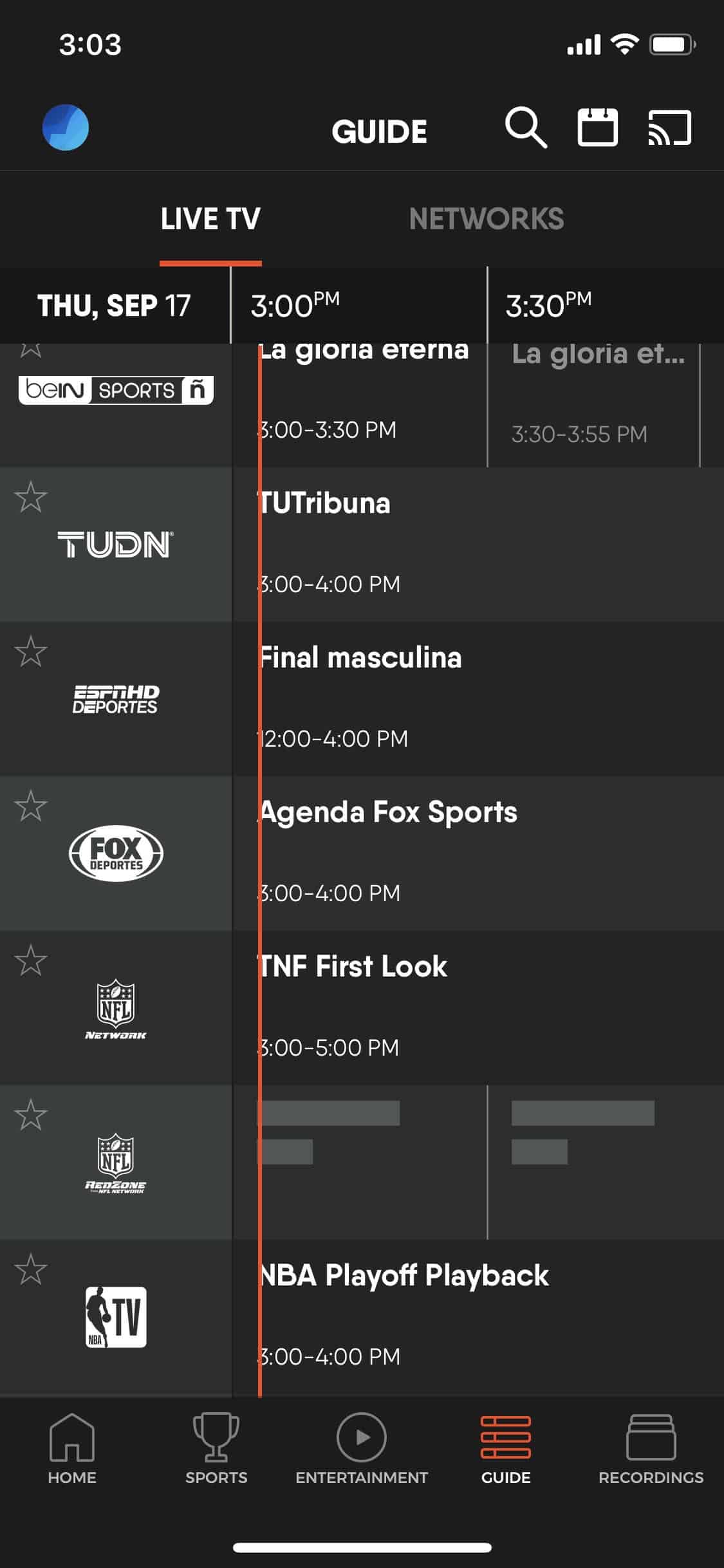 So which channels does fuboTV have? A lot of them, as it turns out: fuboTV has really improved its channel selection since we last reviewed it. ESPN is available now, adding to an extremely impressive sports lineup that also includes FS1, NBCSN, and more. Depending on where you live, you may get access to certain regional sports networks. I tested this service in New York City, and I was able to watch MSG, MSG+, and SNY. (Let's go Mets!)
Sports aren't the only thing that fuboTV offers, but I was really impressed with the depth of the sports content. I expected channels like ESPN and FS1, but fuboTV also gave me niche channels that covered things like foreign soccer leagues, tennis, cycling, and more.
It also has a fair number of news channels, including the Fox News. Testing the service, I also watched channels like AMC and HGTV.
By the way, fuboTV lands channels like these by cutting deals with the owners of those channels. This is pretty much how it works with cable and satellite, too: If a TV provider like fuboTV or Spectrum (also known for internet deals) has to come to an agreement with a company like Viacom or Turner in order to get that company's channels on the service. Sometimes, deals expire and channels disappear. When contract negotiations get nasty, you might see ads about them, asking you to get into the fight: "Call your provider and tell them to get our channel back!" (These fights are called "carriage disputes.")
With skinny bundles, the tough contract to get is often the one with Viacom. Some of fuboTV's competitors are missing Viacom channels, but fuboTV has them: You can watch Viacom-owned networks like Comedy Central, MTV, and VH1 on fuboTV.
However, fuboTV does not have a deal in place with Turner right now. That means that Turner-owned networks are MIA: You can't watch CNN, TBS, TCM, or TNT on fuboTV. That may change in the future, of course, but you and I can't control that — it's up to Turner and fuboTV! For now, you'll have to look at other streaming options for CNN and the rest.
fuboTV Features and Streaming Quality
fuboTV's streaming fared very well in my trials. I got consistent 1080p HD quality on all of the devices I used to test this service. Loading times were pretty quick, and I virtually never saw any quality issues in my streams. You can tweak the quality while you're streaming.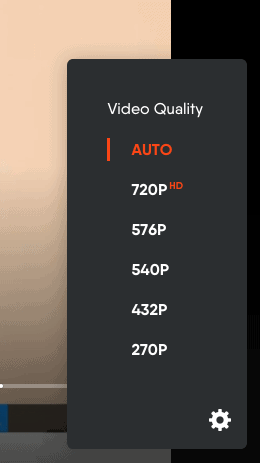 Like all good streaming services, fuboTV accomplishes this with "buffering" — loading a little of the video ahead of time. When my internet connection slowed down a bit (like all internet connections do from time to time), fuboTV could just grab the data it had stashed away. When my connection was speedier, fuboTV was busy buffering a few seconds ahead, making sure it was ready for the next slowdown. From my perspective, everything was smooth and consistent — since my stream never caught up to what was "buffered," I just got to watch regular live TV without interruption.
Of course, because of how all this works, this meant I was on a slight delay. I tested the delay by comparing fuboTV's stream of CBS to my over-the-air feed, and I found that fuboTV was about 45 seconds behind when I streamed on my iPhone. Things were about the same on my Roku, but my laptop was a bit quicker — only about 30 seconds behind, give or take.
These are pretty typical delay times, and in most cases, I think they're no big deal. A few seconds' worth of delay is a small price to pay for smooth streaming! It just meant that I had to be a little wary about checking Twitter while watching live events like Mets games, unless I wanted to risk seeing people online reacting to a home run I hadn't seen yet.
The service also supports 4K HDR for certain broadcasts, though I found this feature to be pretty limited. I think it's great that fuboTV is gearing up for 4K, but for now, you should expect pretty much everything you watch to be in 1080p.
With fuboTV, I could stream on up to two devices at the same time. That's pretty much the industry standard, though a couple of competitors — Sling TV and YouTube TV — offer plans with a three-screen limit.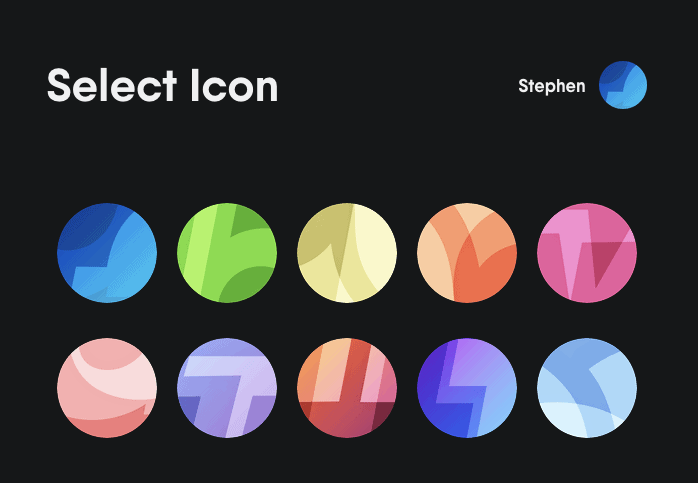 I could also create multiple user profiles within my fuboTV account. This is a nice feature if you're hoping to get customized recommendations for yourself while sharing fuboTV within your family.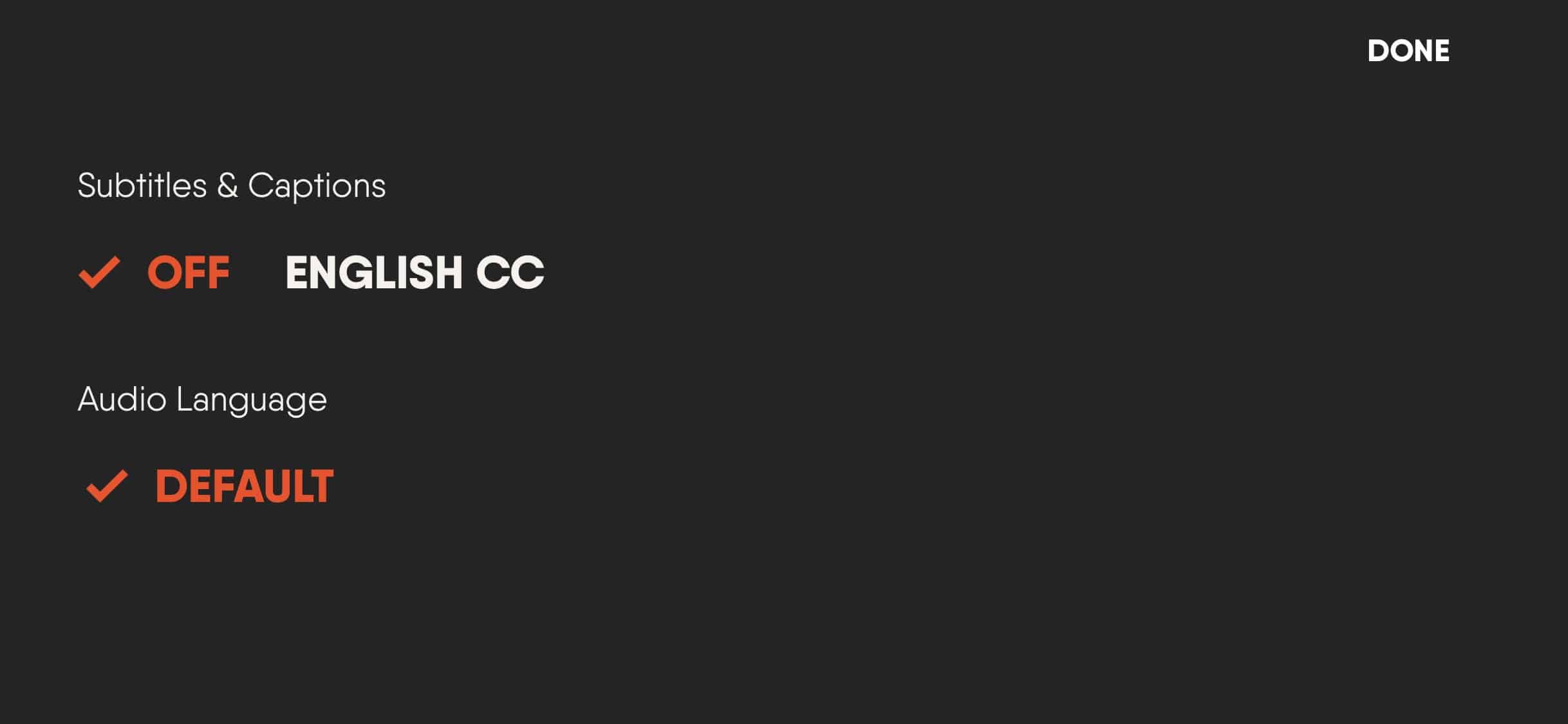 Some programming gave me options for closed captioning and (sometimes) foreign-language subtitles and audio.
The fuboTV App and Devices
fuboTV gave me plenty of device options. The fuboTV app worked well on my Roku, Fire TV iPhone, iPad, and Mac computer. You'll be in good shape if you use a PC, Apple TV, Android TV, Android mobile, Chromecast, or Samsung smart TV.
The fuboTV experience was pretty consistent across the apps, and all of our favorite streaming platforms were supported. fuboTV gets full marks here — if you sign up for fuboTV, you can count on being able to watch it on your favorite streaming device.
fuboTV Value
fuboTV is an extremely impressive live TV streaming service, but great live TV streaming does not come cheap. We've reviewed a lot of streaming services, and we're pretty familiar with the different sorts of streaming services that are out there. On-demand streaming services, like Netflix and Hulu, tend to be pretty affordable. Live TV streaming services, like fuboTV, DIRECTV, and YouTube TV, tend to be a bit pricier. It's not uncommon to see prices around $40 or $50 per month for these sorts of services. And fuboTV is actually a bit pricier than that.
The fuboTV base Pro package costs $74.99 per month. That's still cheaper than most cable services, but it's definitely a little pricey for a streaming service.
Does that mean that fuboTV is a bad value? I wouldn't necessarily say that. You get what you pay for with fuboTV. It's pricey, but it has a very impressive channel selection. I would never call fuboTV a steal, but I think that it's fairly priced. If you want cheaper services, you can find them — but, in most cases, you'll be giving up some of the channels and features that make fuboTV worth its price.
fuboTV Review: Our Verdict
We're glad to say, fuboTV has come a long way, and it's now one of the most impressive live TV streaming services out there. With the exception of the Turner networks, its channel lineup is comprehensive. The cloud DVR features work well, the interface is slick and easy to navigate, and the live streaming is smooth and crisp. If anything holds fuboTV back, it's the price: fuboTV may not be overpriced, but it's definitely not cheap. Not everyone will be able to stomach the price tag, but those who do will get a lot — especially if they crave the live sports coverage that fuboTV's competitors just can't match.