For years now, sports have been the last best hope of overpriced cable and satellite services. Studies show that TV fans want to watch sports live – sporting events are "DVR-proof" in a way that other television events are not. What's more, sports were hard to get (live or otherwise) in streaming form in the early days of cord-cutting. Sports seemed like they might just allow cable and satellite to survive, and, for a while, they did. But the era in which cord cutters had to go without sports in order to go without cable is now over. Now, there are all sorts of streaming services to choose from, including skinny bundles with sports channels included, league streaming services like MLB.TV, and a relative newcomer that has the streaming world very excited: ESPN Plus.
What is ESPN Plus? It's ESPN's long-anticipated standalone streaming service. ESPN Plus does not include a livestream of ESPN's live pay TV channels – at least, not yet – but there is a lot that the service does include. Here's everything that you need to know about ESPN Plus, from what content is available on the service to how to sign up for and cancel ESPN Plus.
What Games are on ESPN Plus? What Shows and Movies are on ESPN Plus?
For years, cable and satellite companies have leaved in fear of the day that ESPN will try a direct-to-consumer model for its extremely popular sports channels, which include ESPN, ESPN2, ESPNU, and more. But that day has not quite arrived yet: ESPN Plus has a lot of great content, but it does not include a livestream of ESPN, ESPN2, or any other ESPN channel.
However, ESPN Plus does include live sports. The live sports broadcasts that you'll find on ESPN Plus include online exclusives as well as streams of regional broadcasts (such as feeds from RSNs showing Major League Soccer matches). Here are a few of the things you can expect to find on ESPN Plus:
NHL games
MLB games
MLS games
PGA Tour tournaments
Tennis matches, including U.S. Open and Wimbledon coverage
The selection of MLS games is particularly robust, because ESPN Plus includes MLS Live. Previously a standalone league streaming service, MLS Live worked pretty much like MLB.TV and NBA League Pass did – only with fewer blackouts, thanks to more enlightened MLS blackout regulations. These days, MLS Live still offers all the same content, but has been absorbed into ESPN Plus and no longer exists as a standalone service.
On top of all the live sports, ESPN Plus includes everything you'd hope for from a sports-centric streaming show. That means analysis and recap shows, sports documentary series and movies, and more. Films from ESPN's popular 30 for 30 series are featured prominently in ESPN Plus's catalog. The acclaimed documentary series O.J.: Made in America is included in the streaming library, too. This content is available on-demand through the same ESPN Plus service and app as the live sports content. Here are some of the highlights from ESPN Plus's on-demand content.
E:60
O.J.: Made in America
30 for 30
Still sad that ESPN Plus doesn't offer a way to watch ESPN or ESPN2 live? Don't worry — we can help you find an alternative way to stream ESPN without cable.
To watch ESPN without cable, you'll need to instead subscribe to a live TV streaming service. A YouTube TV subscription or a fuboTV subscription would work (though a Philo subscription would not, because that service excludes ESPN). Of course, the prices of DIRECTV and other live TV streaming options are higher than what you'd pay for ESPN Plus. If you can live without a 24/7 ESPN livestream, you may prefer ESPN Plus for its low prices.
What Devices Can I Use to Watch ESPN Plus?
As of this writing, ESPN Plus is a relatively new service. But it already offers pretty impressive platform support. To stream ESPN Plus on most devices, you'll just need to download the ESPN app. You'll be able to watch ESPN Plus' live and on-demand content on devices that range from small mobile devices to streaming devices that put your content on your TV screen. Here's a list of devices you can use to watch ESPN Plus.
Streaming platforms and devices
Apple TV
Chromecast
Fire TV
Roku
Video game consoles
Mobile devices
Other
In-browser app (Mac, Windows, and more)
How Much Does ESPN Plus Cost?
ESPN Plus allows you to watch live sports and on-demand content on a ton of different devices. So how much do you have to pay for the privilege? How much does ESPN Plus cost?
ESPN Plus costs $6.99 per month. That makes it noticeably cheaper than major streaming services like Netflix and skinny bundles like Sling TV, and puts it more or less in line with other niche streaming services.
Is the price right? Well, that depends. If you're a big fan of MLS and the other sports that ESPN Plus will deliver to you, this is a no-brainer. If not, the price might be a bit steep for access to ESPN Plus's on-demand library, which – while full of quality stuff – is huge and, of course, pretty much sports-only.
Deals on ESPN Plus
Want to save even more on streaming sports? We can help. We're always keeping our eye out for deals here at Cordcutting.com. That includes deals and sales on ESPN Plus subscriptions. Check back here for the latest on what's available to new and returning customers.
The best deal on ESPN Plus right now is Disney's big three-service bundle. You can get Disney+, Hulu, and ESPN Plus for $13.99 per month as a package deal. That's $7 per month less than you'd pay for full-price monthly subscriptions from those three. Since ESPN Plus usually costs $6.99 per month, you can think of this as getting ESPN Plus for free!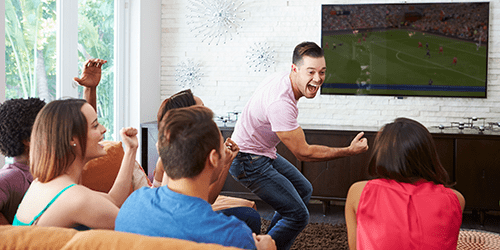 Getting an ESPN Plus Free Trial
So you want to check out ESPN Plus. Great! It's only natural to wonder, then, if there's an ESPN Plus free trial you can use. As of right now, ESPN Plus does not offer a free trial. But there is good news: You can still save cash on an ESPN Plus subscription by signing up for a deal like Disney's ESPN Plus, Disney+, and Hulu bundle. It's also worth remembering that ESPN Plus is quite cheap on a month-to-month basis, so you won't lose much by just signing up for the service and checking it out for a few weeks.
To sign up for ESPN Plus, just click here.
ESPN Plus Contracts
Contracts aren't a very appealing thing to most cord cutters, so they should be happy to learn that ESPN Plus doesn't deal in contracts. With ESPN Plus, your service is simply month-to-month. You'll be billed each month for the coming month of service, and you can cancel at any time. If you do choose to cancel, then that cancellation will be effective starting at the end of your current billing period.
The exception is if you cancel within seven days of your first bill after signing up. If you do that, you'll get a refund.
How to Cancel ESPN Plus
Want to know how to cancel ESPN Plus? We can help.
There are multiple ways to sign up for ESPN Plus, so there are also multiple ways to cancel it. If you signed up for ESPN Plus on a streaming device, then you can most likely cancel the service on that same device: just head into your device's settings (not the ESPN app's settings) and look for options related to subscriptions.
If your subscription is tied to an ESPN account, you can also cancel ESPN Plus by heading to ESPN.com and signing in with your ESPN account. Finally, you can always cancel ESPN Plus by emailing or calling ESPN's customer service department.
All About ESPN Plus
Want to learn even more about ESPN Plus? Well, good news: we've covered this service a lot here at Cordcutting.com. Check out the links here on this page or search for "ESPN Plus" in our search bar. You can also check out our piece on how to watch ESPN without cable, our general tips for sports-loving cord cutters, and more. Don't forget to pay us a visit at our homepage and on our Facebook and Twitter pages for the latest tips, reviews, and more. We cover ESPN Plus, sports streaming, and everything else to do with the broader streaming and cord-cutting world!