Is DIRECTV via Internet Worth It?
Revisiting DIRECTV via Internet halfway through 2023, I felt much the same way about it as I did last year. DIRECTV via Internet is a comprehensive service with a channel list that can go toe-to-toe with a typical cable or satellite package. Despite occasional slow loading (particularly on the channel guide menu), I found the service easy to use overall. If you're looking for a flexible streaming solution that gives you everything you miss about cable or satellite TV, then you'll love DIRECTV via Internet.
DIRECTV via Internet: A cable replacement that really feels like cable.
Pros
Extensive channel selection, especially in larger bundles
Excellent sports coverage, including many regional sports networks
Simple, familiar, and cable-like user experience
Cons
Slower loading times and more lag compared to competitors
Content discovery features are somewhat lacking
OUR TAKE:

DIRECTV via Internet feels bigger and more complete than most of its streaming competitors — but it also feels more like cable, which isn't always a good thing.
What Is DIRECTV via Internet and What Does It Do?
DIRECTV via Internet is a live TV streaming service designed to replace your cable or satellite service. Just like cable or satellite, DIRECTV via Internet offers live feeds of lots of big-time channels, including major networks like CBS, sports channels like ESPN, and news networks like FOX News.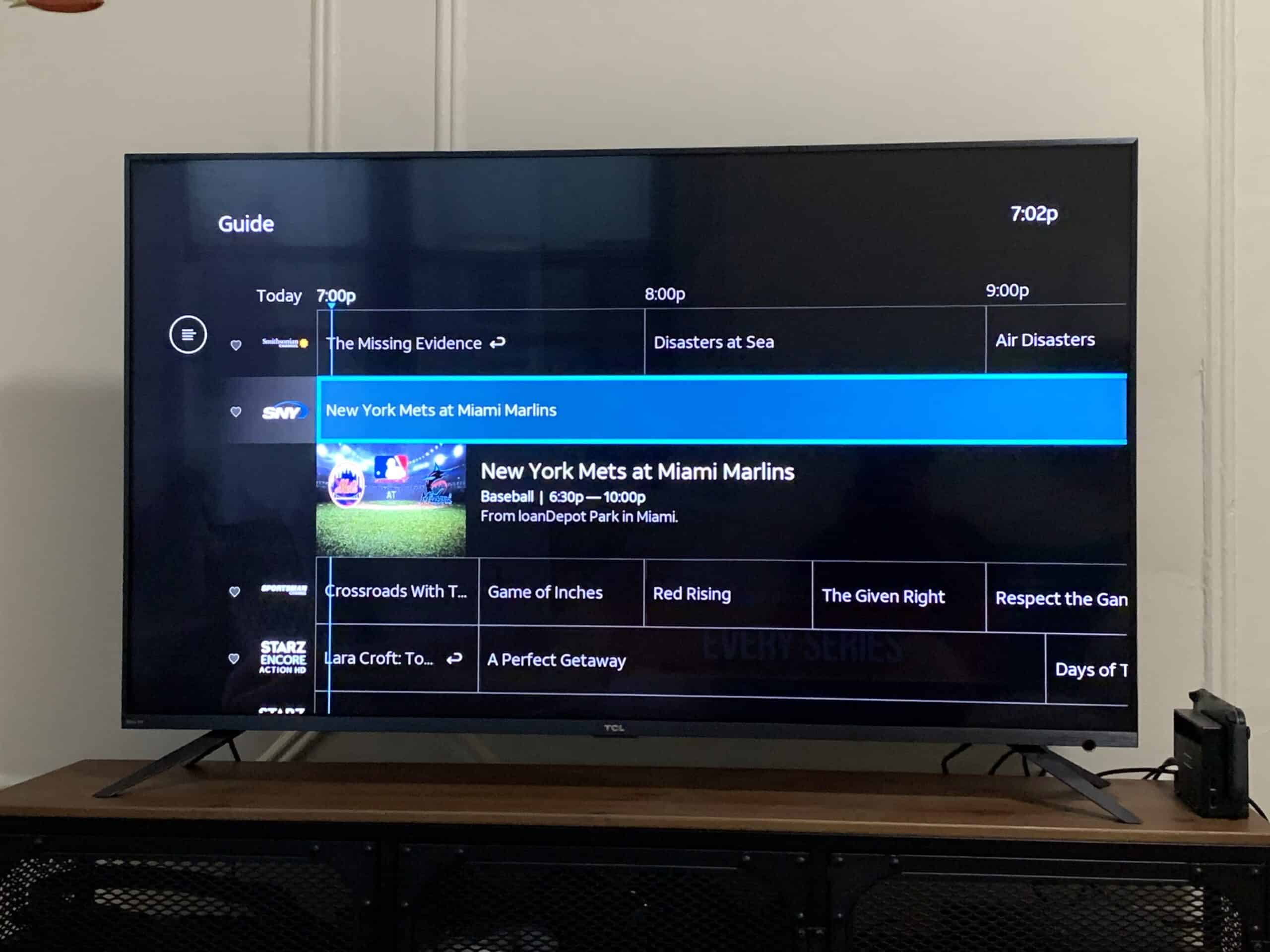 DIRECTV via Internet is not the only service like this, of course. Cord-cutters who miss the live TV experience can also turn to options like Sling TV, Hulu Plus Live TV, and YouTube TV. Streaming alternatives to cable tend to be cheaper and have leaner channel lineups. They're also low-commitment and tend not to offer contracts or bundle deals.
What Can You Watch on DIRECTV via Internet?
Live TV channels are what DIRECTV via Internet is all about. These streaming cable alternatives (DIRECTV via Internet, Sling TV, YouTube TV, and the rest) are only as good as their channel lineups — and DIRECTV's channel list is excellent.
Things start strong with the cheapest plan, ENTERTAINMENT, which includes what DIRECTV calls the "essentials." I'm inclined to agree: The ENTERTAINMENT plan includes the major networks (ABC, CBS, FOX, and NBC), big-time sports networks like ESPN and FS1, and news networks like CNN and FOX News.
To get regional sports networks (RSNs), you'll need to step up to the second-tier DIRECTV package, CHOICE. RSNs are, as the name implies, regional, so you'll get only the ones that apply to your area. Here in New York, I was impressed with the selection: I could watch SNY (New York Mets), YES (New York Yankees and Brooklyn Nets), and MSG (New York Rangers and New York Knicks) on DIRECTV via Internet. The CHOICE package isn't just about sports, though — you'll get more entertainment and news channels, too, which bumps up the channel count from 75+ to 105+ channels.
Leveling things up to DIRECTV ULTIMATE or PREMIER unlocks even more channels. DIRECTV also offers premium channels like HBO, which are included in the PREMIER bundle but can also be added to the lower-level bundles for an extra fee. (Of course, you could also sign up for Max or STARZ through their own stand-alone apps. However, getting them through DIRECTV via Internet means that you'll be able to access their programming without leaving the DIRECTV app.)
One thing not on DIRECTV via Internet is NFL SUNDAY TICKET. This popular add-on to DIRECTV's satellite service hasn't jumped to this service, which is a shame. (Luckily, there are other ways to watch NFL games without cable.)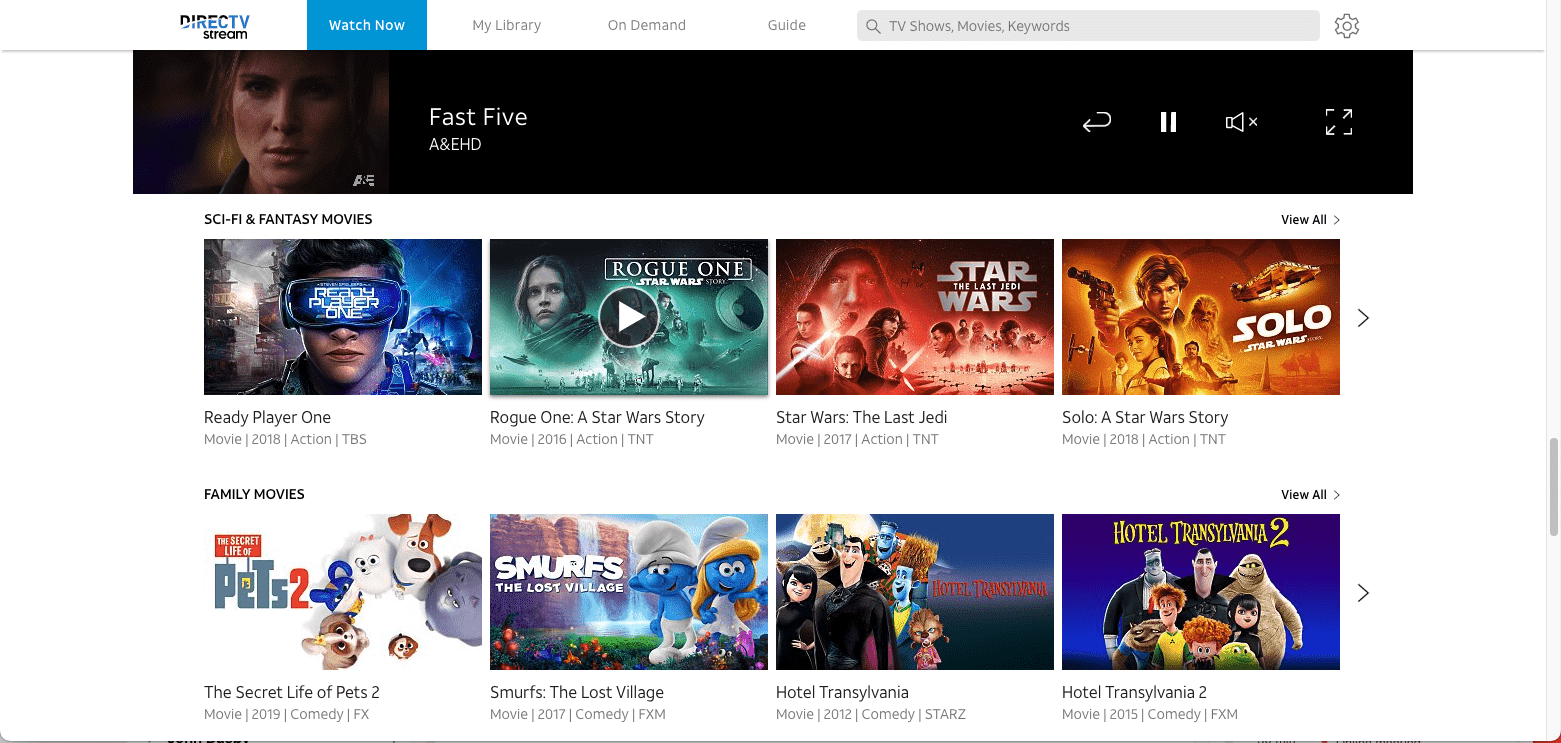 On top of all the live TV, DIRECTV via Internet includes a healthy selection of on-demand content, including the same sorts of movies and TV shows you might find airing on a network like FX or AMC.
DIRECTV via Internet Features and Specs: Streaming Quality, Devices, and More
DIRECTV's core feature set is pretty standard stuff for a live TV streaming service. The cloud DVR, 720p-and-up streaming quality, and favorite channels system are all here.
Let's take a closer look at some of the key DIRECTV features.
Recording with the DIRECTV DVR
DIRECTV via Internet comes with a cloud DVR on board. Since your recordings are stored in the cloud, you can access them from the DIRECTV on any device, not just the one that you used to schedule the recording.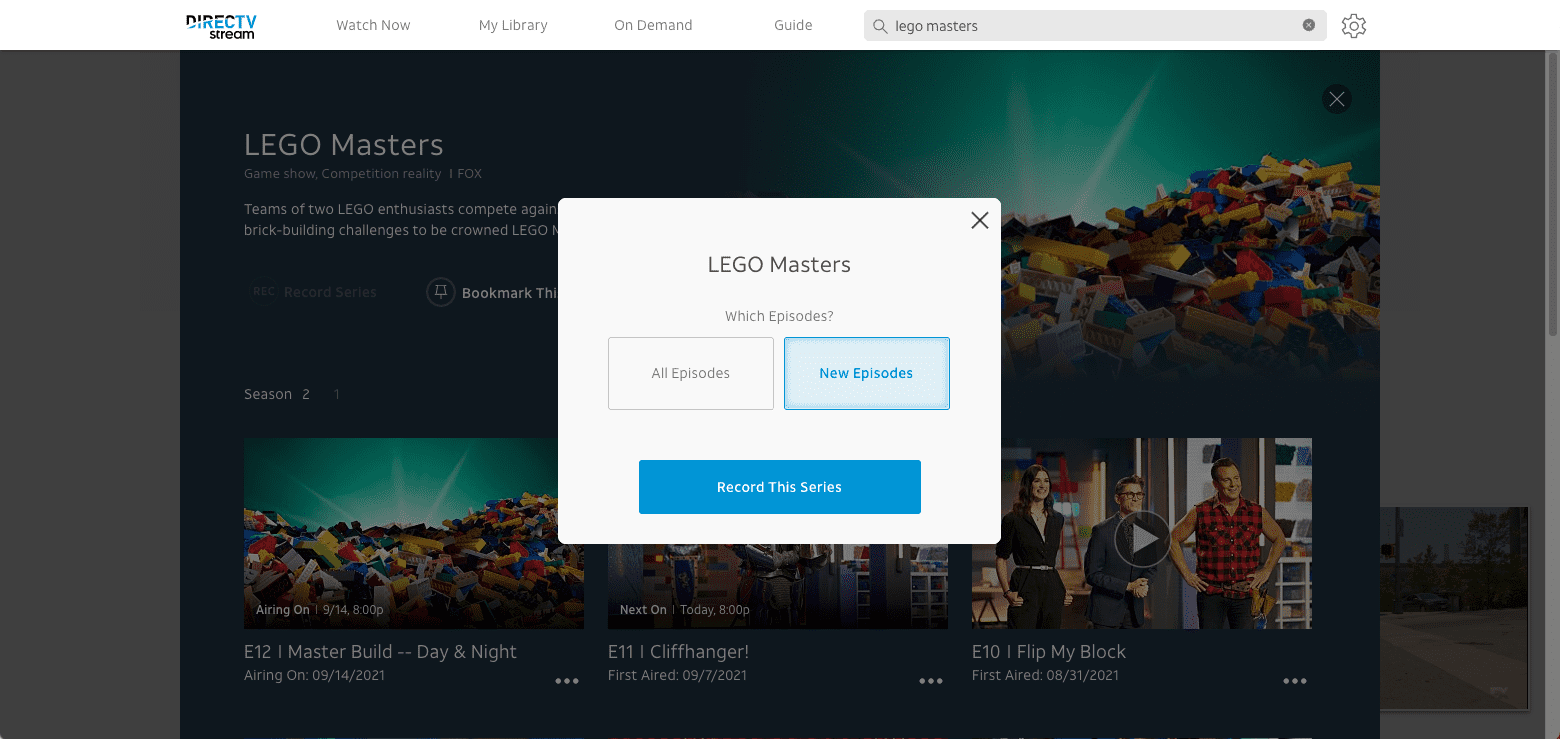 DVR on DIRECTV via Internet is unlimited, which is a nice perk that was added since our last review. The catch is that DVR recordings eventually expire. While that's a bummer, it's also common — virtually all of DIRECTV's competitors have similar limits on their cloud DVR recordings.
DIRECTV via Internet also has a "bookmark" system. Not to be confused with the DVR, this feature lets you add on-demand content to a watchlist. In my testing, this feature felt a little redundant. On the other hand, this is a nice way to organize DVR-like on-demand content without using up your recording hours on the DVR.
What Devices Can You Use With the DIRECTV App?
DIRECTV's device support is strong. I was able to test the service on Roku, Fire TV, iOS, Android, Chromecast, and the Chrome web browser. It also works on Samsung Smart TVs.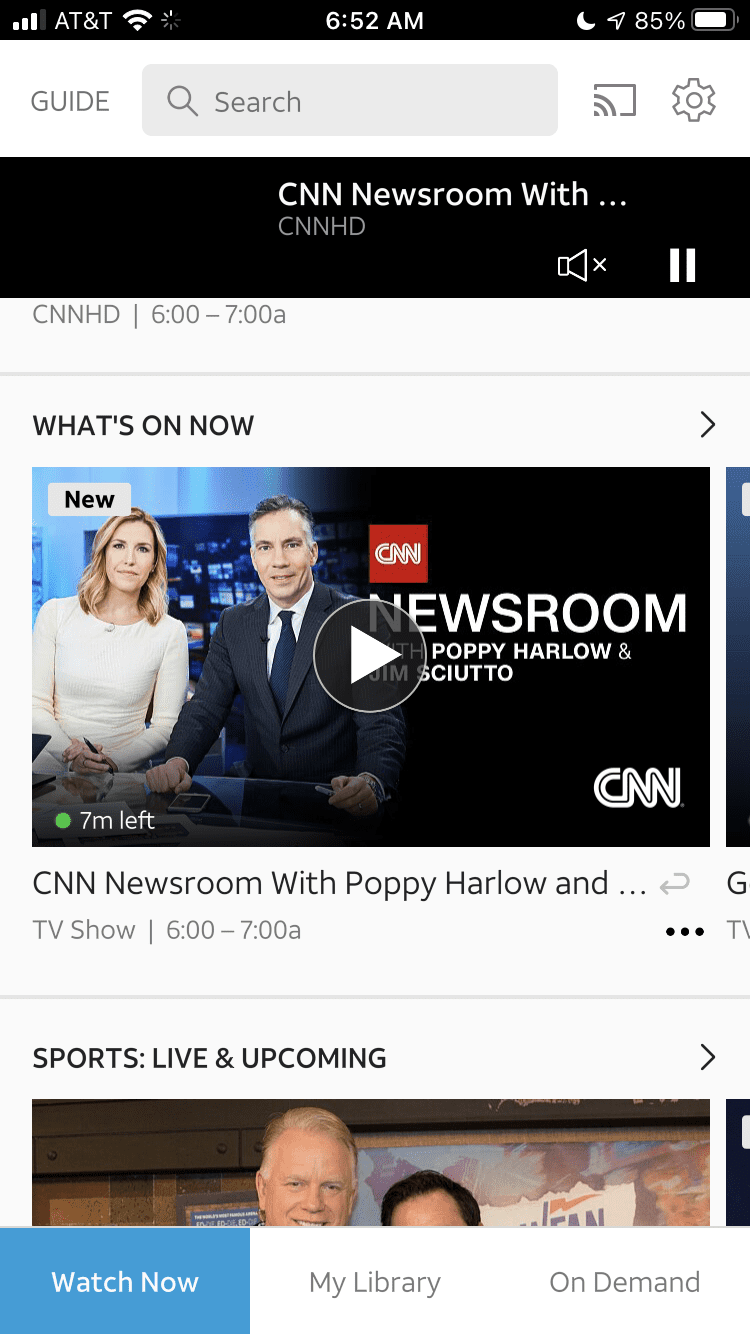 On top of that, there's the DIRECTV Gemini device, which is an optional streaming box for folks who don't already have one at home.
DIRECTV via Internet Hardware: The DIRECTV Gemini Streaming Box
I have more than my share of streaming devices at CordCutting.com HQ, but this review wouldn't be complete if I didn't test out the DIRECTV Gemini device, so I got my hands on one and put it through its paces.
Gemini runs a modified version of Google's Android TV operating system, and it boots up directly to the DIRECTV app. In fact, the whole experience is contained within the DIRECTV app — even the menu that lets you switch to outside apps like Netflix and Hulu is contained within the DIRECTV app interface rather than on a "home page"-style screen of its own.
The best part of Gemini is the remote, which can serve as a universal remote (meaning you can program it to work with your TV and other devices, not just with the DIRECTV box). With the remote's channel up and down buttons and this device's version of the DIRECTV app, channel surfing feels like it does with cable or satellite.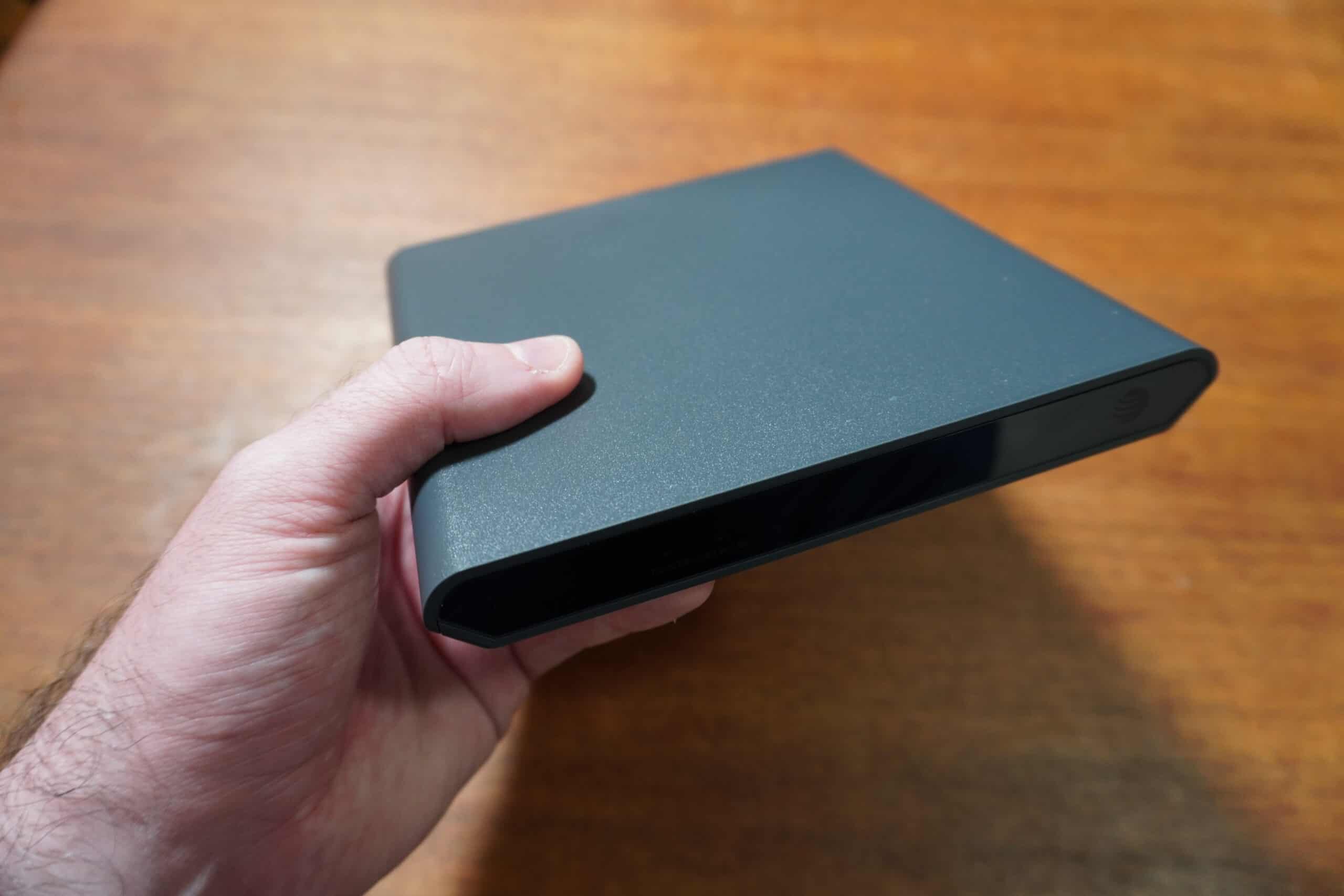 With that said, I'd stop short of recommending this device over alternatives like Roku or Fire TV, which would still be at their best even if you eventually decide to unsubscribe from DIRECTV.
DIRECTV via Internet Streaming Quality
DIRECTV is a little cagey about its streaming quality. Streams can be "low," "medium," or "high" quality, but it's not always clear what that means. In my tests, 720p appeared to be the norm — a fairly standard thing in live TV streaming, though I've heard that it can go up to 4K.
In my tests, I was able to occasionally get DIRECTV's quality to dip into standard definition or worse. It wasn't a common problem, but it is something I'd expect to see on slower internet connections. DIRECTV via Internet has generally decent streaming quality, but it didn't stick to HD quite as reliably as competitors like YouTube TV.
What We Learned From Testing DIRECTV via Internet
I found DIRECTV via Internet easy to use. The service keeps things simple, and I found myself using the "channel guide" menu — a staple of live TV streaming services, as well as cable and satellite — even more often than I have with DIRECTV's competitors. That was likely because DIRECTV goes pretty light on content-discovery features like algorithm-backed recommendations. I found I didn't miss most of these sorts of menus. The few that DIRECTV did have were more than enough.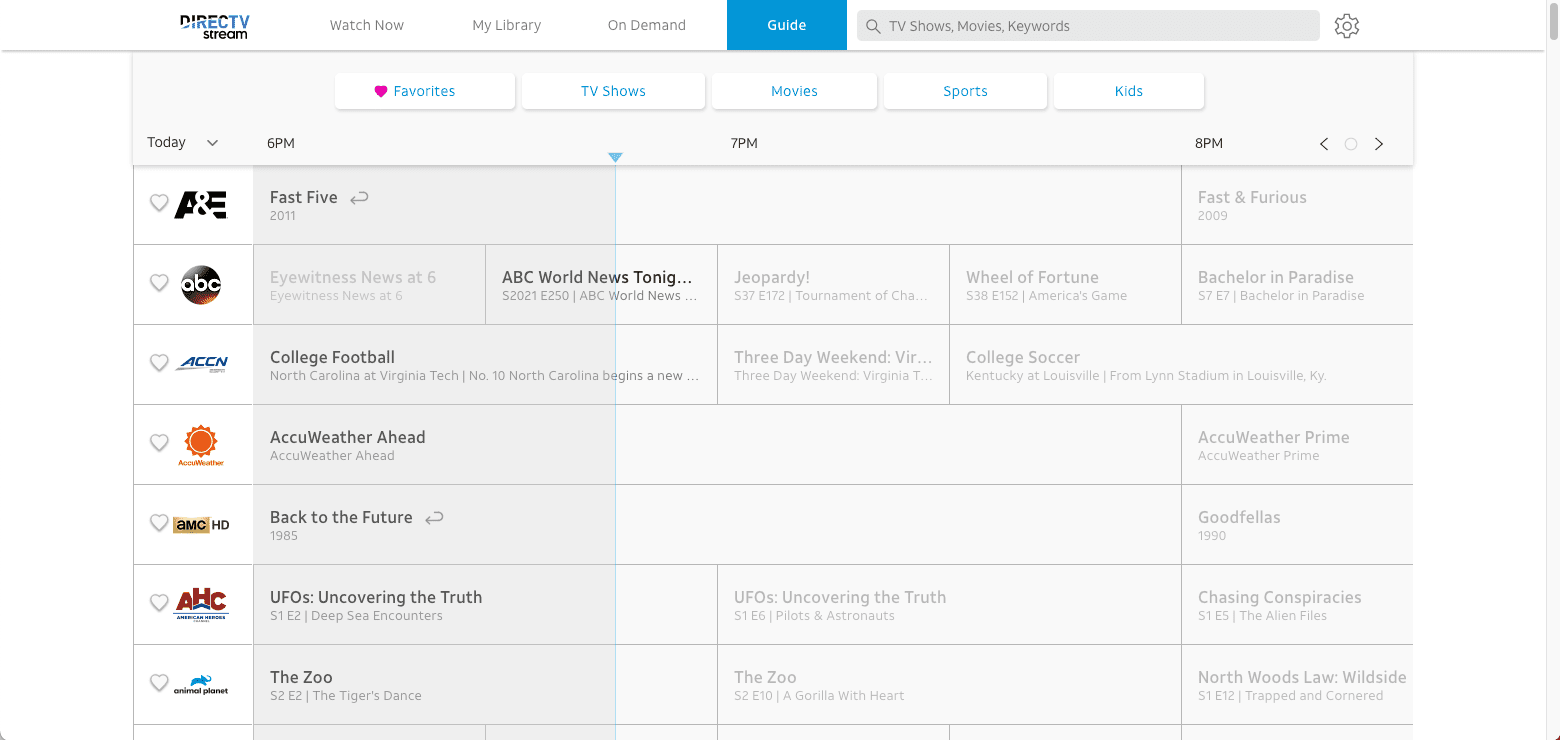 The channel guide is easy to navigate. By default, channels are listed in alphabetical order, which isn't the most useful layout. Luckily, the screen is easy to customize. I marked channels as favorites (another pretty standard feature) and was off to the races.
DIRECTV's interface felt a bit sluggish at times, and there were moments when I scrolled faster than the channel guide loaded. Still, my overall impression was that the app was pretty competent. It's unspectacular but has the features it needs.
Plans, Pricing, and Value: Is DIRECTV via Internet Worth It?
DIRECTV via Internet feels more like cable than most other cable replacement services do. That feeling extends to DIRECTV's pricing scheme, too. DIRECTV via Internet wields a competitively priced introductory package, but its larger channel packages are noticeably pricier than most other streaming services.
DIRECTV via Internet costs $64.99 per month for 24 months for the entry-level DIRECTV ENTERTAINMENT package. That strikes me as a pretty fair value for the 75+ channels that come with the subscription, though I wish that they would have included RSNs (to get those, you'll have to choose the DIRECTV CHOICE package for $84.99 per month for 24 months).
The pricier bundles, ULTIMATE and PREMIER, are better values on a per-channel basis, but they feel a little expensive to me. Your mileage may vary, but I consider the CHOICE tier to be the sweet spot, thanks to its inclusion of RSNs and sub-$100 price.
Verdict: Should You Subscribe to DIRECTV via Internet?
DIRECTV via Internet is the most comprehensive live TV streaming service of them all. It feels like cable in ways that are both good and bad. If you're a serious fan of live TV and can't live without a massive number of channels, this is your best bet in streaming. It could have used a cheaper entry-level option or a more affordable way to access RSNs, but it's still a more flexible option than cable — and a more complete one than most of its streaming competitors.