Streaming services have become the new platform for entertainment media, and that means more people are looking for the best ways to connect with their favorite shows and movies. Without cable or satellite TV to rely on, however, cord-cutters are at the whim of their internet service provider (ISP) to ensure they have an enjoyable streaming experience. Find one that's got fast and symmetric download speeds, unlimited data, and no contracts, and you've got yourself a recipe for AT&T and its internet services. We'll break down what cord-cutters can expect from AT&T, including internet plans, speeds, features, and contracts.
A Quick Look at AT&T
Number of states served: 21
Number of subscribers: 121 million (IPBB), 54.5 million (Fiber)
Connection types: Fiber, IPBB, 5G, and fixed wireless
Maximum download speed: 5 Gbps
Maximum upload speed: 5 Gbps
OUR TAKE:

AT&T provides one of the fastest internet plans on the market, delivering symmetrical download and upload speeds through its fiber connection. Despite the high cost of the fastest internet plan, customers won't have to deal with contracts or track data usage.
AT&T Pros and Cons
Pros
Ultra-fast gigabit speeds
No data caps on fiber plans
No contracts required
No price hikes
Award-winning customer service
Cons
No big price breaks on bundles
Data caps on non-fiber plans
Fiber not available everywhere
AT&T Availability
AT&T Internet (IPBB) is available in 21 states, while AT&T Fiber is mainly available in states like Alabama, Arkansas, and California. In the San Francisco Bay Area, AT&T Internet has the most coverage across the region compared to AT&T Fiber. We were lucky enough to fall within AT&T Fiber's coverage zone.
AT&T Plans, Speeds, and Features
If you're interested in having AT&T chaperone your new streaming TV courtship, it's best to know what service plan you'll need to help your newfound love grow. Here's a breakdown of AT&T's connection types, speeds, and pricing to help you decide.
| Internet plan type | Maximum download speed | Maximum upload speed | Data cap |
| --- | --- | --- | --- |
| AT&T Fiber | 5 Gbps | 5 Gbps | Unlimited data |
| AT&T Internet Air | 140 Mbps | 25 Mbps | Unlimited data |
| AT&T Internet | 100 Mbps | 10 Mbps | 1.5 TB |
| AT&T Fixed Wireless Internet | 25 Mbps | 1 Mbps | 350 GB |
* Prices listed reflect the regular monthly rate.
There are currently three connection types offered: fixed wireless, IPBB, and fiber. For the average user browsing the web, fast internet speeds aren't crucial — satellite or 5G internet is more than enough for the simplest tasks. When it comes to streaming your favorite movies and TV shows, however, it can make all the difference in your viewing experience. We live in a house with avid movie fans, so AT&T offers deals and discounts with its fiber internet service, which minimized buffering while we watched movies. Activate that Max subscription — the viewing party is about to begin.
Cord-Cutter's Tip: Get a general sense of what internet speed you need by taking a speed test before making a purchase. This will help you figure out whether or not your online activities require faster internet speeds.
AT&T Contracts, Data Caps, and Equipment
Regardless of which plan you choose, AT&T doesn't require contracts for its internet service. We loved how convenient it was for us to sync our monthly subscriptions with our internet bill. It gave us peace of mind knowing that we could either stay with our current plan for another month or find another option.
AT&T Data Caps
| AT&T Fiber | AT&T Fixed Wireless | AT&T Internet |
| --- | --- | --- |
| Unlimited Data | 350 GB | 1.5 TB |
We have access to AT&T Fiber in our area, so we chose a fiber plan because it doesn't have data caps, which was great news for our household because we stream almost every day for hours at a time. Streaming in 4K on Netflix uses roughly 7 GB of data per hour, and streaming on Hulu consumes about 16 Mbps per hour for its 4K shows, so we think our plan fits our needs perfectly as cord-cutters who want the best viewing experience.
We wanted to spend more time watching all of our favorite shows whenever we wanted and less time keeping an eye on our data usage with an IPBB or fixed wireless plan. With a fiber plan, we also didn't need to worry about video buffering or data overage charges. Our only concern after setting up our internet was deciding what show we were binging next and who was making the popcorn.
Our Experience With AT&T: Customer Service
AT&T has a stellar customer service record, which was consistent with our experience while setting up service and installation. It offers a wide variety of contact methods, including phone support, live chat, community forums, and social media. Our conversation with the AT&T customer service rep was a welcome relief compared to interactions we've had with other service providers.
The installation technician who installed our fiber internet was efficient, professional, and courteous. A second person showed up just to help us with setting up the AT&T Smart Home Manager app.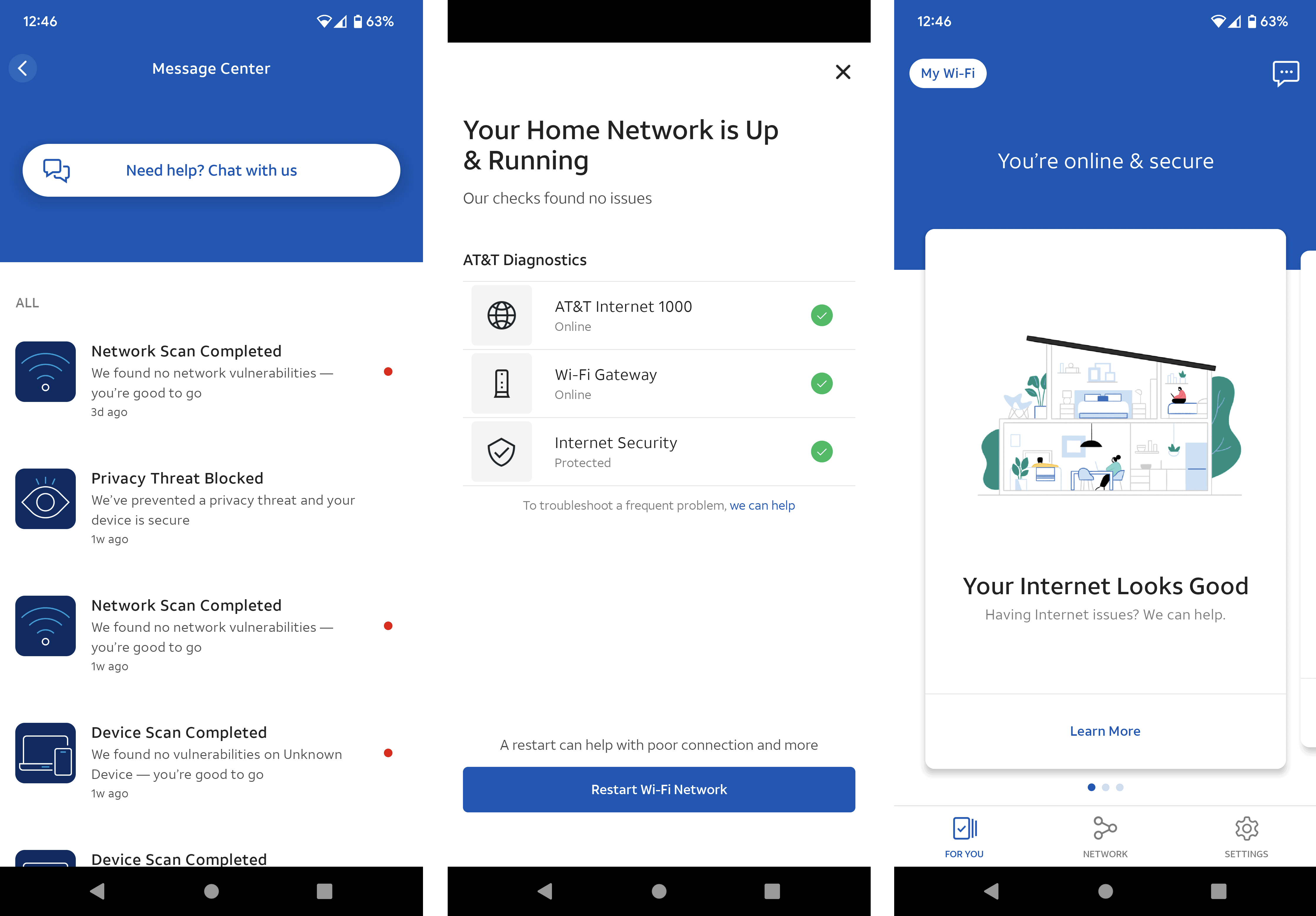 Phone-based technical support was one area we did not have a chance to explore, because we never needed it. Once your internet is up and running, the AT&T Smart Home Manager app helps you to manage your network, monitor its performance, and ensure all your data is secure. One of our favorite features is the ability to check Wi-Fi signals around the home with the app. It even lets you know when new devices connect to the network.
AT&T vs. Competitors
AT&T is one of the biggest providers in the country, but it has some pretty impressive competition too. If you live in the Southeast or California, you may have a choice between AT&T and Xfinity, which offers high-speed cable internet service — perfect for cord-cutters. If you live in the Mid-Atlantic region, Texas, or California, Spectrum cable service is an excellent choice for ultra-HD streaming on multiple devices.
Cord-Cutter's Tip: Compare ISPs in your area to learn which one has the greatest coverage.
Overall Verdict on AT&T
AT&T's internet speeds are some of the fastest on the market, and we love being able to use it without fussing over contracts. We were a little wary of the fees but found that we could avoid many of them with a few simple steps. Our installation experience was positive, and the price for our plan was reasonable. If you want to cut the cord and you see some discounts and deals from AT&T available in your area, it's a no-brainer.